I love how our apartment has come together over the past year as we've slowly added, changed, and moved furniture & decor. There was one awkward space that I just didn't know what to do with, and it bugged me for months! We have a boxy bookshelf, similar in style to the Ikea Kallax, in a corner of our living room. While full of books and decor, the shelf is less than 5 feet tall and had a pretty large empty space above it. What are you supposed to do with this dead space? We left it empty for a while because I wasn't quite sure what I wanted to put there. But over the holiday break, we finally got the time to go hunting for the right decor to create a focal corner!
Today, the top of the shelves is one of my favorite parts of our living room! Mixing a few pieces of decor I already had with a few new pieces we found, combine perfectly to create a focal point that adds height and dimension to the room.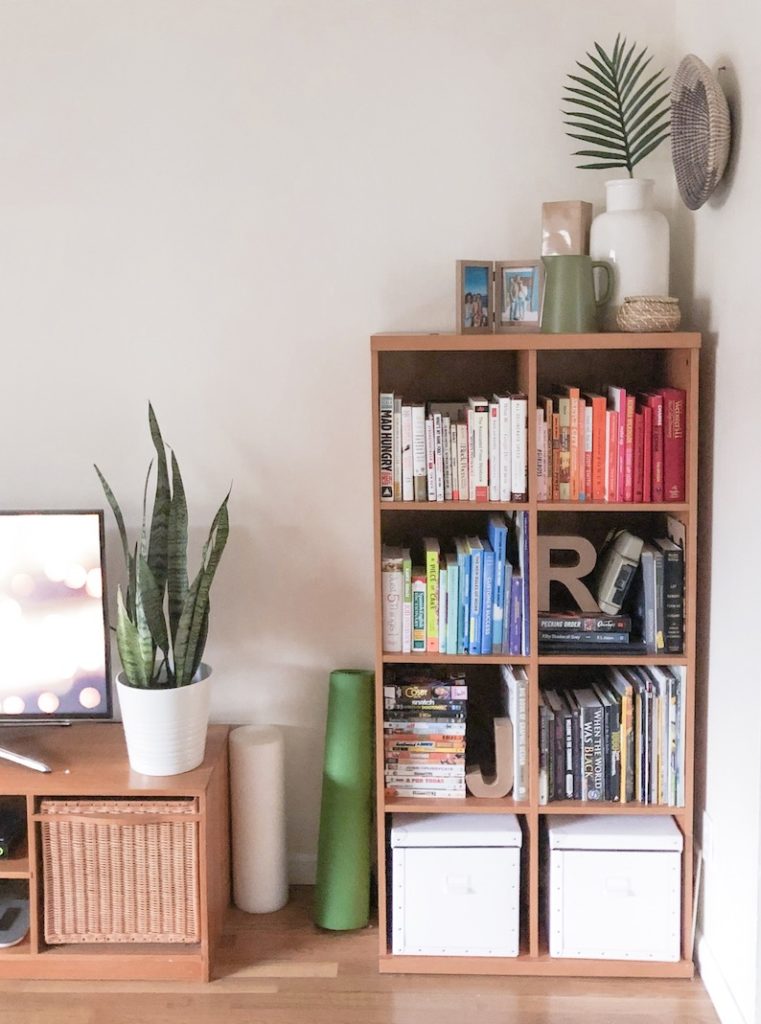 Mixing old and new
We had two of the pieces
I've had the beige square vase for many years, using it primarily as shelf decor and for the rare bouquet of flowers. It's from Crate and Barrel, here's a brown vase that would also work well.
I recently picked up the green pitcher from Target that I found in the dollar section at the front of the store for $5, how could I resist such a cute color at such a great price! I bought it without a purpose though, so it wasn't really being used. So, when I started envisioning the corner, I knew I wanted to incorporate it into the design.
Wall basket. I pinned up a basket that we'd previously been using as a junk basket as wall art. It was a total waste, and when in a Marie Kondo induced frenzy I threw away everything it was holding (no sparks of joy there!), freeing it up to be turned into wall art.
I love how easy it is to repurpose a basket and turn it into wall art!
To do this, I used a hot glue gun to glue a small piece of yarn onto the back as a hanging wire. Gluing the ends of the string, about an inch apart, to the top of the flat part of the basket enables the basket to hang flat against the wall on a tack.

Picked up a couple new pieces
Looking for a tall, minimal piece of decor, I found the large, round vase at Marshall's. I love finding focal pieces at places like Marshall's because they tend to be a little more unique than the things I find at big box stores.
Wanting to add even more height to the arrangement, I added a faux leaf from Target, I may pick up one more or swap in some pampas grass to fill the vase in a bit more. The last little touches are a hinged double photo frame with a photo of me and a couple of my girlfriends and a photo of myself and Rodney – chosen, in part, because the blues and greens of both photos compliment the arrangement.
I finished it off with a small wicker basket that we use to catch random items like batteries and paperclips. Love that it has a top, so even if it starts to get full, I can keep the space tidy.
I love how it all came together! What else would you add to the arrangement?
xoxo, jackie