Ahh Tulum, you've been great to me. As somebody who lives on Pinterest; I've seen countless photos and thought – Tulum can't be this nice, can it? After a quick getaway to the beach town, I learned that Tulum is truly is a magical little gem that lives up to the images.
I went to Cancun for a friend's birthday over the 4th of July weekend and decided since I'd be in the area, to tack on a quick trip to Tulum at the end of our turn up weekend. It was the perfect combo because after hanging out, drinking tequila in crazy Cancun (not really my cup of tea), I was so ready for a relaxing few days.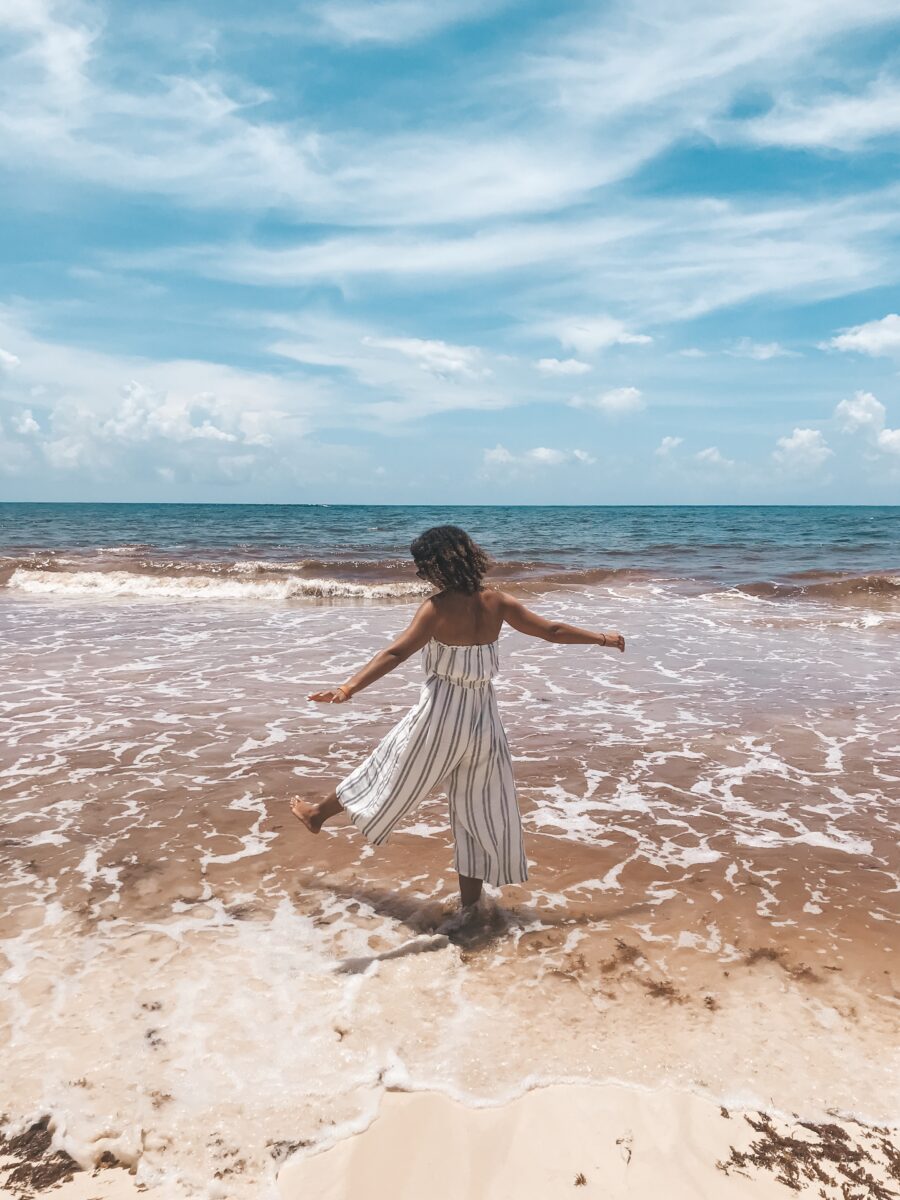 We didn't go into the trip with a set plan but knew there was a handful of must-see and must-dos on the list. As I write this and scroll through photos on my flight home, I must say we spent our 3 days in Tulum well! Check out our itinerary:
Day 1
Drive from Cancun to Tulum
I was a little nervous at first to drive in Mexico, but after a few minutes, I got the hang of things and drove with the (admittedly speedy) flow. We rented a car, but next time I think I'd try the bus – renting cars in Mexico is pretty costly as the rental companies tack on huge fees for insurance.
Arrive in Tulum
An hour and a half later, we arrived in Tulum! The town is pretty small and has one main road that's lined with cute restaurants, bars, and shops. We drove through the main strip to get to our Airbnb. It was technically in another town – La Valeta – but it's just a 10-minute bike ride from the main street.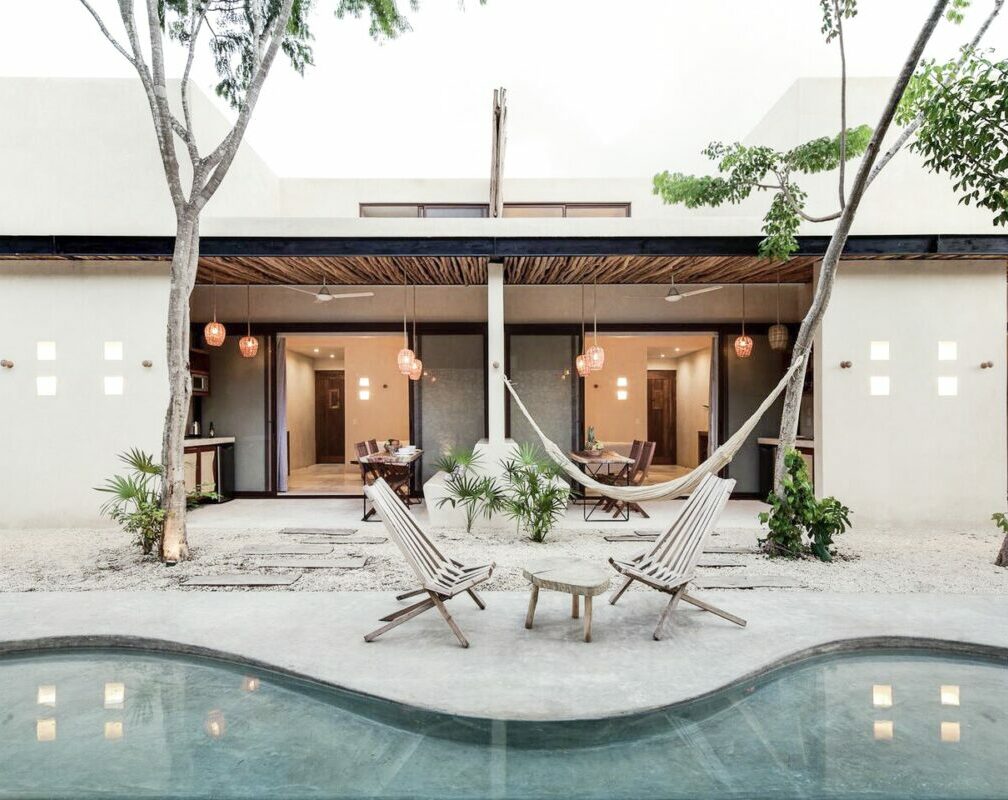 During the trip, we ate out a ton! Check out the full list of restaurants, down at the bottom of this post.
We arrived in the late afternoon, and after we took about a million photos in our chic Airbnb, we headed out for town to explore. After making a pit stop for bikes, we rode all throughout the downtown area, stopping for quick bites, frozen yogurt, and a drink or two.
Day 2
For our first full day in Tulum, I got up bright and early to head down to explore the beach. The beach is where most of the "Pinterest worthy" stops are, and I had a couple of places I knew I wanted to see!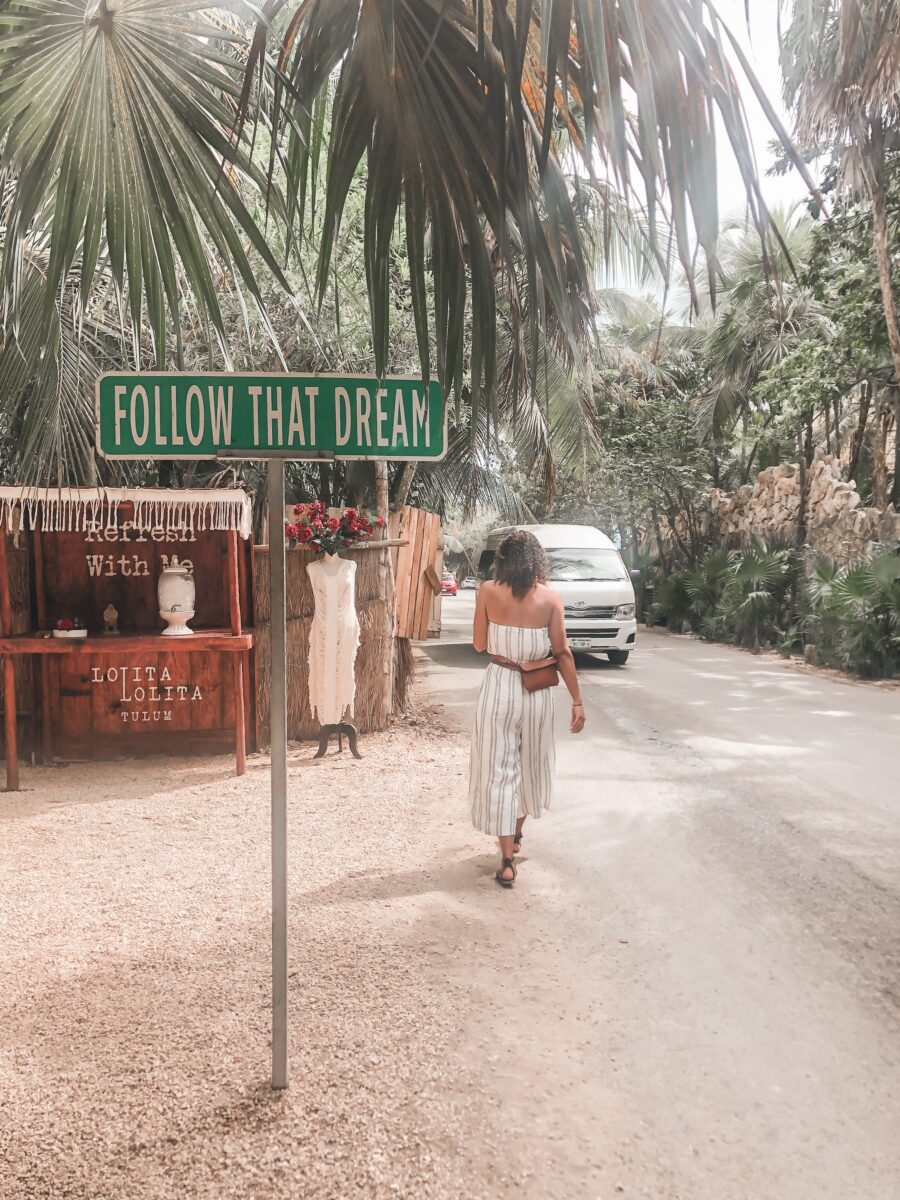 We drove down and paid a hotel attendant to let us park in their guests only lot – pretty much how things work there. Once we parked, we walked a bit until we found bike rentals. The beach strip is a lot longer than I expected, so bikes are a must if you're looking to make multiple stops.
First stop, Matcha Mama. Ok, I have to admit, this one didn't live up to the hype for me. I got an iced matcha latte and it was alright, but nothing special. Of course, I still had to snap a photo on the famous swings before we hopped on our bikes and kept going.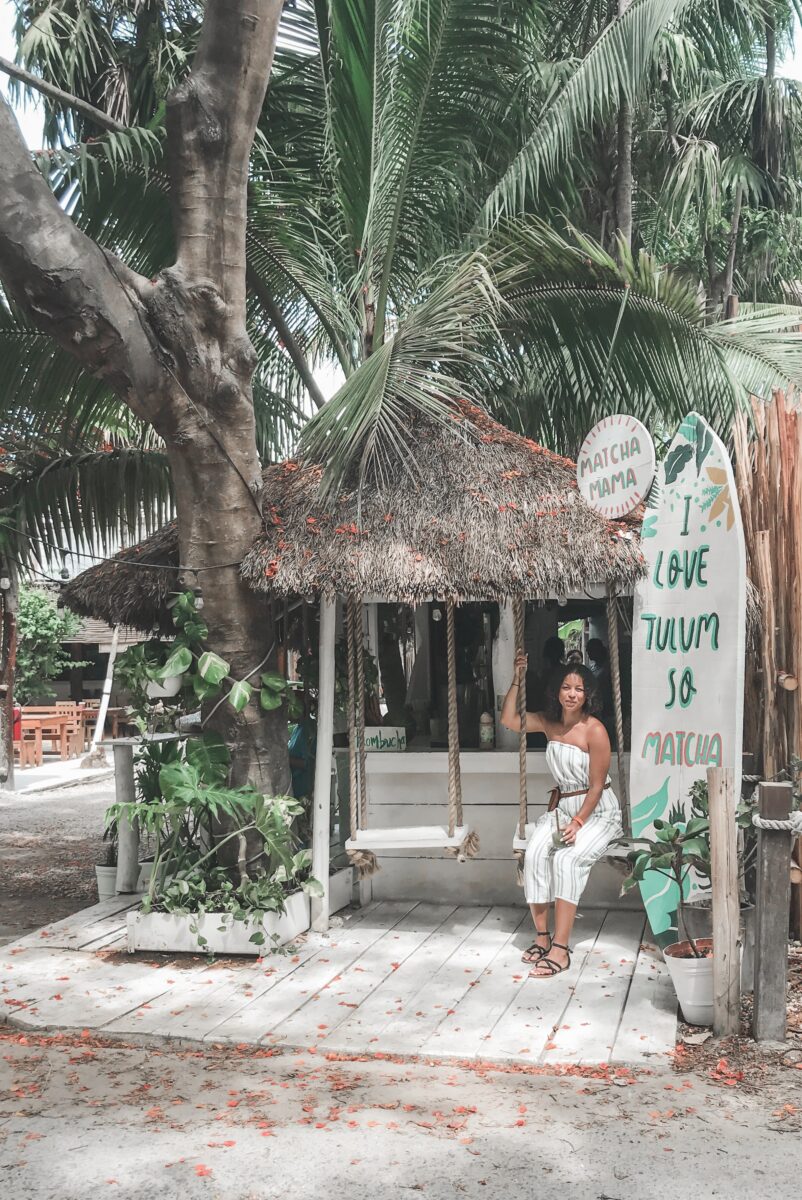 Next, we stopped for brunch at Coral Hotel, a beautiful beachfront hotel and beach club. At the hotel, we enjoyed our first ceviche of the trip and I got to bask in the sun in a practically empty beach.
Day 3
Our third and last day was all about exploring!
You can't go to Tulum and not experience the famous cenotes – sunken in/exposed groundwater. We booked an experience on Airbnb with a local guide, Didier, and boy am I glad we did. The tour was a bit off the beaten path and far less touristy than the other tours I was seeing.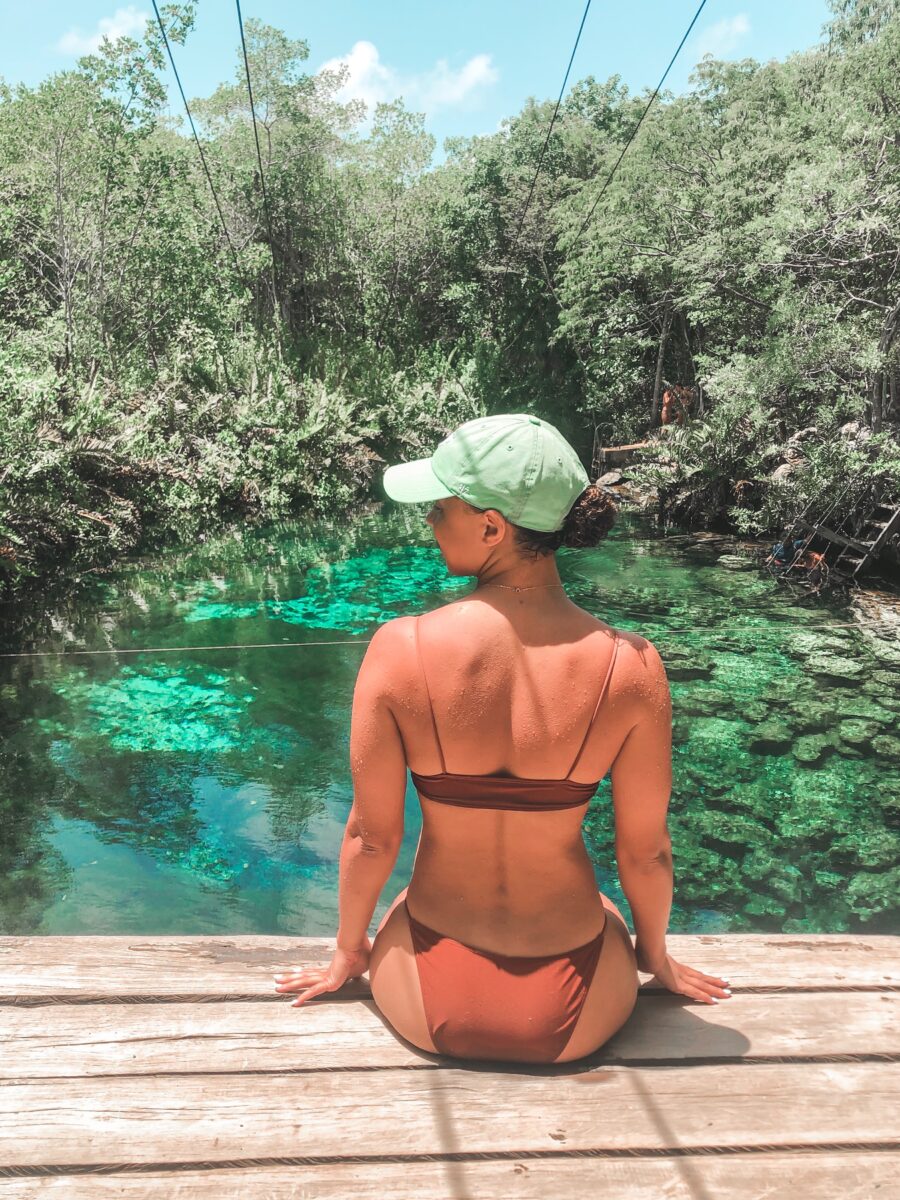 Instead of joining a large tour group, I met up with a small group in a small town, Chemuyil, about 20 minutes from Tulum, grabbed some bikes and set off down a trail in the jungle with Didier as our guide.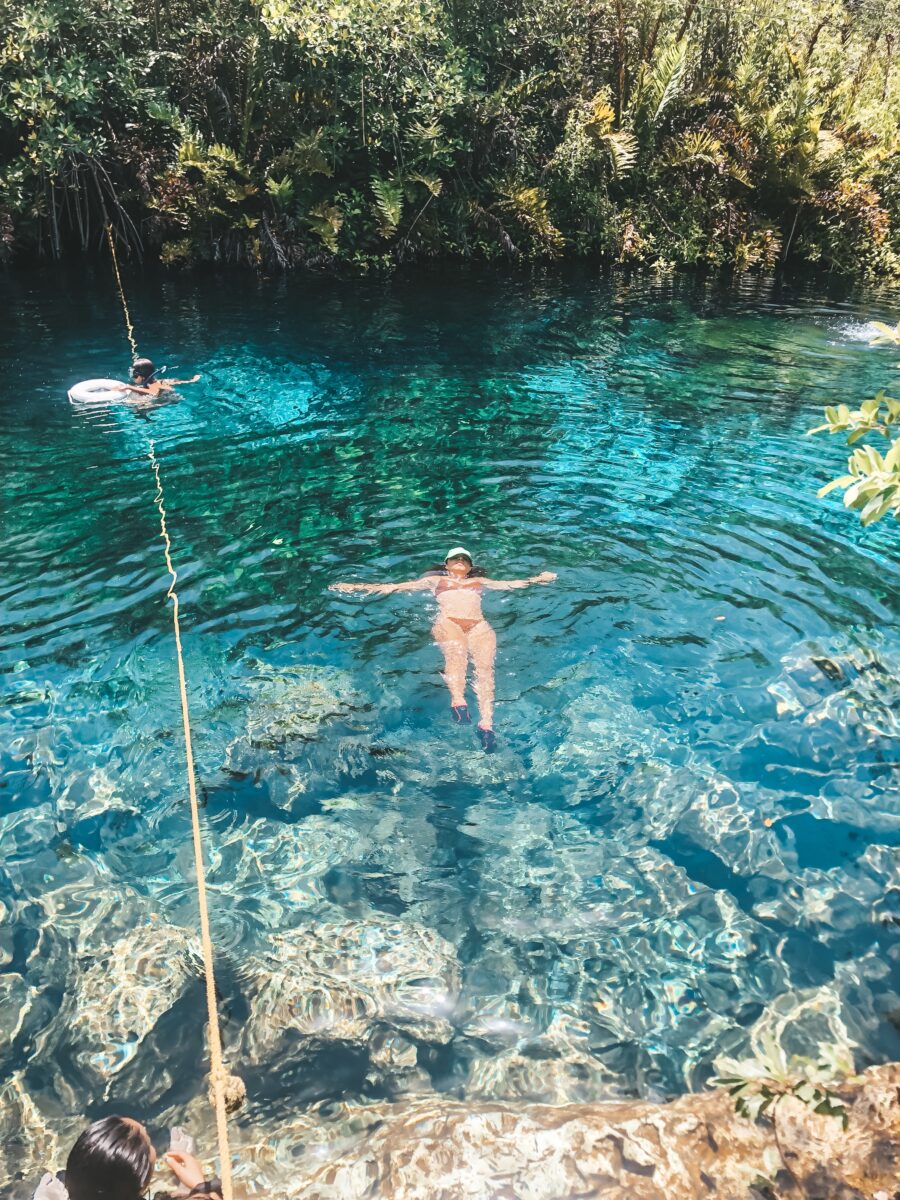 Our first stop was a remote cenote, Cenote Xunaan-Ha, where there were just a few other explorers. As the rest of the group jumped off the high ledge into the water, I was a bit of a chicken and opted for a low rock. The cenote was amazing! The water so clear and cold, and tons of small fish swam all around us.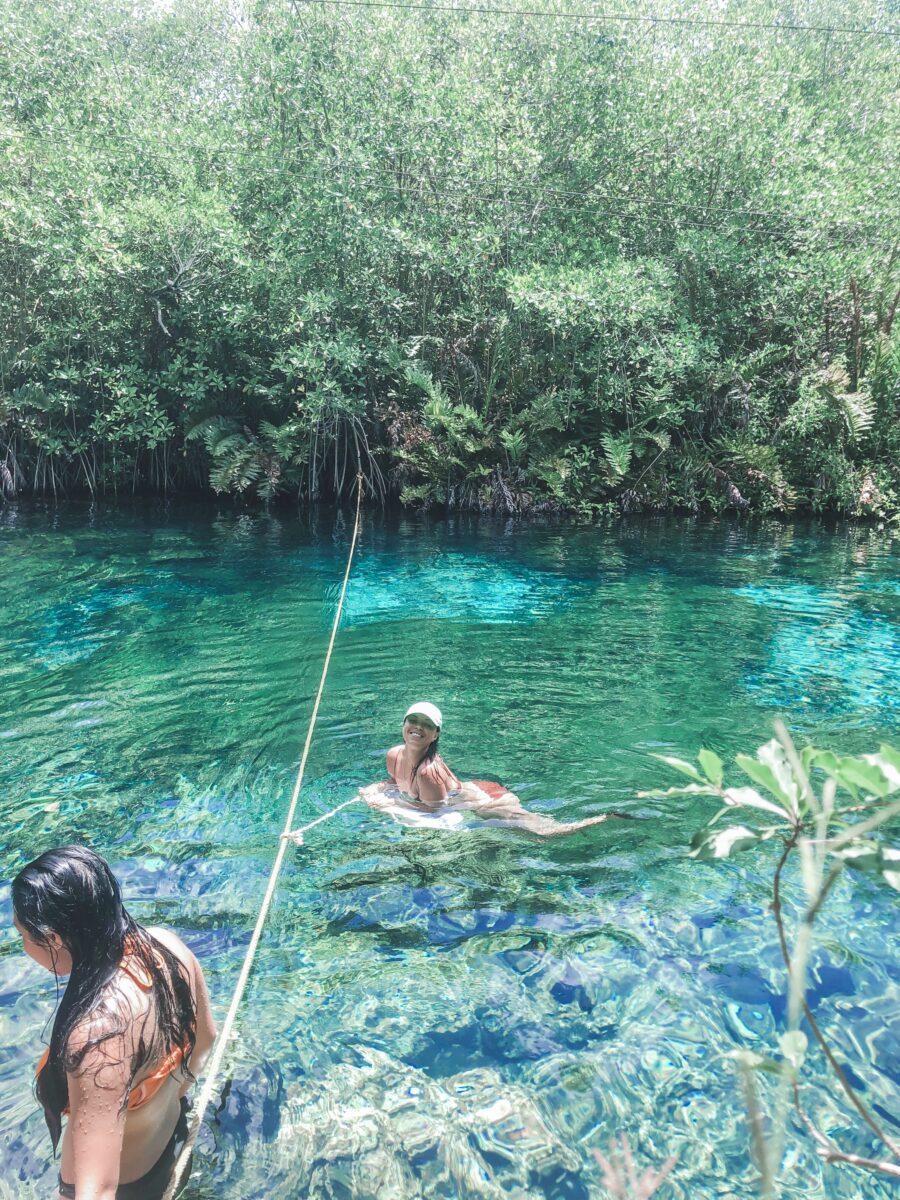 Next, we got back on our bikes and headed further into the jungle until we arrived at the front of a cave. Anybody claustrophobic? This isn't for you. Hunched over and with only flashlights, we shimmied deeper and deeper into the cave until we were in front of an underground cenote.
Time to get in! The water was pretty darn cold, but the experience was amazing! The water is full of minerals – the Mayans believe it has healing powers – so of course, we took the opportunity to cover ourselves in the mineral deposits.
Unfortunately, we cut the excursion a bit short because we were attacked by mosquitoes. So instead of stopping at a hidden Mayan ruin, we literally just rode by and didn't get to stop and enjoy it. It was still awesome to see it is still standing after all these hundreds of years. Once back in Chemuyil, we rode around and learned a lot about the culture they've preserved. Want to see the tour we booked? Check it out here.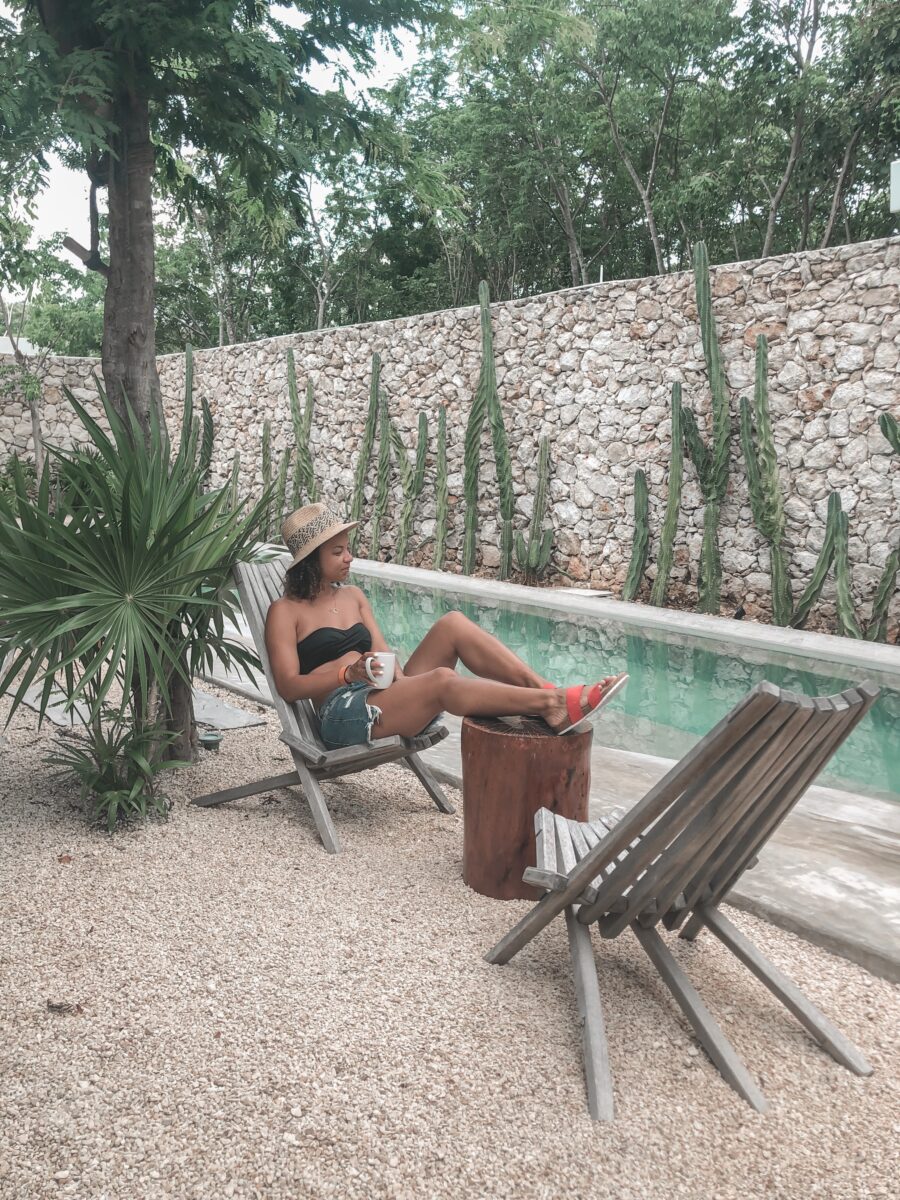 After the tour, we made a quick pit stop in town for a snack, then dove into the pool at our Airbnb.
For our last night, we wanted to splurge and do it grande, so we headed down to the beach for one of the best dinners I've had! Taboo is a beachfront restaurant that features fancy craft cocktails, yummy Mediterranean food, live music, and a donkey roaming around. What more could you want? It was the perfect cap on a quick trip to Tulum!
The next morning we had to head back out to Cancun 🙁 but the memories are amazing.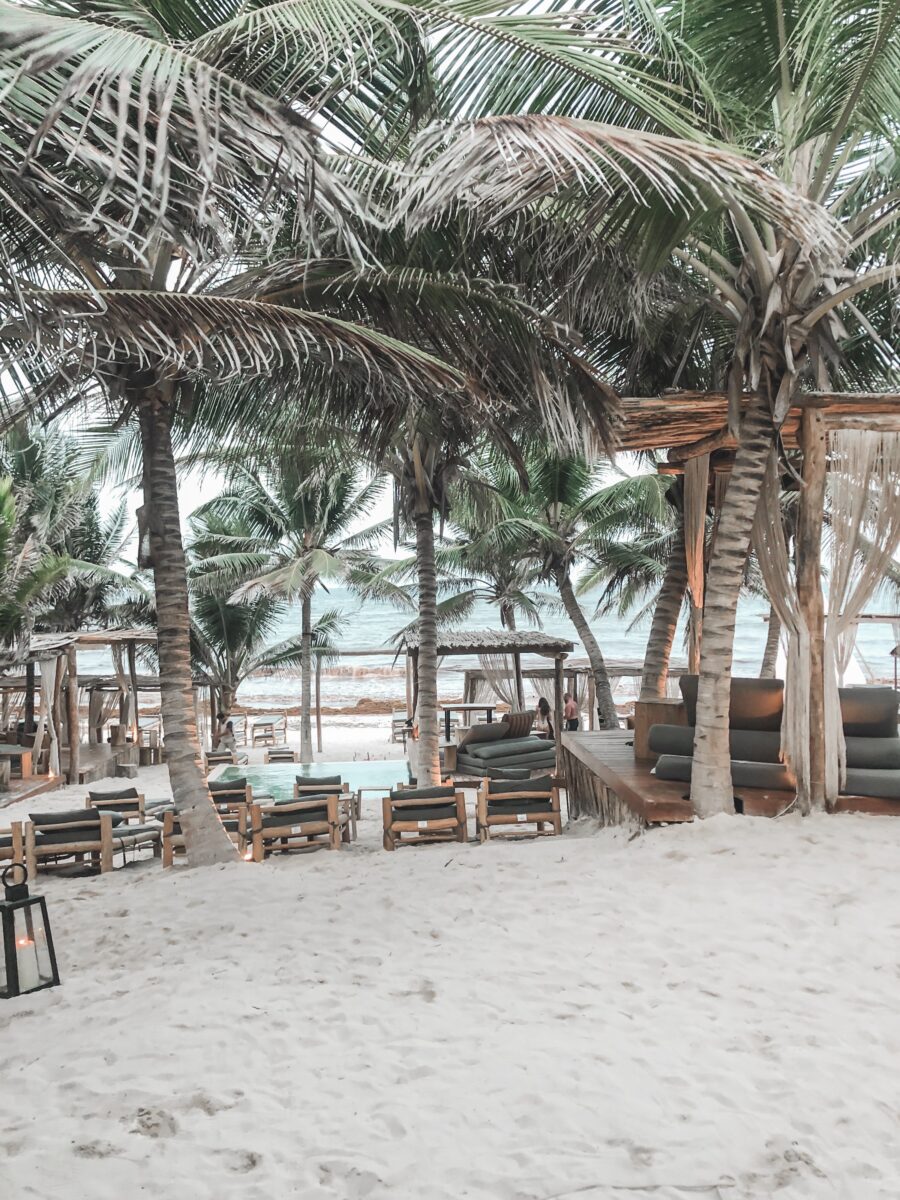 There is so much to do in the area, but 3 days is enough to squeeze in just about all of the top destinations. I'm so happy we took this trip out to this magical little town.
Restaurants
Restaurants in Town:
Burrito Amor: while I know burritos aren't really a thing down in El Sur, this place has some amazing burritos that come wrapped in banana leaves, and the place is super cute.
El Camello Jr.'s: this is a local favorite. No frills, but tasty, authentic food.
Antojitos La Chiapaneca: another local spot with tasty tacos. We grabbed tacos at this busy spot, and loved the quick service and taco condiment bar.
Il Bacaro: at some point we realized, you can have too many tacos. We had a nice dinner at this open-air Italian restaurant – tasty pizza for Rodney and delicious salmon alfredo for me.
Prieto Tulum: this cute little spot has a full coffee menu (including bulletproof coffee!) and also does fro-yo. We enjoyed a nice bike stop here while exploring.
Beach Restaurants:
Matcha Mama: you've seen the photos! This super cute roadside shop does everything from matcha team to açaí bowls.
Taboo: if you can do a splurge night, come here! This Mediterranean restaurant has A+ service and food to match.
Coral Hotel: not one of the trendy place you see all over IG, but the ambiance was exactly what I was looking for. We dinned right on the beach and were able to hang out for a couple of hours and enjoy an empty beach.
Origami Gelato: this shop offers many unique flavors – I had basil lemon ice cream and Rodney had mango ginger.
I can't wait to return!
xoxo, jackie
save this itinerary for later