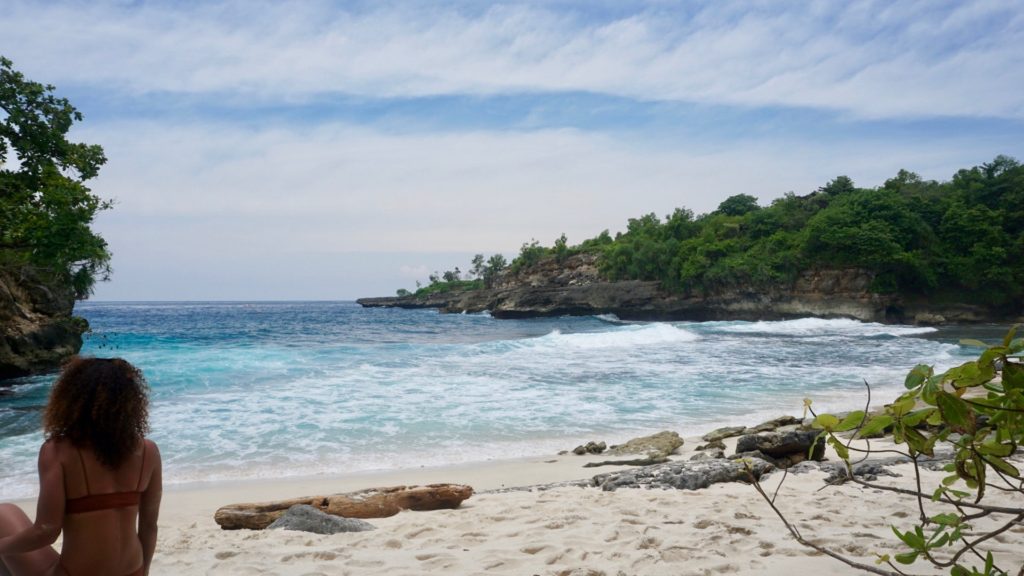 During my travels around Bali, I visited quite a few amazing beaches. From Uluwatu to Seminyak, I made sure to see all the most famous beaches. And while all were great, there was one beach that took the cake – Secret Beach. A hidden gem that requires two boats from Bali proper. Secret Beach is just that, a secluded oasis that was all ours for the afternoon. 
Nusa Ceningan is the smaller Nusa island situated a stone's throw from Nusa Lembongan. A speed boat from Bali to Lembongan takes about 45 minutes, and there are quite a few companies that charter this route. The next part gets a little tricky; we the traveled to the far side of the island via a golf cart situation – and then onto a small boat to cross a 200-meter body of water to Nusa Ceningan. There is usually a bridge connecting the two, but it was under construction when we visited. Making our way to Ceningan was definitely a unique experience, but our time on the island was worth it!
We spent two nights on Nusa Ceningan, [see my full itinerary blog for more details], and while on the island learned about Secret Beach. It is on just about the furthest point from most of home stays and hotels and requires a little hike down a hill to get to. But once you're there, it's the cutest little beach with soft white sand and lush forest surrounding.
As we arrived at the beach, another group was leaving, and after that, we had the entire beach to ourselves. We lounged under the sun and splashed around the in water for a few hours in complete privacy. Once we were adequately sunburnt, we also spent time exploring jungle surrounding the beach.
There is a small eco-hotel situated on one corner of the beach, and it seemed like the perfect hotel for travelers who truly want to get away.
This beach was by far my favorite because it was so secluded, clean, and free from throngs of vacationers with selfie sticks (yes, apparently selfie sticks are still a thing). It is a must-see for anybody who doesn't mind venturing off the beaten path.
xoxo Jackie