Of course I purchased neutral souvenirs in Bali. Yes, Bali, the home of vibrant colors. Just about everything is warm and bright in Bali – from flowers, beading, to fabrics, Bali is known for beautiful hues. I wouldn't be true to myself if I went that route though, so much of my souvenir pick-ups are right in line with my neutral aesthetic.
Staying true to my aesthetic is necessary. I remember going to Mexico and buying a few items that were super cute, but really weren't my style, so I have yet to wear them 2 years later. Since then, I have made a point to find items that are both representative of my trip and my style.
I sought out items that are traditionally Balinese. Beading and tassels are everywhere so I wanted to make sure my souvenirs were representative of what is found in Bali- but also wanted to find pieces that were within my color palate.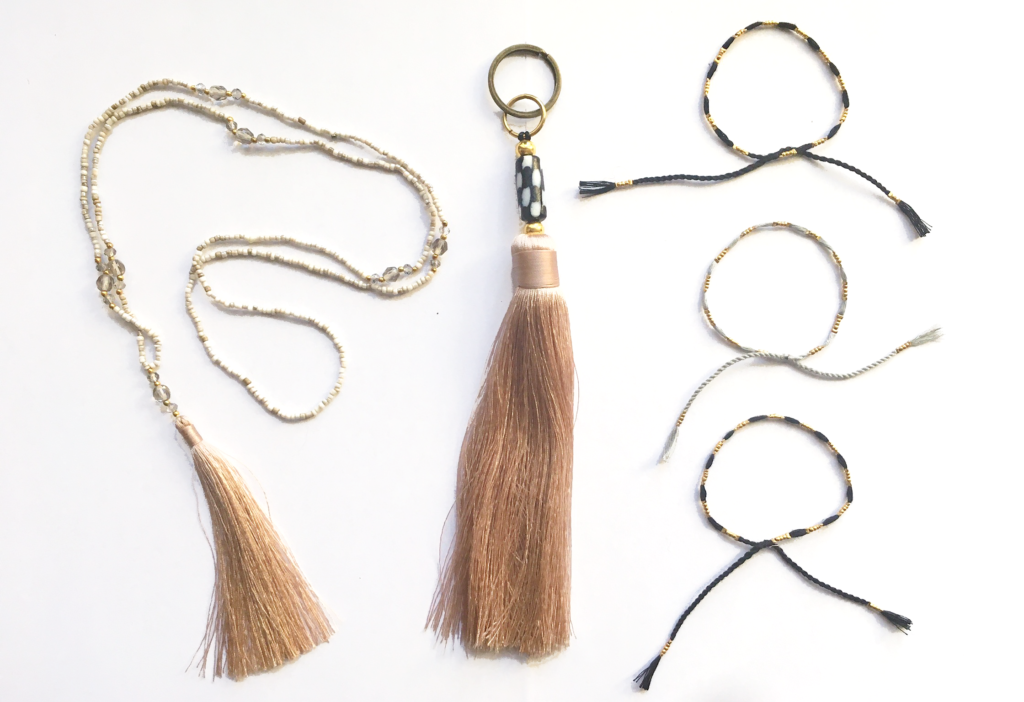 BRACELETS
Variations of beaded bracelets are sold all over Bali. While in Seminyak, I found these dainty black and gray bracelets with gold beading. I put one gray bracelet on immediately and have had it tied around my wrist since. Such a cute reminder of the trip.
KEYCHAIN
Bright tassel keychains are available in gift shops – most are a combination of bright colors with bright beading. Many also have Hindu figurines atop the tassel. I sought out a nude tassel with a black and white bead as a perfect car keychain.
NECKLACE
Sticking with the nude theme, I found this tassel necklace with nude and white beading. I can't wait to throw this over a white top!
For more on Bali, take a look at my full two week itinerary.
And check out my post on Canang Sari to get an idea of the beautiful colors of Bali.
xoxojackie