Living in a smaller apartment or home, standard items can feel big or bulky in your space. As such, I've been thoughtful with everything I've added, from shelving to furniture.
Last year, I installed a shelf towel rack combination, however it never felt right in my space. The shelf jutted out too far and too close to my sink. I knew what I wanted, I had it in my mind for some time, and searched for the right wood shelf to swap.
Recently, I purchased a shelf from a big box store, that didn't work either. With such a narrow space, standard shelves just looked too bulky and out of place.
I wanted an ultra narrow shelf to hold my everyday products.
In order to get a shelf that works in my space, I'd have to build it myself! Check out how I built custom shelving for my bathroom.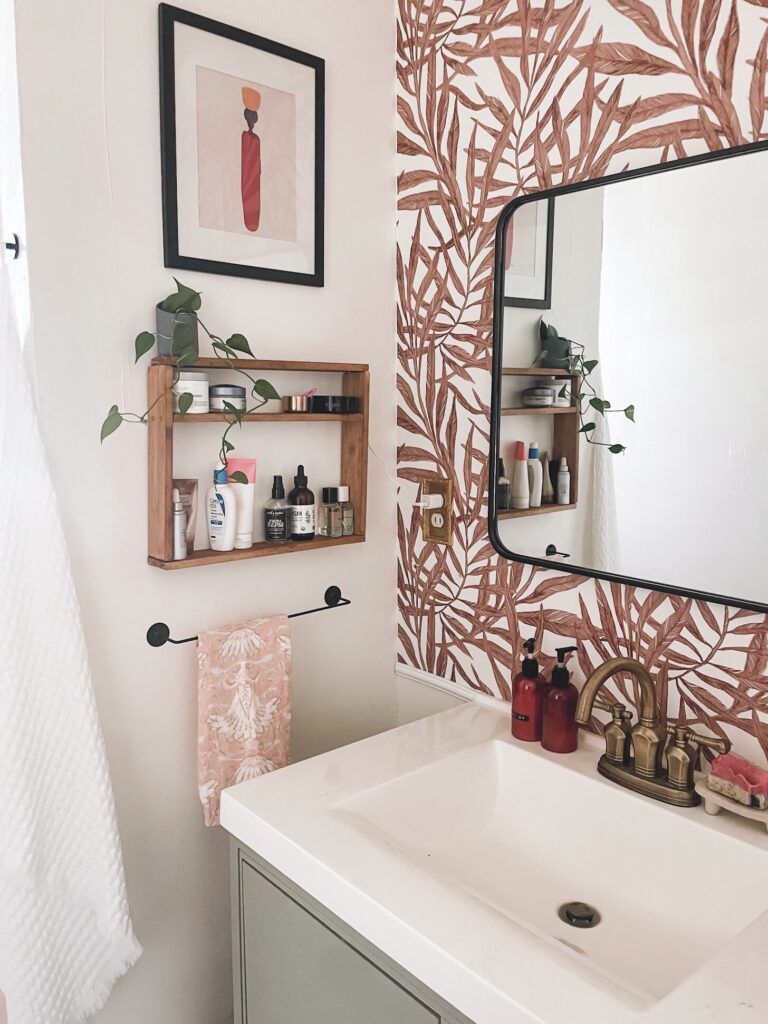 Materials & Tools
Wood – .5×2.5 board used
Drill
Jig saw
2" nails
Building the Shelf
Before I get the project, let me tell you, this was one of my first wood working projects, and it was easier that I thought it was going to be! Working with small boards is a great way to get started in word working. In all, I made a handful of quick cuts to trim my boards down.
Okay, let's get into it!
First, I measured my space and sketched out a design. With a design selected, I measured my board cuts on paper then on my boards. I decided on a box with two shelves, on tall shelf for my products, and a smaller shelf for odds and ends.
I cut my boards to my measurements

16"x2
15"
12" x2

After cutting and sanding my boards down, I stained the wood with one of my favorite stains, Ipswich Pine.
Next, I assembled the box by predrilling holes and using screws to create a box, and then added a single 2" tall shelf.
Last, I added picture hooks to the back , at the cross of the shelf.
Loving My Custom Shelf
If you're in a tiny space, like me, don't be afraid to customize your space! Most of what is sold in stores was created with large house in mind.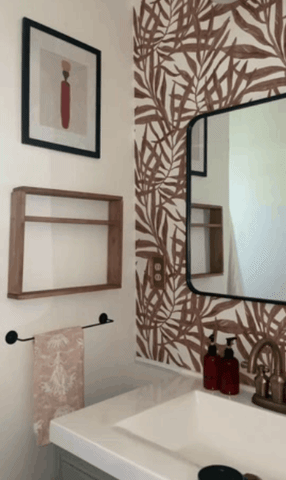 My space is so my more attractive and functional with this tiny space-friendly shelf!
xoxo, jackie
This post contains affiliate links. I make a small commission if you make a purchase using my link. I only link to products I think will be useful to you, thanks for your support!