As the weather gets cooler and the leaves start to change color, it's time to start thinking about creating a cozy space at home.
I used the new app Shuffles, by Pinterest, to create a mood board for my space as we enter fall. As much as I love summer, there's something special about the fall season. I'm excited to warm up my space for this season.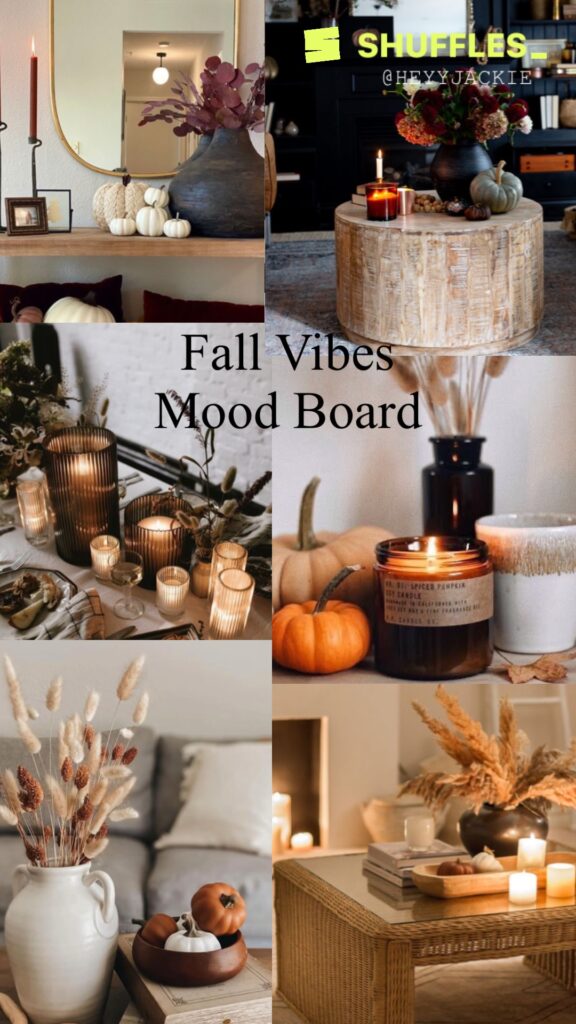 Here are five tips for making your space warm and comfortable for fall:
Cozy up your space with rich, earthy tones. Fall is the perfect time to introduce some warm hues into your home. Think deep reds, oranges, and yellows. You can add a pop of color with some cozy throws or pillows, or go for a more subdued look with some richly-hued curtains or rugs.
Introduce texture with natural materials. Fall is all about cozy textures, so why not bring some of that coziness into your home? Add a chunky knit blanket to your living room sofa, or swap out your light summer bedding for something warmer and heavier. Look for materials like wool, cashmere, and flannel to really get that cozy feeling.
Bring in some greenery. Fall may be the end of the growing season, but that doesn't mean you can't bring a bit of nature indoors. Add a vase of autumn leaves to your coffee table, or fill a bowl with acorns or pinecones. Or, if you want something a little more permanent, invest in a beautiful indoor plant that will add some life to your space.
Create a cozy reading nook. One of my favorite things to do in the fall is curl up with a good book and a cup of tea. Create your own cozy reading spot by adding an overstuffed armchair and a small side table to your living room or bedroom. Make sure to keep a blanket nearby for snuggling up on chilly evenings.
Add some personal touches. Fall is the perfect time to add some personal touches to your space. Display family photos or artwork, or put out a special fall-scented candle. You could also try making your own autumn-themed decor, like a wreath made of leaves or a Mason jar filled with mini pumpkins. Whatever you choose, adding these personal touches will help make your space feel like home.
With these five tips, you'll be on your way to creating a cozy and inviting space perfect for enjoying the cooler autumn weather. So get started today and make your home feel like fall!
My fall picks