Embarking on the Berry Creek Trail at Big Basin Redwoods State Park, I had no idea what I was getting into. But 11 miles later, I completed one of the most beautiful, rewarding, and trying hikes I've done. Located in the Santa Cruz mountains, about an hour and thirty minutes south of San Francisco, Big Basin Redwoods State Park is the oldest state park in California and has more than 80 miles of trails winding through the park. And I have to say, while I've been to many parks to hike – the massive redwood trees make for one of the most unforgettable hiking experience that I recommend for everybody!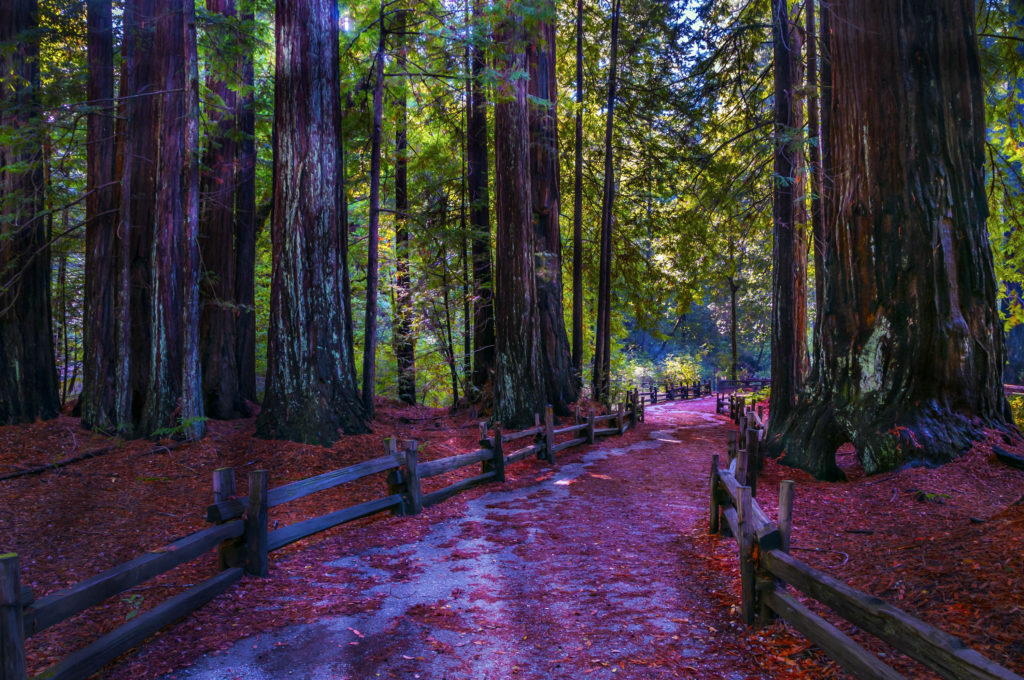 THE DRIVE
Driving to Big Basin from San Francisco should have been an easy trip, but we ended up adding close to 40 minutes to our drive after making a couple wrong turns. We ended up missing a turn along the winding roads without knowing it because we lost reception and Maps stopped working.  Be sure to download the map are in Google Maps so you can access it when the service drops.
THE TRAIL
We chose the Berry Creek trail for the exciting set of waterfalls that are found about halfway through the trail loop. After winding through the mountains, up and down, through canyons and to the tops of hills, the first waterfall was such a welcome reward! Large by my standards, the first waterfall, Golden Falls,  is one of the smallest. We joined other hikers to take photos and enjoy the cool air in the area.
Next, we followed the water down the hill to Cascade Falls and Silver Falls where we sat and enjoyed a packed lunch. It is important to bring plenty of water, we brought a couple bottles a person, and good to sustain you through the hike. Our fitness watches tracked about 1000 calories lost over walk – so a couple easily packable bars, jerky, sandwich etc.  are great ways to replenish.  
For the finale, Berry Creek Falls is a massive falls thatdrops 65 feet straight down into a pool. There is a viewing platform that places you right at eye level with the falls, and we sat a watched as the water pounded down below for a few minutes, and then were on our way to make our way back to camp headquarters.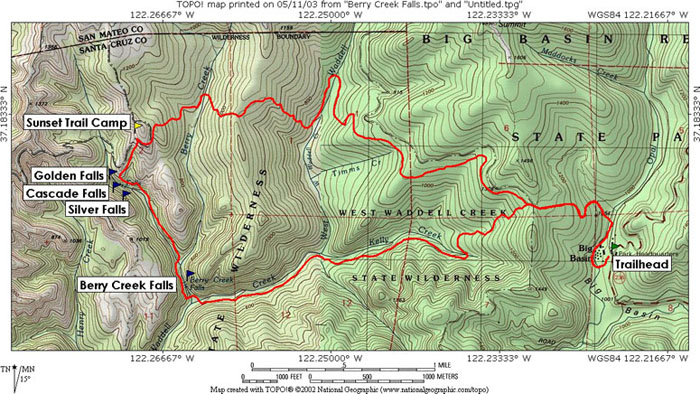 Throughout the hike, we had wide open trails to ourselves. It was nice to feel like we were the only ones on the trail. We made sure to take off a couple minutes after any other groups when we stopped off at waterfalls or other scenic stops to make sure we had the trais all to ourselves. 
THE PARK HQ
Park Headquarters was a lively campground with a large visitor center, gift shop, and open paths stroll through the redwoods. There were large groups of tourists, campers, and hikers all spending time and taking in the scenery. We enjoyed an ice cream as our reward after the hike and rested our sore feet before we took off to head back to San Francisco. 
MY ADVICE
Be prepared for a long hike- this includes making sure to pack food, water, sunblock, and bug spray. Also, make sure you are ready to hike for half a day. We began our hike at around 12pm, and a ranger we chatted with made note that he wouldn't suggest leaving much after that time. Plan ahead, and you'll have an amazing trip!
Next time, I would love to stay over, camp out, and explore more of the park!