Curly hair is beautiful! Today, I'm obsessed and can't image going back to the days when I straightened my hair. However much you love your curly hair, it can be quite challenging to care for if you're newly embracing your curls. I transitioned a few years ago, and over the years have picked up some great tips and tricks to help you get into a perfect hair care routine with your curly hair.
Over the years, I've gone from neglecting my curls to a routine that helps my curls flourish. Let's jump into it!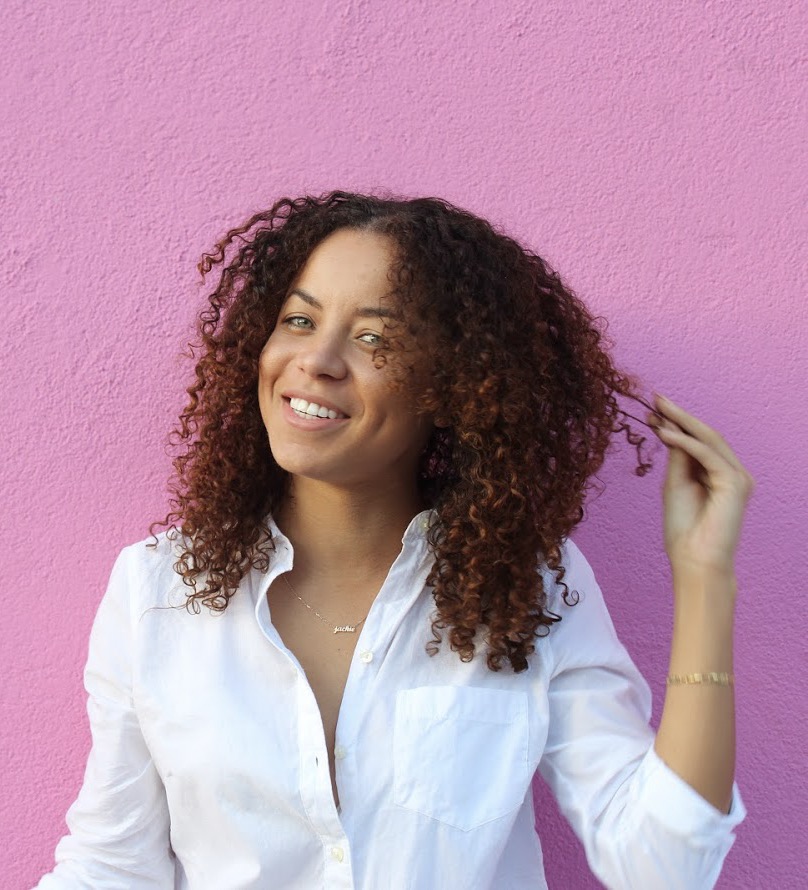 Your daily curl care routine
If you're looking for ways to take care of your curly hair on a daily basis, I've got you covered. Here are things you should be doing every day to care for your hair.
Daily Hair Care Routine for Naturally Curly Hair:
Conditioning:

Skip daily shampooing to avoid over-stripping your hair of natural oils.
Instead, wet your hair thoroughly and apply a daily conditioner or a leave-in conditioner.
Detangle your hair using a wide-toothed comb or your fingers while the conditioner is in your hair. Start at the tips and work your way up to prevent breakage.

Rinsing:

Rinse your hair with cool water to seal the hair cuticles and enhance shine.
Leave some conditioner in your hair as a leave-in treatment for extra moisture.

Styling:

Apply a curl-defining product such as a curl cream, gel, or mousse to damp hair.
Use a microfiber towel or an old T-shirt to scrunch excess water out of your hair gently.
Avoid combing or brushing your hair after this step to maintain your curl pattern.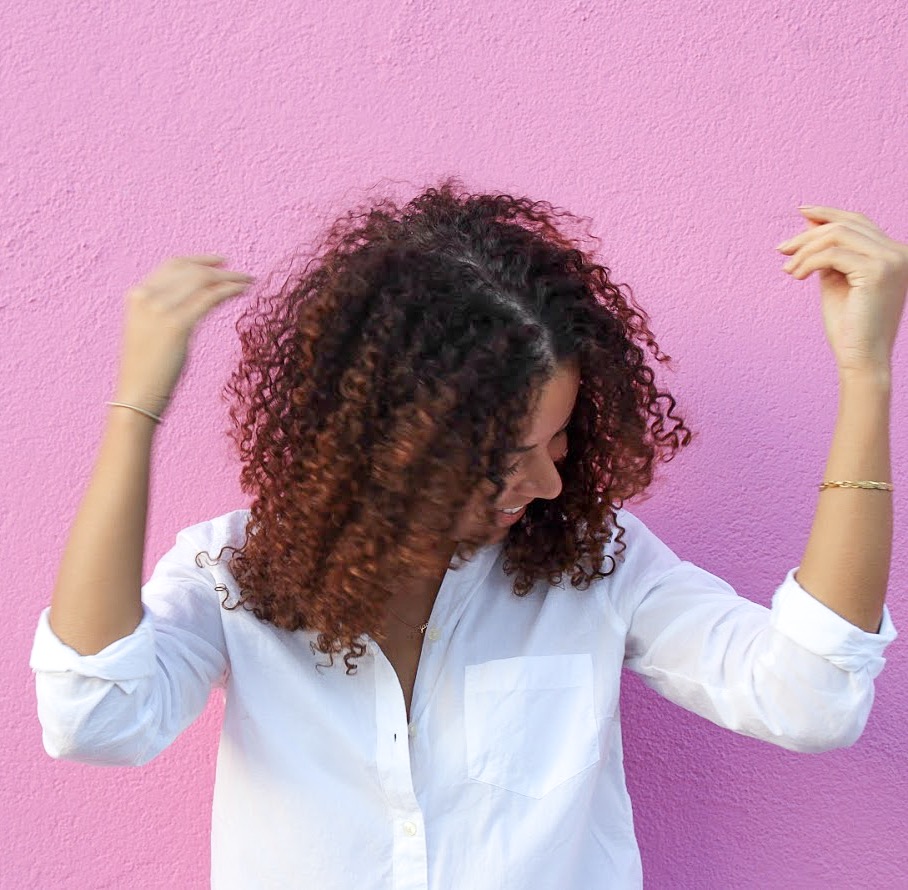 Your weekly curl care routine
Once you have got your daily curl care routine in place; you should make sure that the following routine happens at least once a week.
Weekly Maintenance Routine for Naturally Curly Hair:
Cleansing:

Once a week, use a sulfate-free, hydrating shampoo designed for curly hair to cleanse your scalp and hair.
Apply the shampoo to your scalp and gently massage, allowing the suds to cleanse your scalp without over-drying the lengths of your hair.

Deep Conditioning:

Follow shampooing with a deep conditioning treatment or mask to replenish moisture and restore elasticity.
Apply the treatment from roots to ends and leave it on for the recommended time.
Rinse thoroughly with cool water.

Scalp Care:

Massage your scalp with a lightweight oil like jojoba or tea tree oil to promote circulation and prevent dryness.
Use a clarifying shampoo occasionally to remove any product buildup.
Your monthly curl care routine
As well as using the above guides to create a daily and weekly curl care routine; there are a few things you should also do each month.
Monthly Maintenance Routine for Naturally Curly Hair:
Trimming:

Schedule a regular trim every couple of months to remove split ends and maintain the shape of your curls.

Protein Treatment:

Once a month, consider using a protein treatment to strengthen your hair. Be cautious not to overdo it, as too much protein can make your hair brittle.

Silk Pillowcase:

Continue using a silk or satin pillowcase to reduce friction and prevent frizz and breakage while you sleep.

Hydration Boost:

Consider doing a hot oil treatment or using a hydrating hair mask to give your curls an extra dose of moisture.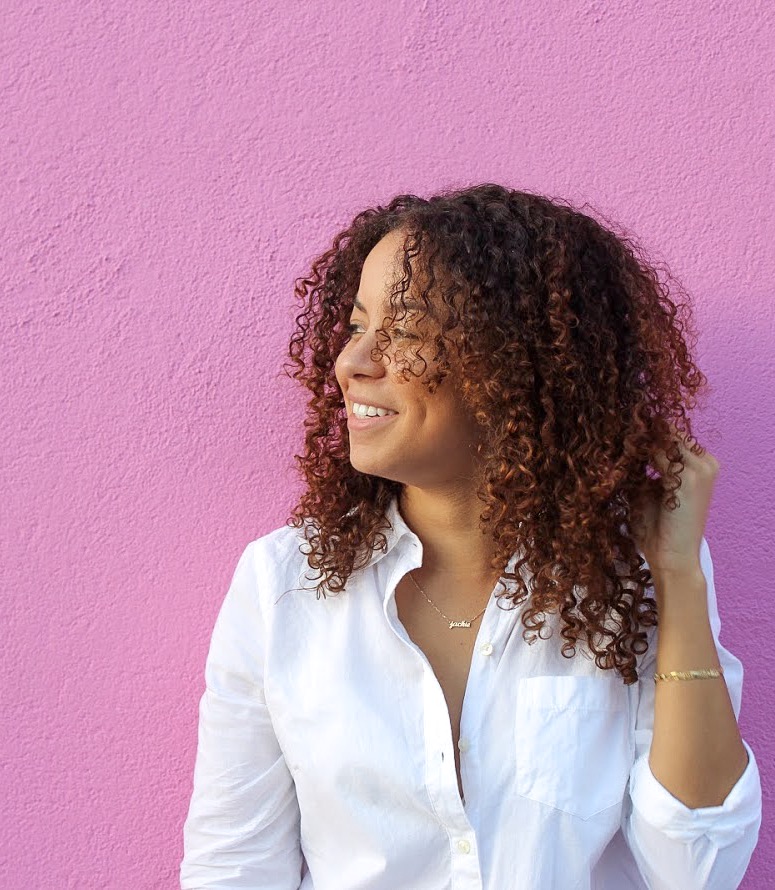 What to avoid when caring for curls
While we all have habits ingrained, there are a few things you should stop doing if they are apart of your routine.
Don't brush your hair every day. Brushing or combing your hair can cause some serious frizz and even pull out your hair. I limit brushing my hair to a couple of days a week, and finger detangle most days.
Skip the sulfates. Ingredients are important – you're doing your hair a disservice if you're using products with sulfate, parabens, silicone, phthalates. So get rid of those and stick with natural ingredients.
With hydration and gentle care, I've seen my hair grow and thrive. I hope my guide to daily, weekly, and monthly curl care can help you keep your curls healthy and looking fabulous!
xoxo, jackie