If you've been following along with my recent craft posts, you'll notice I've primarily been using materials from old projects. In an attempt to clean out and make space for new materials, it's been fun to get creative and see how I can use what I've got in new ways. These amazing leather pen holders are following in this trend. With just a bit of scrap leather, I made practical yet chic accessories for notebooks.
My friend Pita came over recently, and while sitting and chatting around my craft table, she picked up a piece of leather scrap and said, "this would be a cool loop," holding it up to a nearby notebook. Why didn't I think of that!?
As it turned out, the strip of leather was the perfect amount of leather to make two loops to attach onto notebooks as pen holders.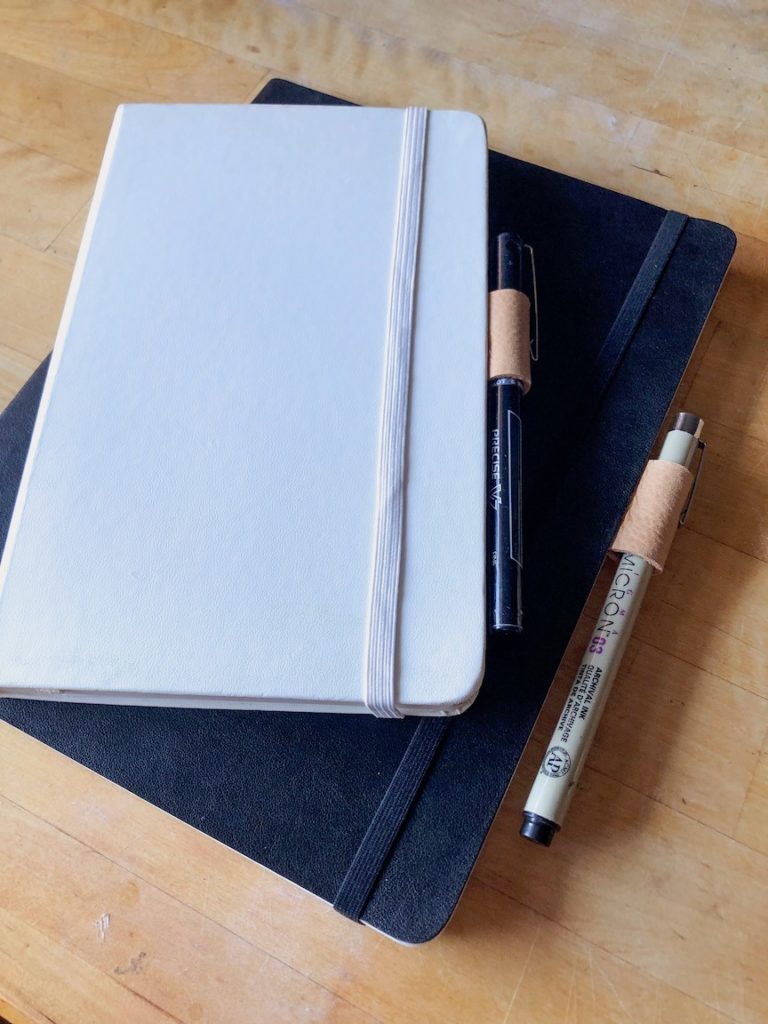 These loops are super practical! I didn't even realize how useful the loop was until I got into the office and realized how many items I take with me from my desk to conference rooms. While juggling my laptop, a water bottle, notebook, pen, and sometimes a blanket (don't judge me, the office is cold) – being able to reduce my items by one is more helpful than I thought it'd be! It also means less of a chance for losing the pens that I am very particular about.
Want to make your own? Check out the super simple steps for adding a leather (or other material) loop to your notebook.
Materials
Notebooks, I used two Moleskines
Strips of leather – craft and fabric stores have leather in precut strips or in large quantities
Strong glue – I love gorilla wood glue and find it works really well for fabric and paper projects
Clamp paper clips
steps
Measure and cut leather. I wrapped the leather around a pen and held it up to the notebook to get an idea of the right amount of leather to use.
Glue loop. I used paper clips to hold the edges in place. Let the glue dry for at least an hour.
Once the loop was dry, I played around with placement. I choose the center for the smaller notebook, and decided to go a little higher on the larger notebook.
Glue the loop to the inside of the cover. Apply pressure with a book or another weighted object. Let dry for another hour or two.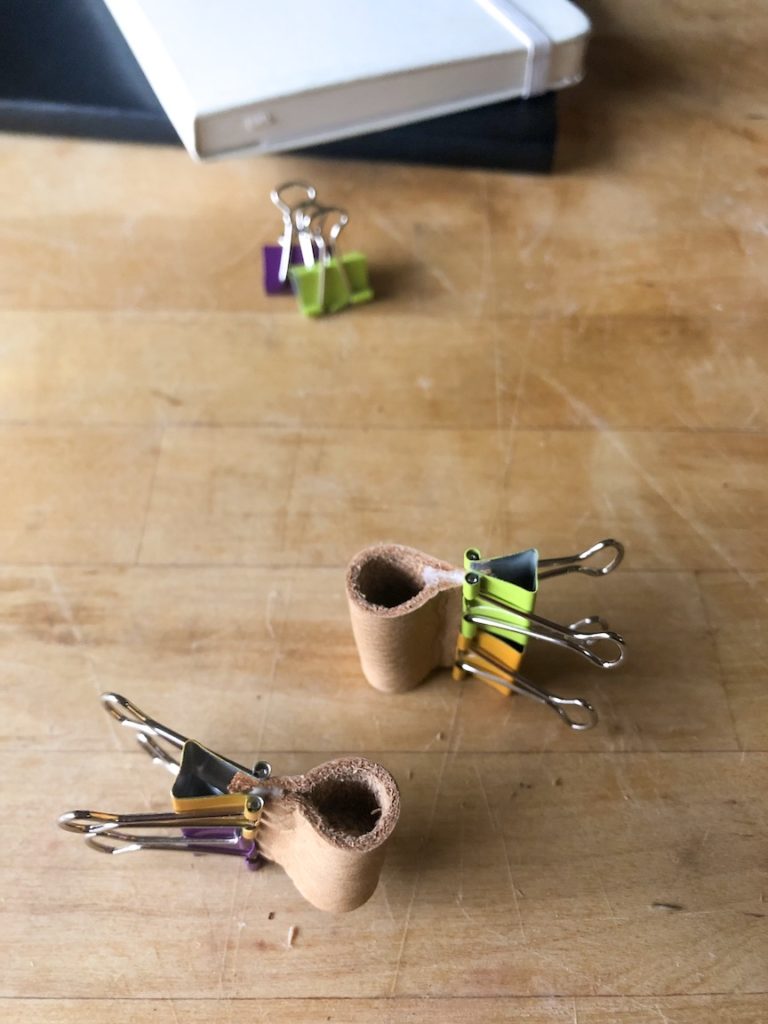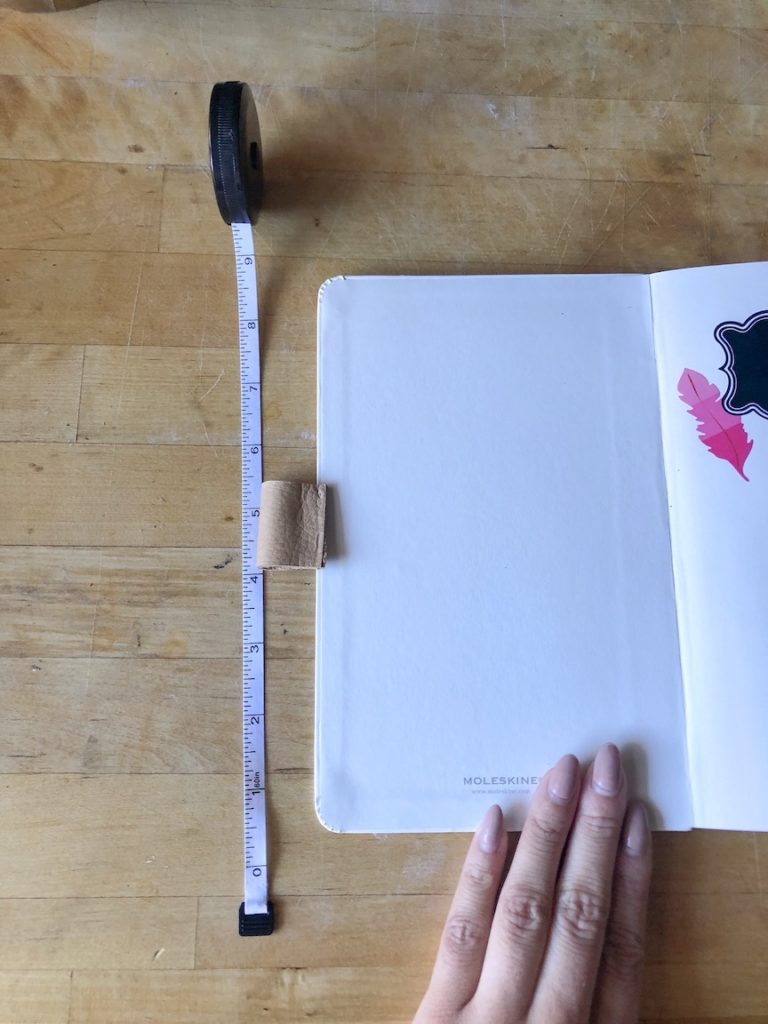 Tip: I use this Gorilla Glue wood glue for all types of projects, I figure if its strong enough to bind wood, it would be good for paper and fabric projects. Thus far, it's been great, it's the strongest glue I have outside of super glue and is nice a flexible for fabric projects.
I love how it turned out! Thanks, Pita!
The leather looks great! The tan works well with both the white and black notebooks, kinda looks like they came with the pen loops.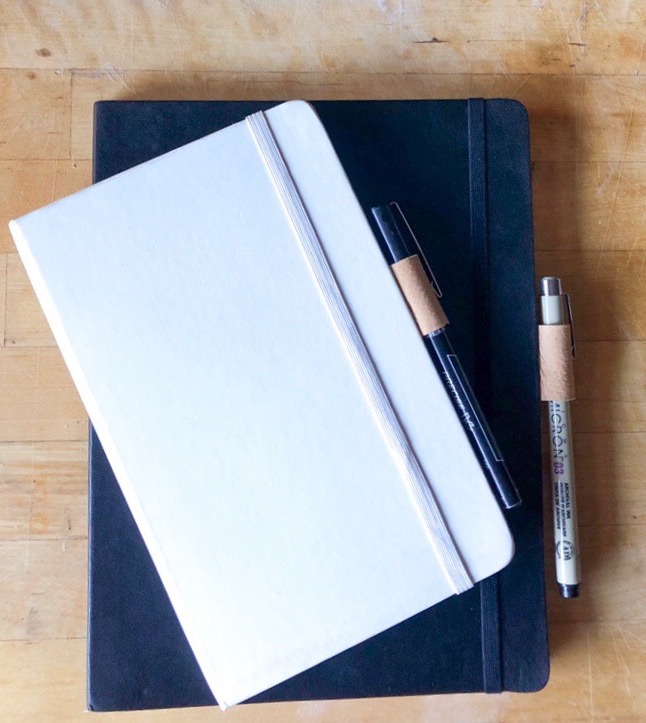 xoxo, jackie