When I moved into my apartment, one of the most important aspects of design to me was that it'd be a homey, cozy space. I know this is an intangible adjective and it can mean so many things to so many people – but for me, cozy means creating a calming space that is completely home.
Transforming a rental comes with more challenges and restrictions than for those who own, but I think it's important to feel completely comfortable in your home, whether you own it or not! So my goal each time I move is to have that same sense of home that I felt when I was growing up.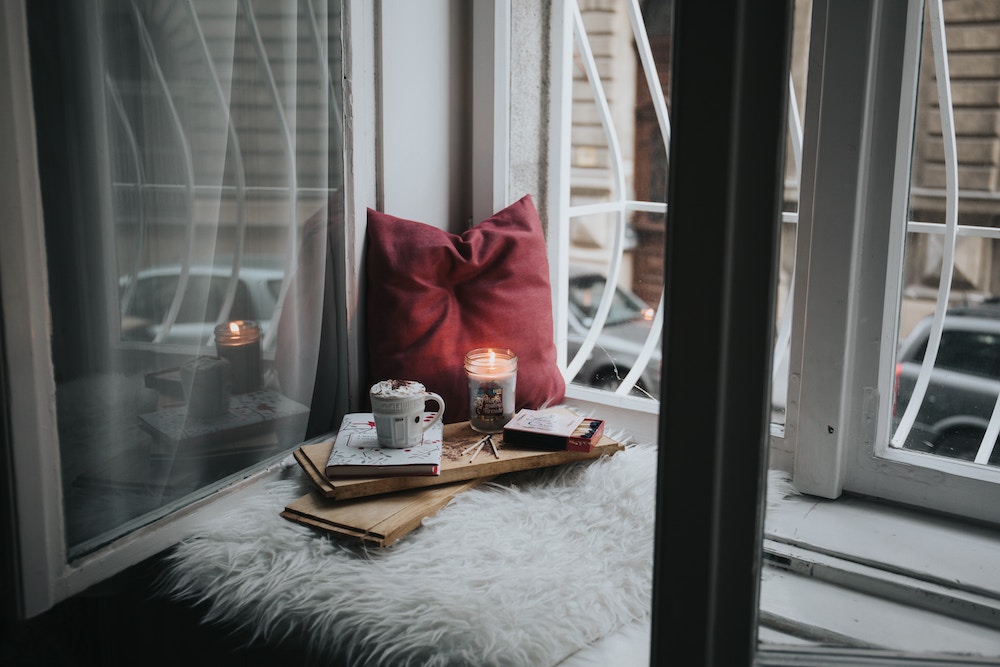 This is increasingly important during the winter months as we all tend to spend more time indoors. Your home should be a place where you go to recharge and relax. While creating a complete sense of home can be difficult in a rental apartment, here are a few tips for creating a warm, inviting space:
Comfortable furniture
It's pretty hard to feel completely cozy on a lumpy couch or sinking bed. An important foundation for a cozy room is solid furniture.
In the past, I'd opt for the cheapest, cute furniture I could find – and while I'm by no means ballin yet, today I better understand the importance of quality furniture. With that, we were more thoughtful in choosing pieces of furniture that will last for years and through multiple moves.
That means purchasing quality furniture, be it new or used. Look for quality woods and fabrics opposed to cheap materials like composite wood and thin fabrics. With so many online furniture stores, it may be appealing to get the cheapest trendy furniture, but as somebody who's gone through close to 10 moves, the cheap stuff always gets worn down and replaced quickly.
Tip! Don't fret if Ikea is one of your favorites, they have a bunch of great options that are great quality. The Tarva series, for example, is made of solid wood! I've had my Tarva dresser for years and it's one of a couple pieces that has held up through multiple moves.
We purchased a bedroom set from Living Spaces, we chose and love the set because it's quality furniture. Considering the quality, the price point is amazing! The bed looks great, and after previously sleeping on a cheap bed frame, I am thankful to rest on it.
Another one of my favorite pieces is a vintage chair that was in amazing condition when we found it! It's made an appearance in a previous craft post – and is truly a great example of solid, vintage furniture.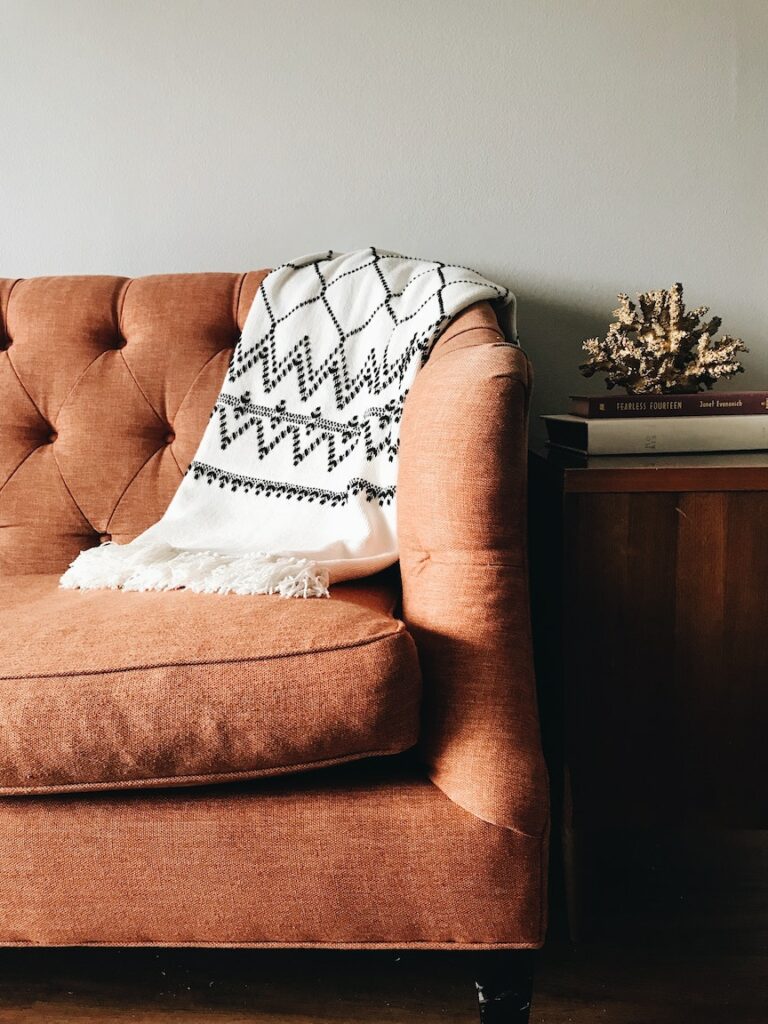 Calming colors
While color is a personal preference, there are certain colors that are proven to have a calming effect, similarly, there are a handful of colors that are proven to do just the opposite. To ensure you're able to unwind and have a peaceful night's sleep, the experts suggest these colors.
Similarly, the living room, den, or family room, or whatever name you've given to your lounge room should be a calming and cozy space. Paint, rugs, furniture, and decor all contribute to your color scheme.
Calming bedroom color palettes:
– Beiges
– Soft whites
– Light grays
– Lavender
– Rich navy
Calming living room color palettes:
– Grays
– Off-white
– Sage green
– Soft browns
– Peachy tones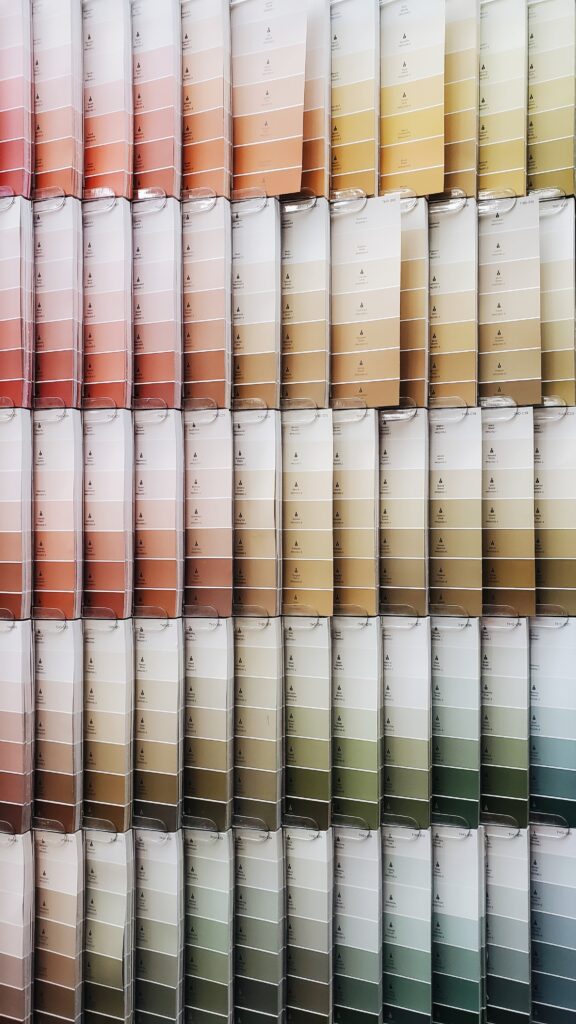 On the other hand, neons and colors that are harsh on the eyes can be distracting and actually make you stressed. These are the handful of colors that experts suggest avoiding all together for a calming space:
Stay away from: bright reds, neon colors, orange, dark brown.
Paint is one of the most effective ways to set a mod in a room, but if you're like me and don't want to paint and then paint the walls back to white after each move, there are other ways to bring calming colors into a room.
In the bedroom, for example, wall art, decor, linens, and pillows can all create a calming environment. Have a primarily off-white color scheme we stick to creams, browns, and plants.
Candles
Literally bringing in warmth and soothing light, candles are the most important part of creating a hyggelig atmosphere at home. Borrowing from this practice, I regularly light candles to create a calming, cozy atmosphere.
Along with the light, scents are a benefit of candles. By bringing calming scents like lavender, vanilla, jasmine, to name a few, you're adding another layer of calm.
Borrowing from hygge practices, I light a candle most evenings when I get home from work, and it has become a key part of my destress and decompress routine. I enjoy how the scents fill the apartment and block out any city smells, I also just like knowing that when I light a candle, it's my time to relax.
Blankets and pillows
The easiest way to make any space cozy is with the addition of throw blankets and pillows! Adding a chunky knit or fuzzy blanket instantly makes a space warm and cozy. These don't have to be expensive, but you do want to make sure they are comfortable.
I wrap up in blankets all year round (thanks to wonderful Bay Area weather), and for me, curling up in a blanket is unparalleled cozy! This one might not be super important for my folks down south, but even in an air-conditioned apartment, you may find comfort in being wrapped up. I even have a blanket at my desk at work – for me, being cozy is an important aspect of being productive.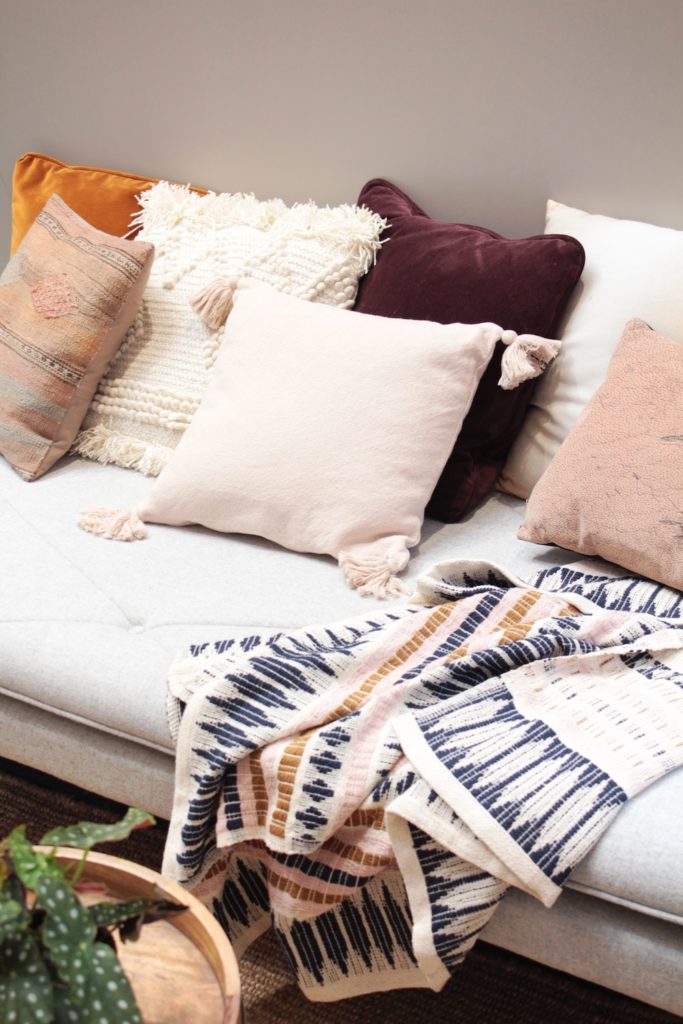 Plants
Having plants in your home is important – and I'm talking beyond looking at them. Plants essentially do the opposite of what we do when we breathe. They release oxygen and absorb carbon dioxide, which not only freshens up the air, but also eliminates harmful toxins.
These are especially important if you live in a big city or even on a busy street. We keep plants in every room, a) because we love how they look, but also because b) we want to keep our air clean.
We make sure to keep plants with large leaves in each room – these are the plants that are putting in the hard work to clean. We keep a fiddle fig, a pothos, and an aloe plant in the bedroom because of their noted ability to clean air.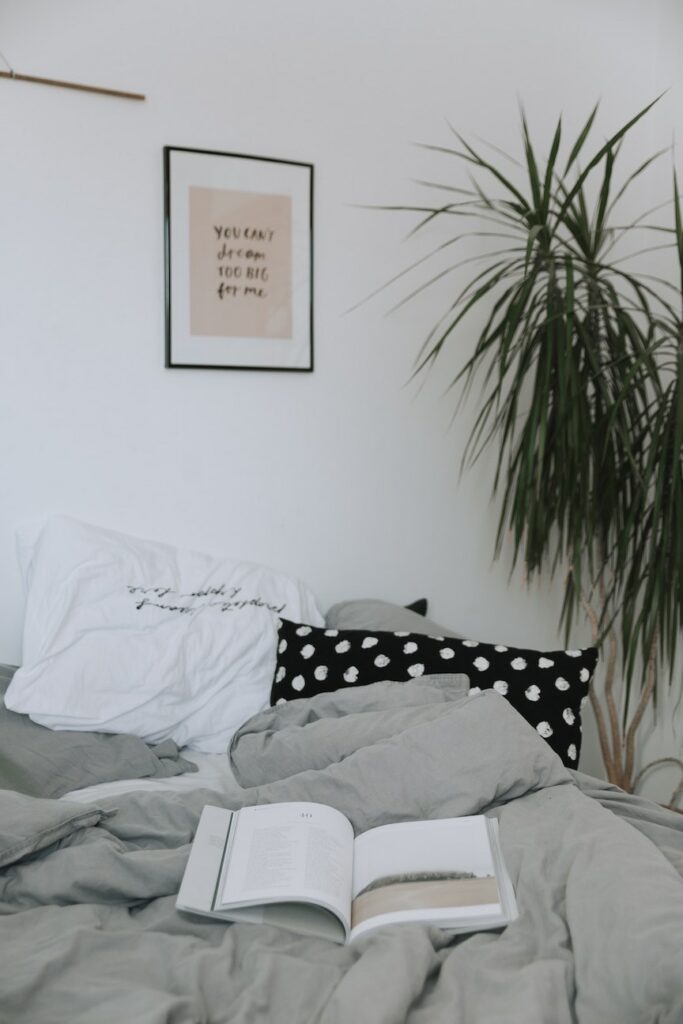 Pieces of you
This is everything from artwork that speaks to me, books I love, or even tchotchkes that are important. While I am practicing the art of living with less, I hold onto those items that spark joy and have a meaning.
For me, this means shelf decor and hanging art that matters to me, which I keep pretty minimal in the bedroom, opting for a simple yarn wall hanging and a couple tchotchkes on the bedside tables. I try to limit shopping for decor at big box stores, opting to make my own, or find unique pieces on Etsy or small shops.
A Tidy and Clean Space
While striving for coziness, it's equally vital to maintain a tidy and clean space, ensuring a clutter-free environment that promotes relaxation and peace of mind. Remember, your living space should be a retreat, a place to unwind and recharge. Taking steps to keep it pest-free and maintaining regular inspections can be crucial in this regard.
If you're in need of reliable pest control services, consider Skill Termite—a reputable pest control company that can help ensure your apartment remains a cozy sanctuary all year round.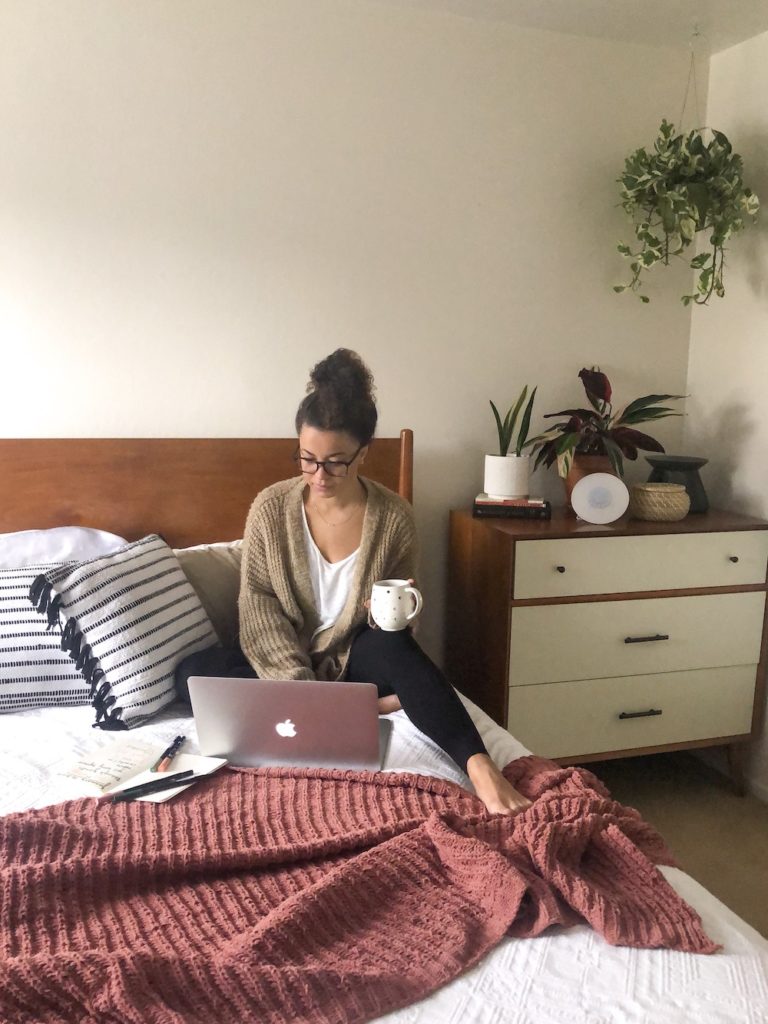 With all of these in place, you're on your way to a cozy space.
xoxo, jackie
save these ideas for later