Zero waste, low waste, and eco-friendly living is becoming super trendy these days, but unlike most trends, this is one I encourage everybody to follow! Going zero waste is a journey, and even those who follow zero waste to the extreme had to start somewhere!
If you're like me and are looking for ways to reduce waste, but get overwhelmed by a complete change in lifestyle, don't fret, there are little things you can do that make a big impact! Over the last few months, I've implemented a few changes that are helping to reduce waste and save a little money in the process.  
Shop the bulk section
It's easier than ever to shop the bulk section for dry goods like flour, nuts, and spices! When I was growing up, there was one bulk grocery shop in the area, but today there are a ton of great options. Sprouts and Whole Foods are widely known for their bulk sections, and many produce stores and farmers markets offer bulk dry goods as well.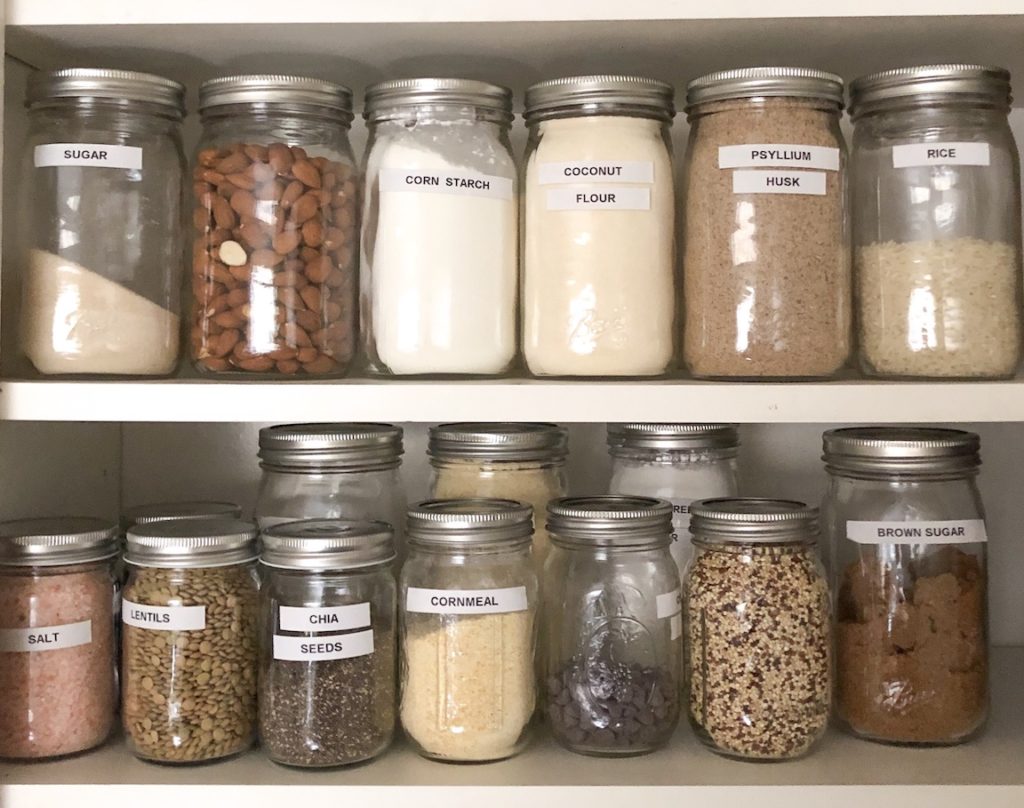 Moving to bulk shopping was the first low-waste habit we began. And in reality, we did it without really even making a conscious effort to reduce waste. We set out to shop fresher, less processed products and found that the bulk section was the best way to do this. After realizing how much packaging went around all of these products, though, has contributed to us keeping it up.
To make bulk shopping truly zero waste, it's important to bring your containers rather than using plastic bags to bring your dry goods home. When moving over to bulk shopping we purchased a bunch of mason jars from our local hardware shop, having a couple extra is helpful so when we head to the grocery store we'll grab a few to fill up.
Bulk products are measured by weight so you'll need to weigh your jars at home and take note of the weight so you can tare out the jar. Many shops will do that for you, if you forget. I have a variety of jars and often forget their weights, so I will bring my jars up to customer service, where they're happy to weigh my jars for me!
Mason jars are my favorite for bulk storage – while there are tons of fancy storage out there, these are tried and true. Also, you can use them for everything and they're cheap!
Get rid of paper products in the kitchen
Paper plates, napkins, and paper towels – while they are easy for clean up, eliminating these from your life are a great step towards living waste free. Instead of paper napkins, use fabric napkins, dish towels, and ceramic dishware.
Paper plates were easy for us as we rarely used them. Paper towels, on the other hand, were a big challenge. It did take buying a couple extra towels to make sure we'd have enough to get us through until wash-days. We throw these into the wash with the rest of our towels each week, and have fresh towels to dry our hands and wipe up spills.
Similarly, moving from paper napkins to cloth napkins is a huge waste reducer. My mom made this switch a couple years ago, using the fabric napkins she used to reserve for special occasions. I'm impressed by this change, and am in process of diy'ing a set of fabric napkins. I'll keep y'all posted once we start this one.
Use reusable mugs and water bottles
Another totally doable practice, use your own bottles rather than using disposable water bottles or paper cups from your favorite cafe. If you're like most people, you'll save a few water bottles and a couple of paper cups each day! Your cafe may even give you a slight discount for bringing your own mug!
I personally love glass and ceramic containers. I choose them over metal as metal bottles tend to make hot drinks taste a bit metallic. Here are my favorite bottles:
I use a bkr water bottle, carrying it from home to work every day. I also keep it with me all day, refilling it every couple hours. Again, while many of my co-workers drink a few bottled beverages a day, I'm able to keep my waste low, even at work.
I also make coffee at home (using a Chemex and reusable filter) and take my coffee to work in an Ello Travel Mug. But if my water bottle or coffee mug is dirty, I'll grab a mason jar and use that instead.
Use multi-purpose cleaners
Multi-purpose cleaners are products that are safe enough to use for a variety of purposes and on many surfaces, reducing the need to buy many products, bringing along lots of packaging.
I'm a huge fan of Dr. Bronner's soaps for a couple of reasons. First, it is a multi-use product that's safe to use for just about anything! We use their Pure Castile soap for everything from shampoo through cleaning our kitchen counters. Second, Whole Foods (and I'm sure other retailers) carry their soaps in bulk! So, when we head to go grocery shopping, we'll also bring our soap refill container. Similar to other bulk items, just bring your jar to customer service and they'll tare out the weight of the jar so you'll only be charged for the weight of the soap.
Want to take this a step further? Make your own soap. Ok, I'm not quite there yet, but this is definitely something we're planning to transition into.
Shop used
Online shopping is a big contributor to waste. Cardboard, paper, plastic bags, and bubbles, oh my. Today, online shopping is big business and if you're like me, you contribute to those numbers. The first step in this one is to eliminate online shopping. Instead, when you're thinking about going shopping, visit your local thrift store or consignment store.
This one was a big one for me. A frequent online shopper, I'm about a month into my no clothing shopping challenge, which permits thrift store/used clothing. A few days of heavy rain had me needing to buy a raincoat – so I made the conscious decision to buy a used jacket rather than ordering a new one.
The benefits of shopping used are both in eliminating waste on your end, but also in giving perfectly good clothing, that would probably otherwise end up in the dump, a second life. Putting this in action, I recently scored a super cute second-hand raincoat without contributing any additional waste into the world.
xoxo, jackie
save these tips for later!