When I learned my friends were getting married in Mexico, I just knew this was the perfect opportunity to extend the trip into a longer vacation. And we did just that, turned a weekend trip into a week-long stay in Mexico City.
Looking back on the week we spent Mexico City- I am in need of a serious need of a workout. While in the city, we ate amazing food around the clock! We also did some serious sightseeing and explorations. After doing extensive research prior to our trip, and found countless sights, activities, and most importantly food we wanted to experience; so we built a pretty robust itinerary. When it came time to narrow down our activities, we did the best we could to fit in as much as we could to see as much of the city as we could in a week.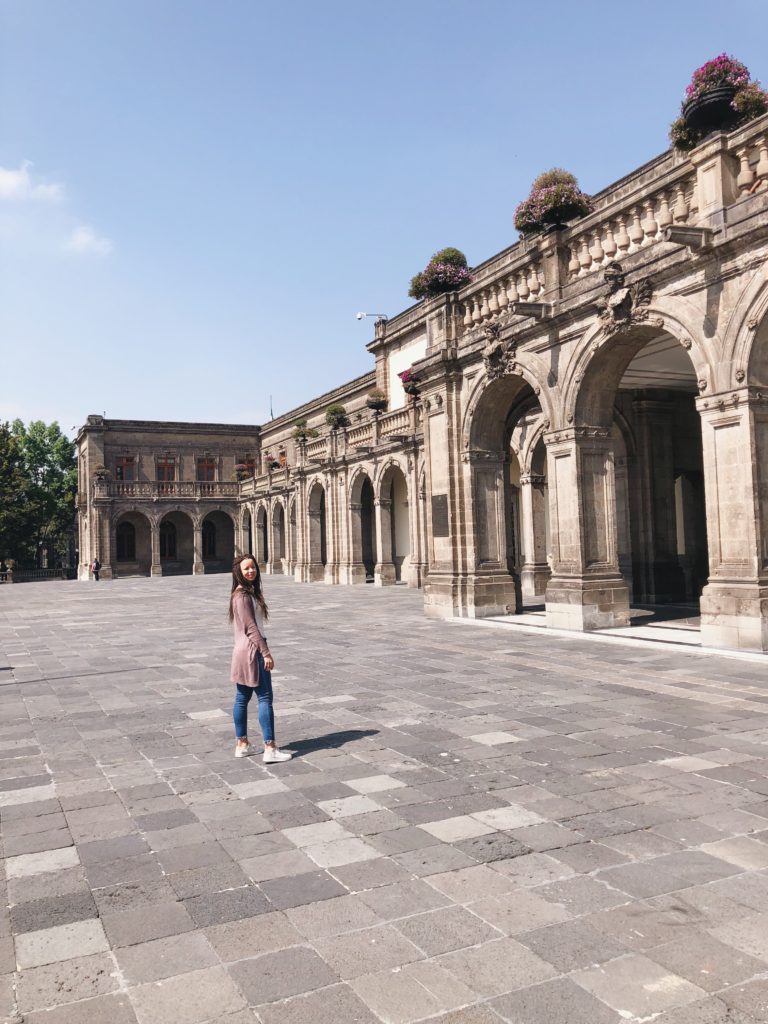 When I tell you, you need to spend time in Mexico City, I'm serious! From street food to fine dining, we ate our way around the city, and along the way, we explored one of the most beautiful and diverse cities I've ever been to.
So grab a coffee and get comfy, here's a full look at our trip to Mexico City:
Day 1 – Our First Night in Mexico
I arrived in Mexico City in the evening, just in time to get settled in our Airbnb in the Condesa neighborhood, then head out to wander around the neighborhood and grab our first meal in town.
Our Airbnb was located just blocks away from some of the best restaurants in town, so as the sun was setting, we set out for our first few hours of exploration in Mexico City. We set out with two goals, Mezcal, and tacos, and after a few minutes stumbled upon Alipus, the cutest restaurant that had both on display, and learned that the restaurant makes & sells its own mezcal. Yes, please! A few drinks and a couple delicious dishes, and we called it a night in preparation for the big week ahead.
Day 2 – Falling in Love with Condesa
About a 20-minute walk from my Airbnb, the Castillo de Chapultepec is an amazing historic site turned into a museum. Sitting atop a hill, we spent a couple hours exploring the huge castle, the grounds, and the artifacts and cool pieces of history that filled each room.
The grounds surrounding the castle are pretty awesome to walk through, from sculptures and statues to well-manicured lawns and greenery; I could have spent a few more hours just hanging out on the property.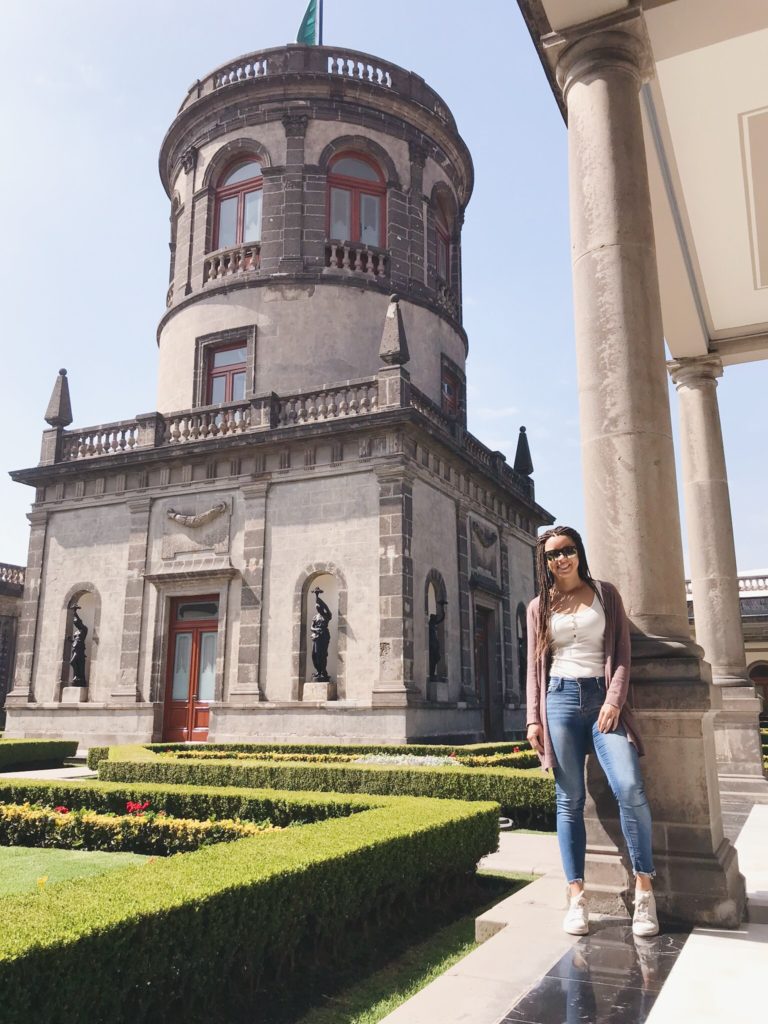 And beyond the castle itself, the castle is situated inside a large park, Chapultepec Park, with beautiful greenery, monuments, and a bustling marketplace. I recommend spending time exploring the park. It, like all the parks I visited in Mexico City, is extremely well maintained and easy to get around. We just saw a small portion of the park, next time I'd rent bikes so I could really get around and see everything I missed.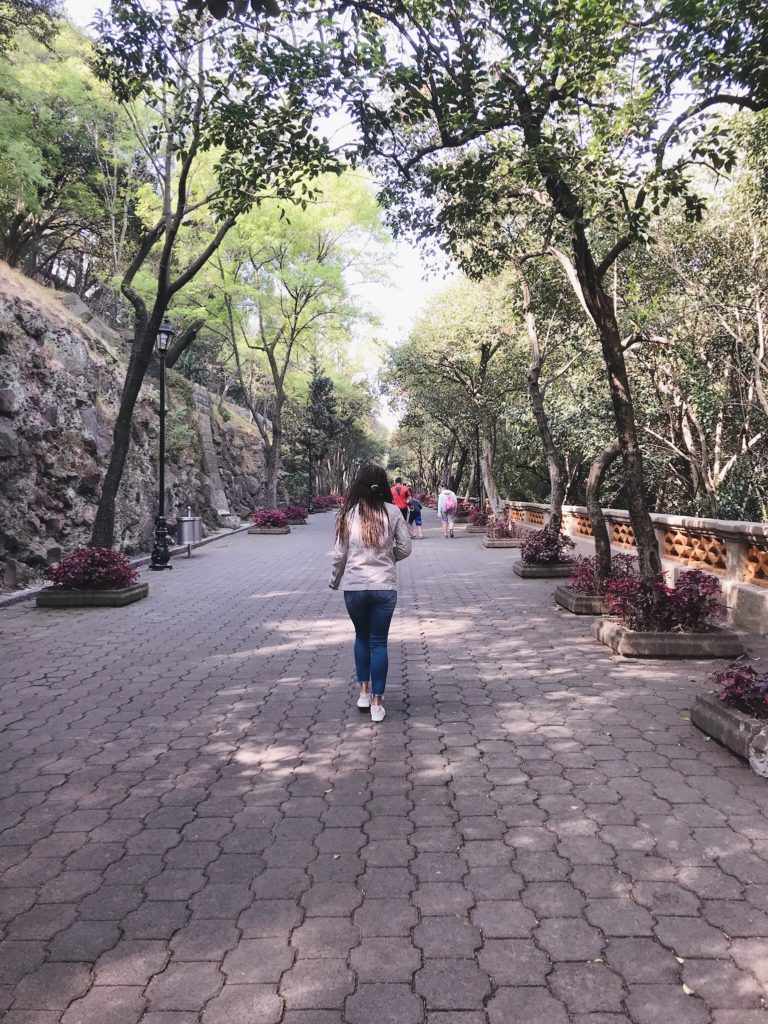 After spending time amongst the calm of nature, we set out to explore the urban side of the city. The Angel of Independence was at the top of our list, so we walked over the see the huge monument. The massive monument is situated in a large roundabout- so we gathered up our confidence to play a game of frogger to cross over through the traffic to the monument.
Day 3 – Taking in Coyoacan
Coyoacan was such a welcome departure from the Condesa and downtown neighborhoods that I visited the day before. Older in architecture, Coyoacan is a vibrant neighborhood with a bustling central square. While in Coyoacan, we tried a few different types of food from vendors tacos and fruit are a must try, and I had the best churro here!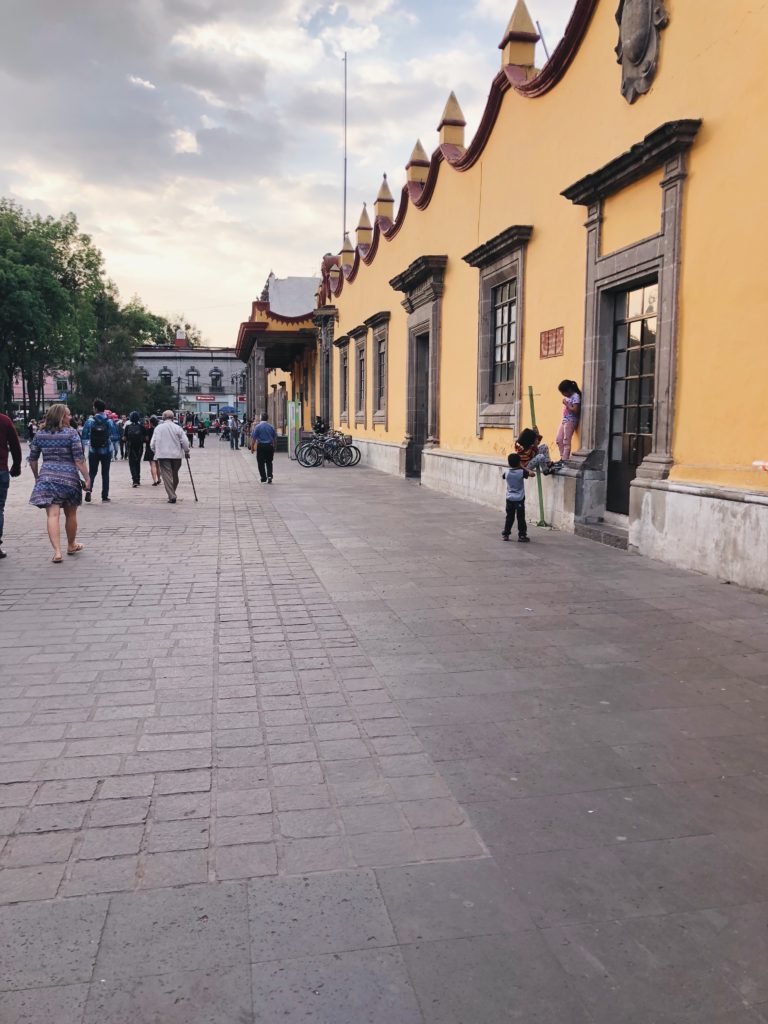 We explored the Coyoacan Market, an indoor market filled with vendor stalls selling everything from artisan crafts through household goods. Here, we tried a few traditional snacks, seasoned peanuts, fruits, and even tried our first Chapulines – crickets, which were surprisingly tasty!
Our last stop in Coyoacan was the Frida Kahlo Museum. The museum, which is located in Kahlo's home and property, is a beautiful collection of Frida's possessions, history, and gives a look into her life. This is a must-see, but keep in mind it is at the top of most visitors' lists, so expect a crowded museum.
Day 4 – Exploring Chic Polanco
After breakfast in our Condesa neighborhood, we set out to explore a new neighborhood, Polanco. The chicest and most high-end neighborhood in Mexico City, Polanco has some of the nicest restaurants and hotels, but what brought us to the area is the Soumaya Museum. A massive and beautiful building, it was awesome to explore the floors of art owned by Carlos Slim – all free to visit. How cool is that?
After spending time at the museum, we set out to wander. We spent the rest of the day walking up and down the streets, window shopping, and stopping for snacks at cute cafes that caught our eye. Polanco is truly a different vibe than the other areas of town.
We ended our time in Polanco people watching in Parque Lincoln – named after President Lincoln! A cute, narrow park, we sat amongst the families and enjoyed the sunset.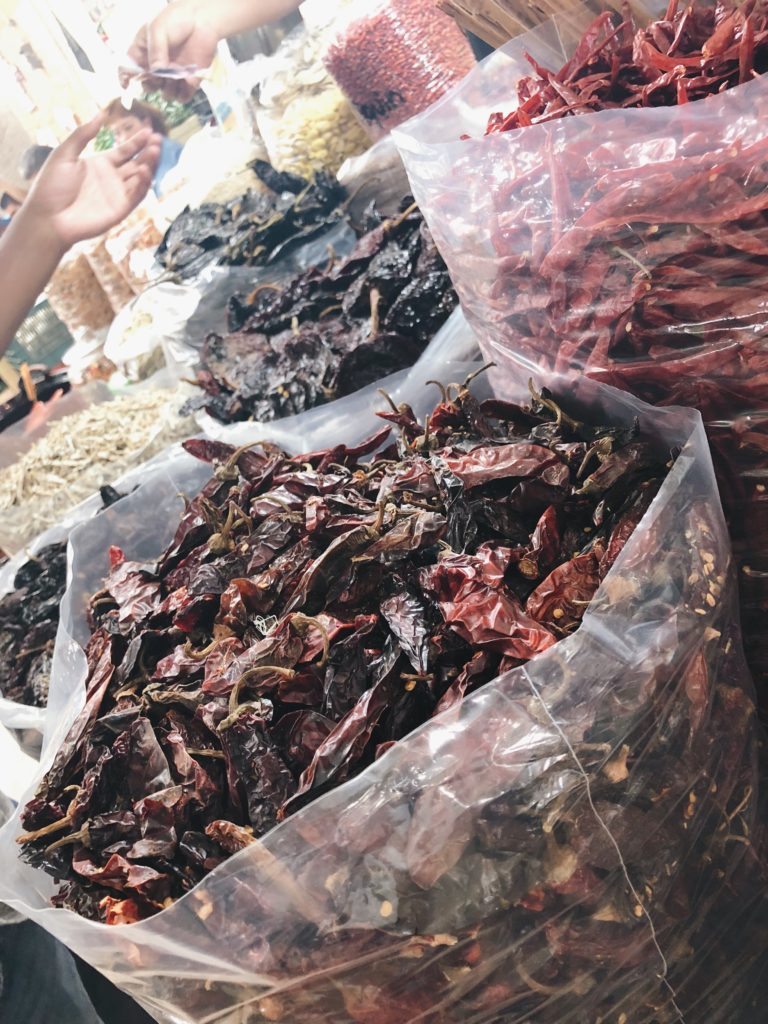 Day 5 – Feeling Home in Condesa
After venturing around town, we decided to spend another day in Condesa, our favorite neighborhood so far. From the restaurants and cafes to the abundant greenery, and the positive feelings we had while in the neighborhood – we knew we wanted to explore a bit more.
We enjoyed a fresh fruit juice at Ojo de Agua, a tasty juice and fresh food casual restaurant. Then set out to walk around the neighborhood. Again, we had a great day walking through the local parks, stopping for snacks and coffee, and really just enjoying the warm weather and scenery.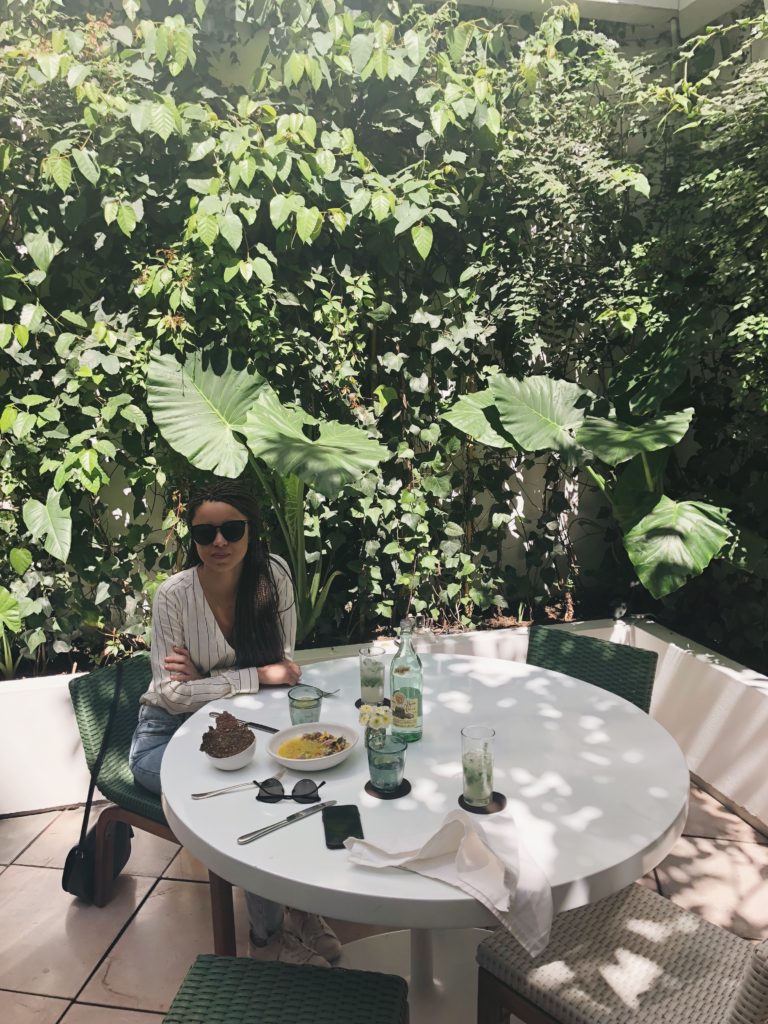 Day 6 – Over to the Other Side of Town
For the last two nights in Mexico City, we switched Airbnbs, to an apartment near the Historic Center, to experience another neighborhood. While we enjoyed here, I must say that Condesa was much more of my vibe.
Here, we saw quite a few sights including the Plaza de la Republica, the Zocalo, and the Templo Mayor. Seeing the history, colonial and pre-colonial history, was beautiful and gave a look into life in the past.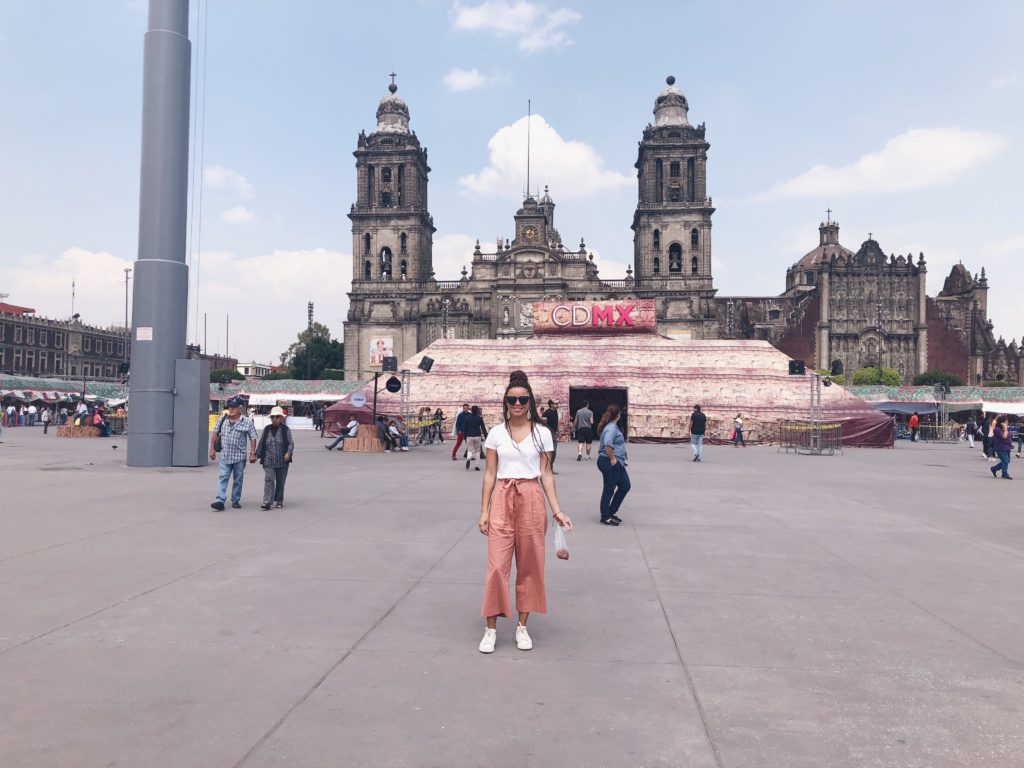 We also made a bit of a trek over to the Biblioteca Vasconcelos – the coolest library I've ever seen! Levels of glass house the huge collection, leaving the stacks of books appearing to be floating or hanging from the ceiling.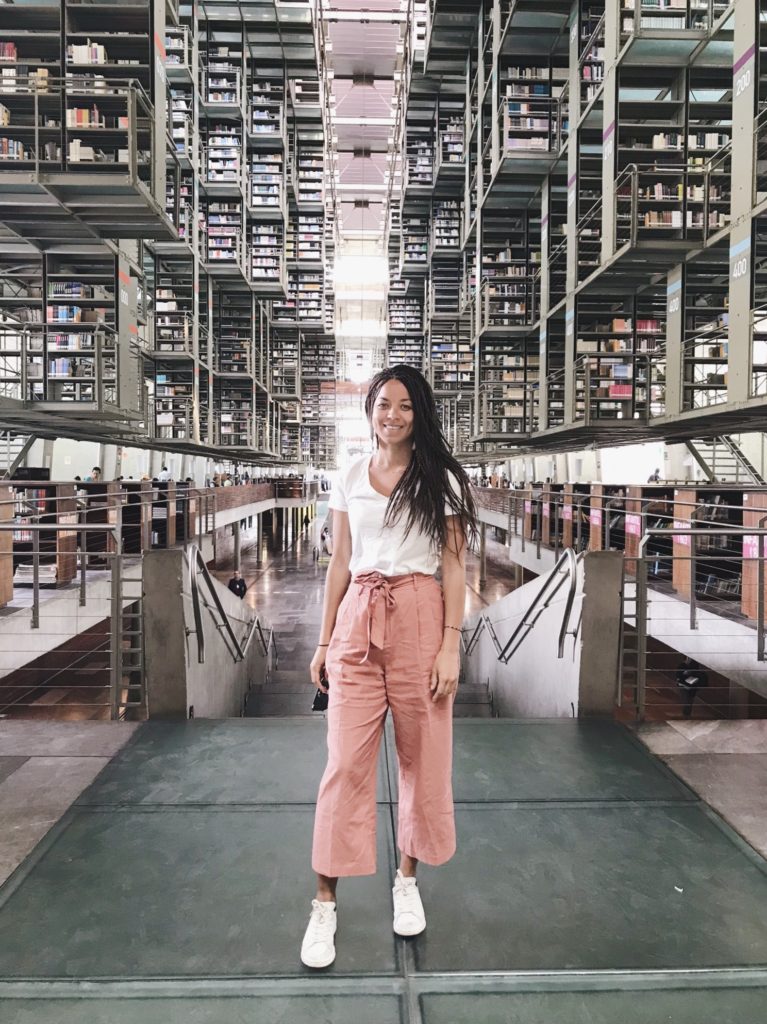 Walking back, we stumbled upon the Guerrero neighborhood and the Mercado Martinez de la Torre – the best market we went to while in town. While the Guerrero neighborhood has a reputation for being more dangerous than the other places we visited, we felt very safe while we walked around the area. Fruit, meat, snacks, home goods – this market has everything you could want or need.
Day 7 – Sights and Souvenir Shopping
On our last day, we splurged a bit for breakfast and ate a the beautiful Azul Historico. Famous for its multiple versions of mole at dinner, we sprung for traditional breakfasts in the restaurant situated under a canopy of trees in the center of a contained plaza.
It just so happened to be a celebration happening while we were staying downtown. The entire Zocalo was turned into an artisan fair, featuring vendors from around the country. Score! We only had half a day before we had to head over to the airport, so after breakfast we spent a few hours walking through the states of Mexico (the fair was organized by region!), picking up gifts to bring back to family and even got some cool art to add to the apartment.
Writing this, about a week since returning, draws up all of the good vibes felt in the city, Mexico City is high on my list for a repeat visit! Stay tuned and check out the rest of my posts on Mexico City!