Since I started on my plant journey, a few years ago, I've loved plant shelves and they've played a big role in my home (tiny apartment) design. Now that I'm pretty settled in my place, I've started to focus on the smaller design elements like my plant shelf decor. And while the plants are definitely the star of the show, I love to incorporate my art, knickknacks, and books into my shelf. Bring on the plant shelfies!
My shelves are ever-evolving. They will probably be in a new layout in a week or two. But for right now, I'm thrilled with all of the elements I have on my plant shelves. The perfect plant shelfie.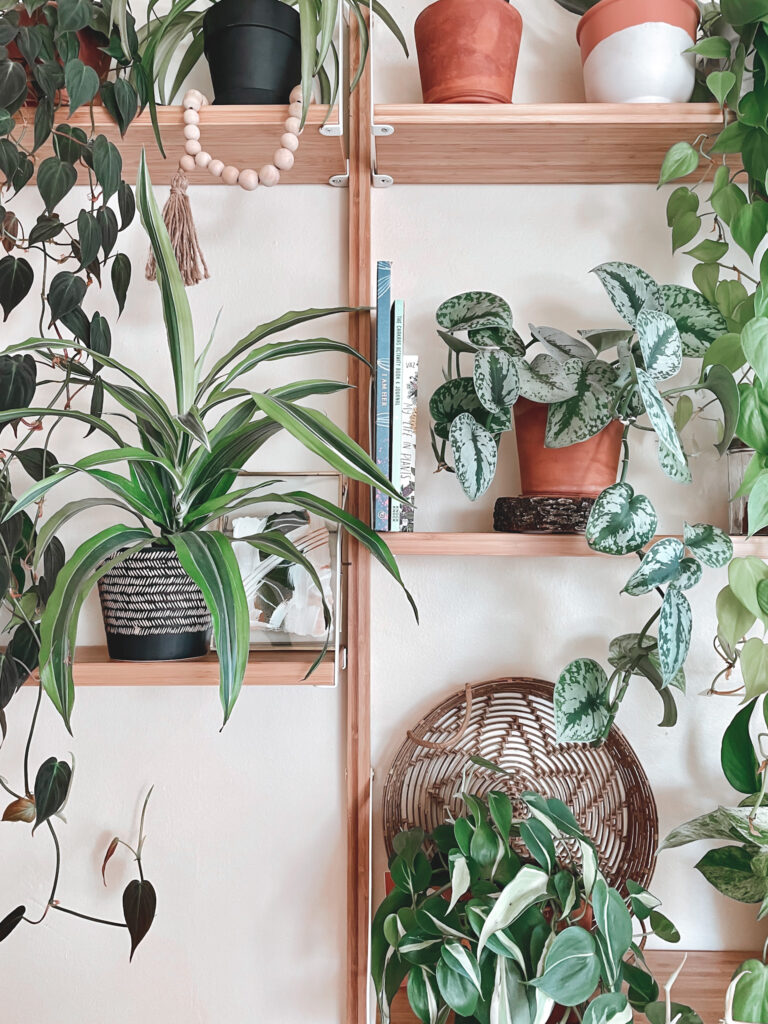 I have a customized Ikea Svalnas wall unit framing my sofa. It is definitely the focal point of my living room! And beyond being amazing to look at, my shelves are also really practical in my small apartment.
5 Tips for the best shelfie
Pick the right shelf. It's really important to start with the right shelf for your space. Think about style and size when picking a shelf for a room. You should also think about your plants when picking a shelf – make sure your shelves are spaced out deep enough to hold plants.
Use a variety of plants. Now it's time to fill up your shelves. Fill out your shelves with a variety of plants of your choice. Also, make sure you choose the right plants for that space. If you place plants just for the look of it, without considering if they are right for the space, your plants likely won't last.
Shop your home. Incorporate elements of you on your shelf! Books, collectibles, art, records – use whatever you love. I used a handful of books from my collection and a few decor pieces.
Give it some time. If you're just starting your collection, it may take some time for your shelf to have a full, mature look.
Snap a shelfie! It's time to snap a shelfie and show off your work!
Have fun creating your perfect plant shelfie!
Tip: Don't be afraid to DIY or customize your shelving. Read how I put up my Ikea Svalnas shelves here.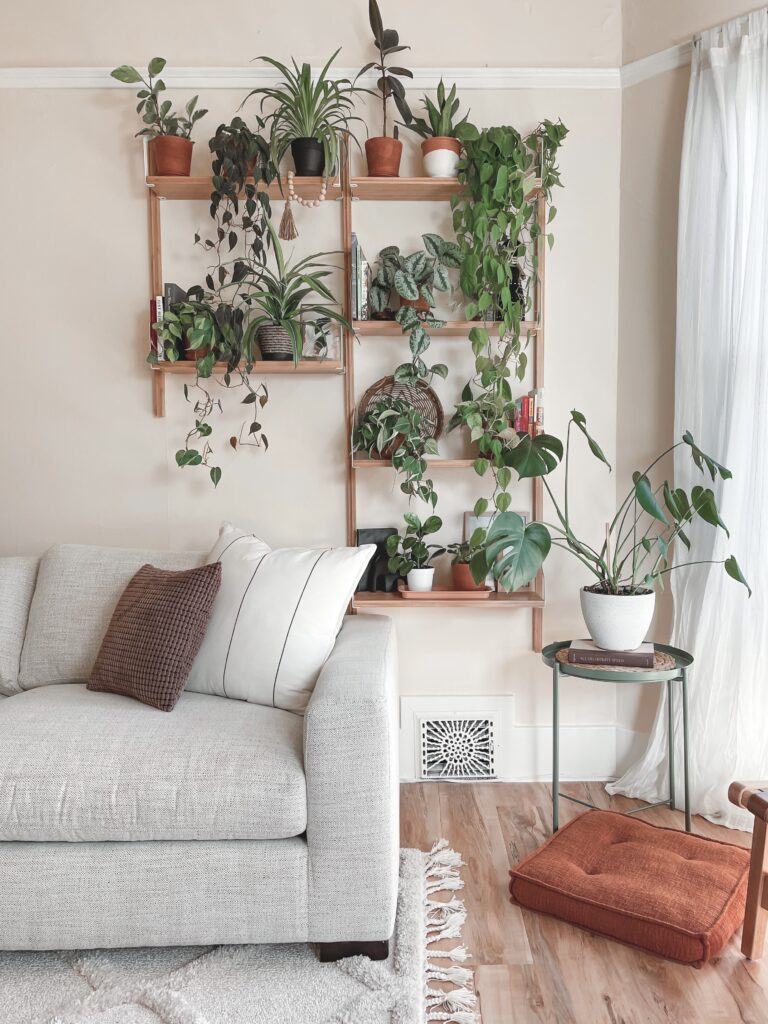 Plants
Starting top left corner
Peperomia Ginny
Philodendron Micans
Spider plant
Philodendron
Moonshine Snake plant
Neon Philodendron
Burgundy Rubber tree from a cutting
Dracaena lemon-lime
Silver Satin
Philodendron
Queen marble pothos from cuttings
Peperomia obtusifolia
Jade
Monstera to the side
Product Tags
This post contains affiliate links. I make a small commission if you make a purchase using my link. I only link to products I think will be useful to you, thanks for your support!