Published February 201 7

I just returned from the most exciting two week trip around Bali, Indonesia. After searching online for a two-week itinerary, without much luck; my friend, Makensy, and I built a complete itinerary. We put a lot of thought into our five-stop trip, and it gave us such a well-rounded look at Bali, so I wanted to share the details.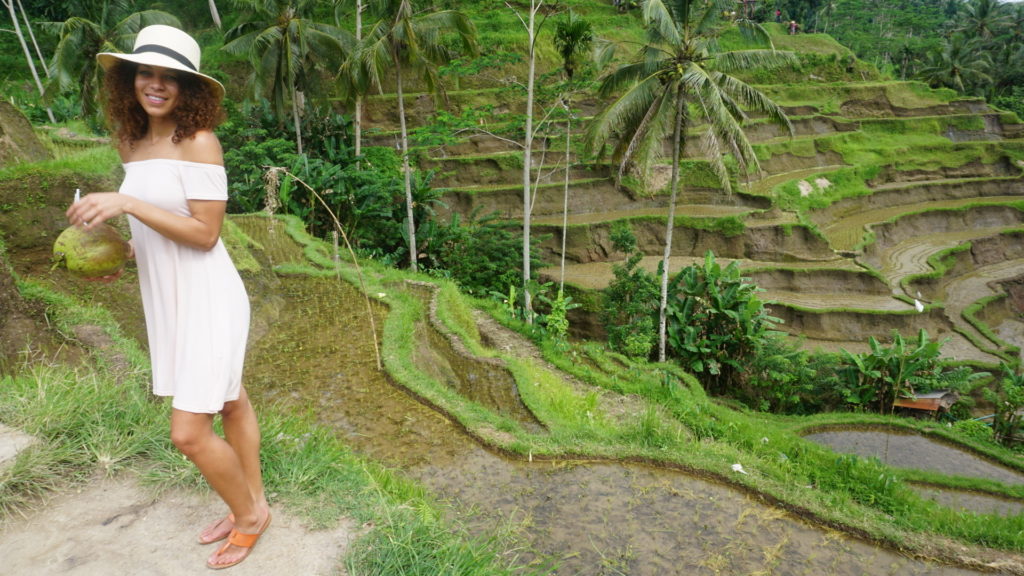 We spent time in a few of the most popular destinations and ventured a little off the well traveled trail also. Take a look at our trip:
ITINERARY
 South Kuta: 4 Days
After arriving into DSP airport, I met up with a driver arranged by my first homestay and headed down to South Kuta. I arrived to a warm welcome at my homestay and was given a suggestion on where to get dinner. I ventured out by foot – not confident with my scooter skills (spoiler: I never get too confident with my skills, luckily my friend was more adventurous).
South Kuta offers a variety of sights and activities in a laid-back setting. While in South Kuta, I traveled by foot, taxi, and Uber to get around. The area is fairly compact, everything is within a couple miles, so it is easy and cheap to travel to all of the sights.
Sights:
Padang Padang Beach: this famous beach is situated in a beautiful park. Watch out for the monkeys, they will (and tried to) steal your possessions as you walk through the park to get down to the beach. The beach itself is very small, when we went during the off season it was crowded but manageable.
Uluwatu Temple: Beautiful temple right along the cliffs. Come here for one of the most impressive temples in Bali
Single Fin: Stopped here after Uluwatu temple to catch the sunset and have a cold Bintang. It was such a fun atmosphere with live music, lots of surfers, and vacationers.
Seminyak: 2 Days
We headed up the coast to Seminyak next for a little luxury and relaxation. Seminyak is a bustling city and was a big contrast to our time spent in South Kuta. For these first two days in Seminyak, we enjoyed a few luxurious meals and a spectacular sunset.
Sights:
W Seminyak: As far as W Hotels go, this was the cheapest meal I've ever had, but still on the pricey side for Bali. We budgeted for a few splurges throughout the trip, and this was one of my favorites. We came here to check out the impressive grounds and enjoy the sunset at the beach club. Great drinks took us from sunset into the night.
Potato Head: After the W, we walked down the road to Potato Head for another drink. We had a great time people watching and listening to music while lounging outside. We didn't last very long, but I hear the party can go all night.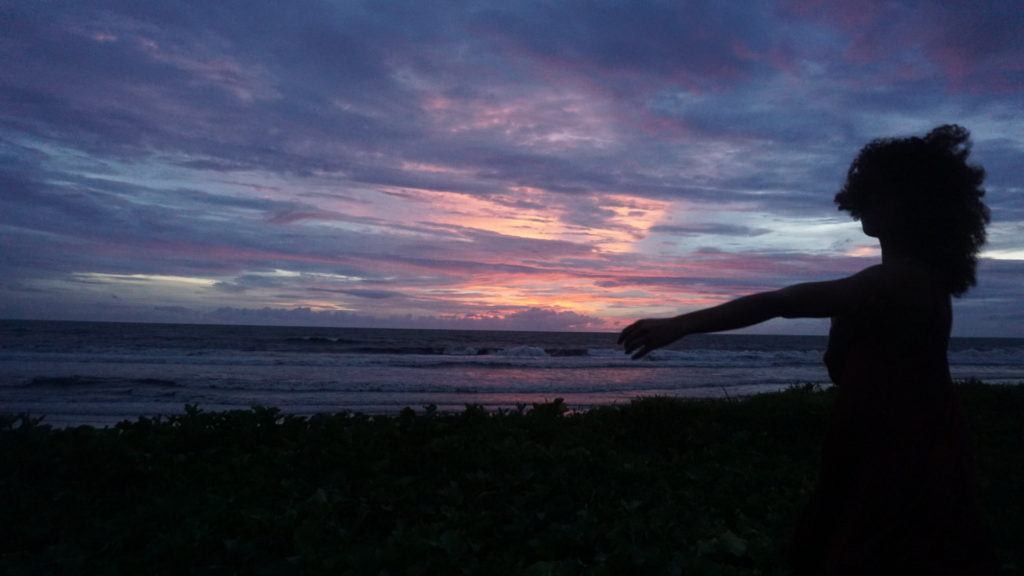 Ubud: 4 Days
Hired drivers are easy to come by and make sightseeing easy to do. We hired a driver to take us from Seminyak to Ubud and do a little sightseeing along the way. We stopped at a few suggested tourist destinations including the famous rice fields and coffee plantation.
Sights
Luwak Coffee: quite an experience. I don't want to give it all away, but we learned about the interesting process used to produce the delicious coffee famous to Bali.
Silver Village: We visited Yan Yan Silver, a renowned gold and silversmith which produces jewelry for many shops across Bali and got to see the women creating pieces by hand.
Tegalalang Rice Terraces: Get ready for a hike! Walking through the rice terraces was beautiful and a great workout. Photos don't do it justice, the grounds are amazing.
Downtown Ubud: Shops, restaurants, and event spaces line the streets of Ubud- you can find everything from French food to traditional Balinese performances within steps. Give yourself plenty of time to explore the streets!
Monkey Forrest: This is truly an experience. The Monkey Forrest is open for you to see monkeys in their natural habitat and interact if you're brave.
Spa, L'Occitane: High above the city of Ubud, the L'Occitane spa is situated in the trees. We enjoyed a half day spa treatment including foot massage, body scrub, and full body massage. To cap of the relaxing morning, we enjoyed tea and lounged by the pool. Another splurge well worth it.
Nusa Ceningan: 2 Days
The smaller, and lesser known Nusa Island, Ceningan was the perfect relaxing follow up to our busy days in Ubud. We spent hours lounging by the pool, and Makensy rode us around the island on a scooter!
Sights
Sunset Villas: Our accommodations in Nusa Ceningan were by far my favorite. We stayed in a small hotel, which was perched on the cliffs overlooking the ocean. Each room is a stand alone hut-like structure which was a few steps from the infinity pool.
Yoga, Ceningan Resort: we enjoyed sunrise yoga at Ceningan Resort.
Secret Beach: One of my top highlights from the trip, Secret Beach was a beautiful hidden gem. A quick walk and then a mini hike brought us to a small beach surrounded by lush greenery. Our host at Sunset Villas told us about the beach, and we spent an afternoon as the only people basking in the sun on this beach.
Infinity Pools and Beachfront hangouts: along the main road in Nusa Ceningan, there are a few small hotels and restaurants. While on the island, we popped into just about all of them for a drink or snack. We took in the sunset at Le Pirate, the cutest little French-themed hotel and pool restaurant.
Seminyak: 3 Days

Back to Seminyak to experience more of the bustling city, we spent more time walking through the streets and trying out restaurants.
Sights
Market: We did a little wheeling and dealing in the street markets, picking up souvenirs for family and friends. It took us a few interactions to get the hang of negotiating, but finally made some good deals on beaded jewelry.
Shopping: aside from the Balinese shopping, there is also a ton of trendy shopping as well. We enjoyed window shopping as we navigated the streets.
W Bali: I spent my last evening back at the W for appetizers and to watch the sunset. We enjoyed the relaxing vibe here so much we had to come back.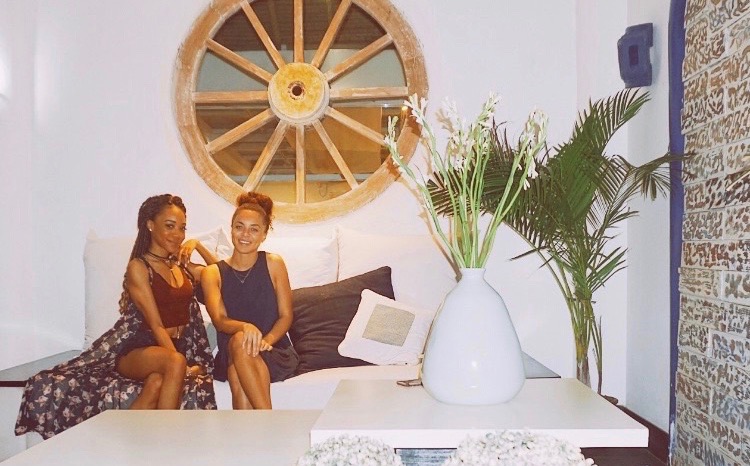 We booked Airbnbs in each of the cities we visited, making sure to select locations with positive feedback and wifi. This proved to be crucial in allowing us to reach out to our next host and secure transportation. Our planned itinerary provided a great framework to our trip. We definitely added and subtracted activities throughout the trip, but ultimately followed along with the plan.
Bali has so much to offer – a structured itinerary helped to ensure we did everything we wanted to during our two-week trip.
Stay tuned for additional posts on this trip! Will be highlighting some of my favorite activities and sights.
xoxjackie
Check out other posts on Bali:
Pin this Article!