As we move into fall, I was inspired to give one of my favorite pieces a facelift to match the season. My Target Minsmere cabinet has served me well as an entryway table for 2+ years now. However, after moving into my new space and adding a couple of pieces of furniture, I wasn't loving the clashing wood tones I had going on. I love the style and the size is perfect for my small apartment, so I'm not looking to get rid of it!
Black spray paint is the perfect solution to easily update a piece! I love how a black piece of furniture ads character and spice.
This post contains affiliate links. I make a small commission if you make a purchase using my link. I only link to products I think will be useful to you, thanks for your support!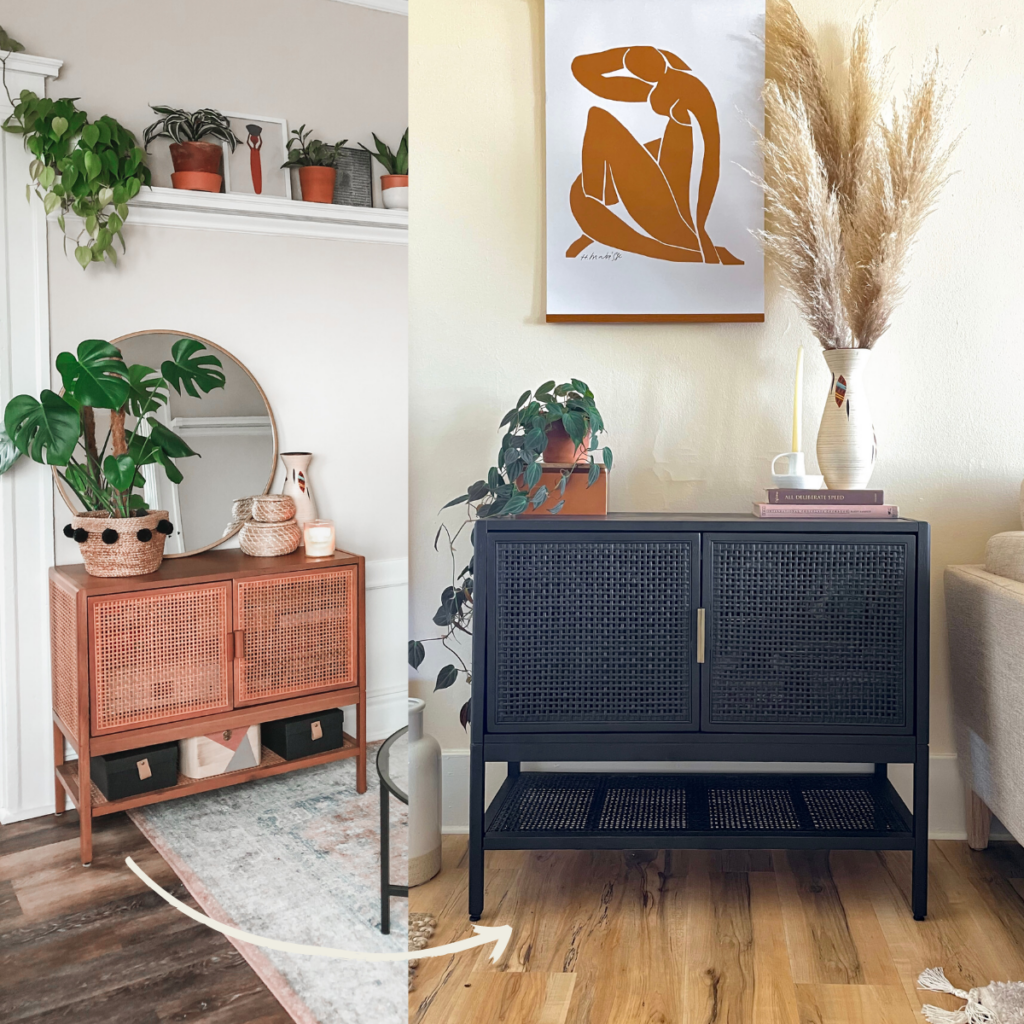 It looks like the exact unit – Target Minsmere I have is no longer for sale, but there are a few other similar options available at Target, here, here, and here. 
How I updated the cabinet:
I wanted to change out the hardware out for something more exciting. The pulls I chose are a different length than the existing pulls, so, the first step was to unscrew my pulls and then fill in the holes with wood filler. I let this dry.
I then gave the whole unit a quick sand.

This console is not a real wood, but to help the spray paint stick, I wanted to give some texture for the paint to adhere to.

I removed the doors and placed them on stands for better spray paint coverage.
Spray painted the entire console with 2 bottles of Rustoleum – Flat Black Enamel Spray Paint.

I did use two full bottles to achieve full coverage.

Let the unit dry for two hours and then sprayed with a Dead Flat Clear Top Coat.
I let the unit dry overnight, then reattached the doors.
The last step was choosing my hardware placement – I debated between placing the pulls along the top or in the middle of the cabinet doors. Ultimately, I chose the middle.
Now, the cabinet fits better with my current decor. Black cane? So chic!
I love a spray paint update – changing the color made such a dramatic change on a small budget!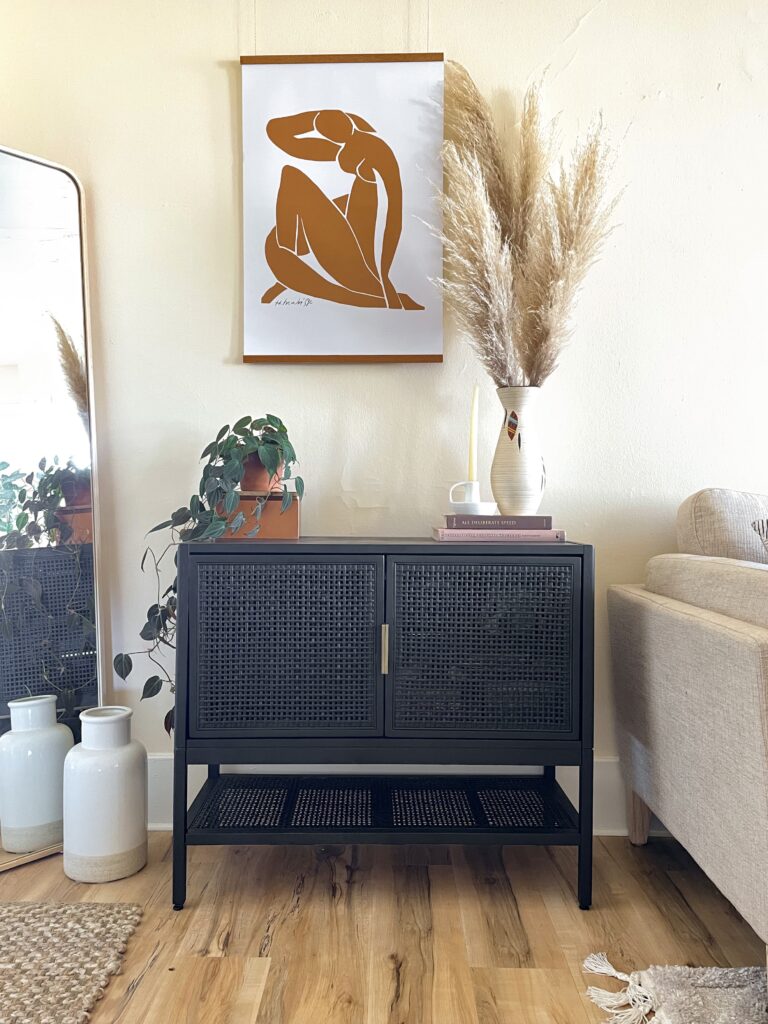 I've been using this piece for a few weeks now, and so far the paint has held up to bumps, me dropping my keys on it, and shoes being tossed on bottom shelf!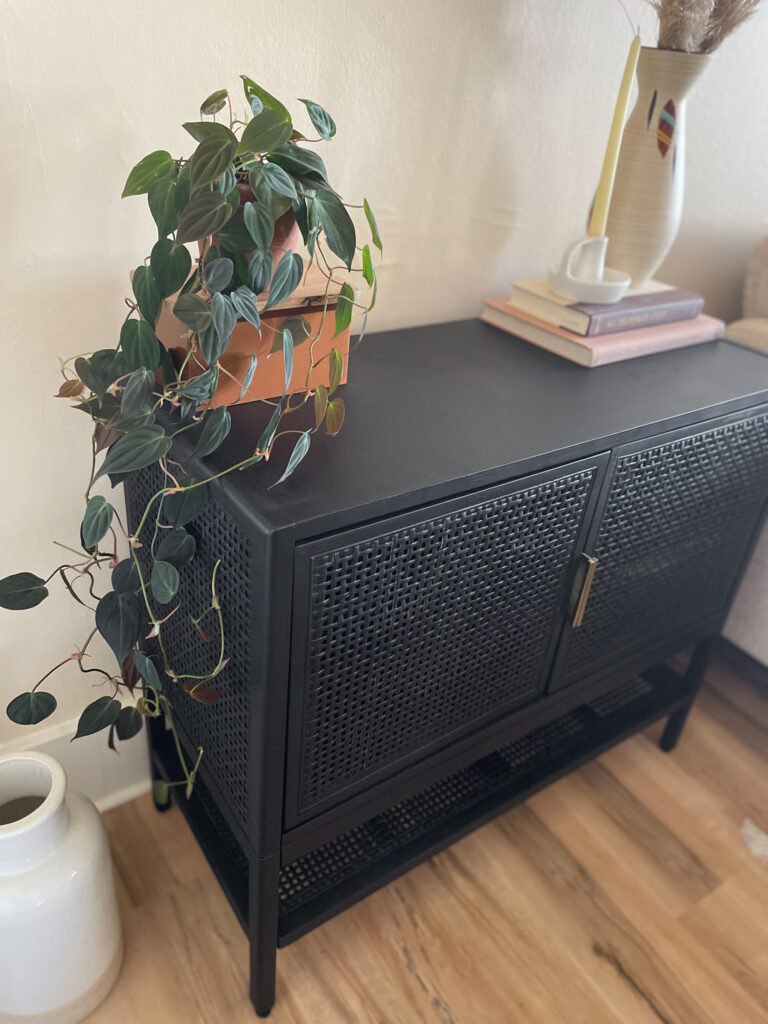 Want more hacks and projects? Check out DIY posts for tons of beginner projects!