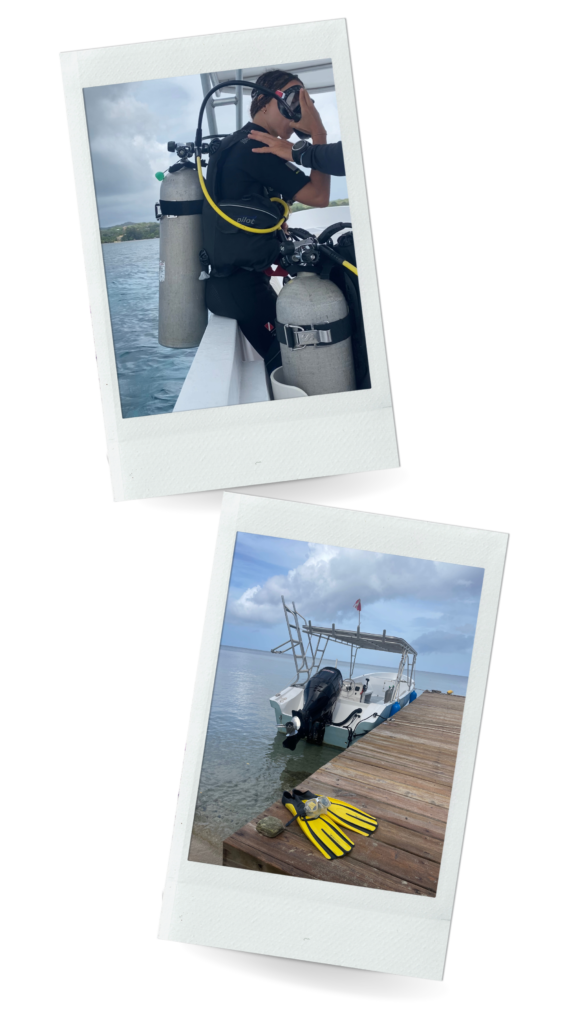 Recently, I experienced an amazing vacation in Roatán, Honduras where I was seeking sun, sand, and adventure. Little did I know that beyond the sun-soaked beaches lay a whole new world waiting to be discovered beneath the waves. Roatán, with its clear waters and diverse marine life in one of the largest barriers, proved to be the perfect destination beginner divers and explorers looking to dive into something new. During my time on the island, I not only basked in the sun but also took the plunge into scuba diving, an experience that opened my eyes to a whole new under water world.

I'd snorkeled many times and am an active person, so when I had the opportunity to try out scuba, I dove in! Check out highlights from my first scuba trips.
Scuba Journey Begins: Intro Class
My vacation home at Luna Beach offered the pleasant surprise of having a dive shop right onsite at the beach. We joined Blue Moon Divers to kickstart my scuba diving journey. I just rolled on down the hill, with my friends for our afternoon intro class.

My first step into the underwater world involved an introductory class that laid the foundation for my diving experience. This session took places right at the dive shop and in shallow waters along the beach. As a beginner, I was guided through the intricacies of scuba gear, mastering controls, and adapting to the art of breathing solely through my mouth. While the initial moments felt unusual, the patient guidance from my instructor helped me swiftly acclimate to this unique form of underwater breathing. Soon enough, I was ready to put theory into practice.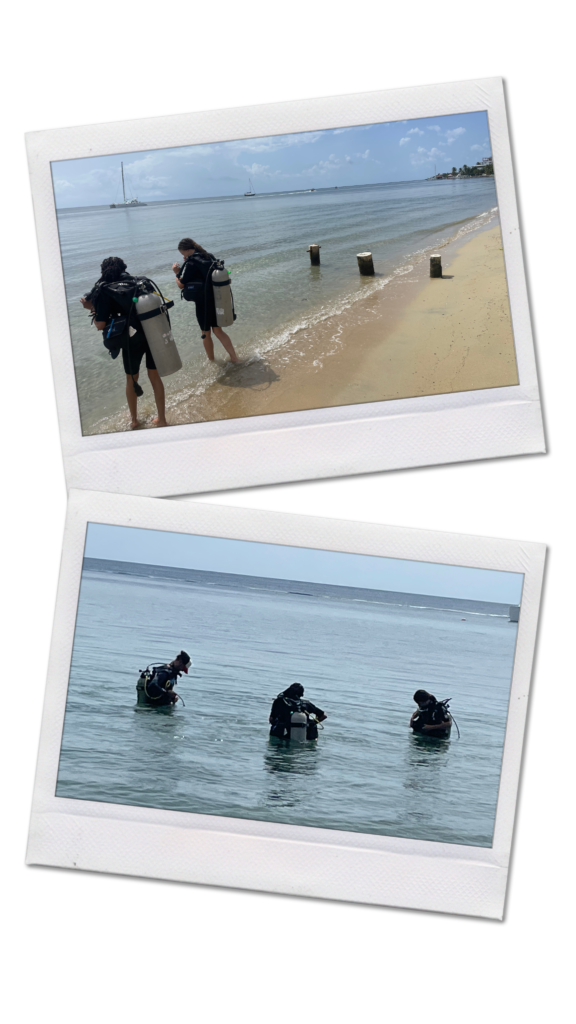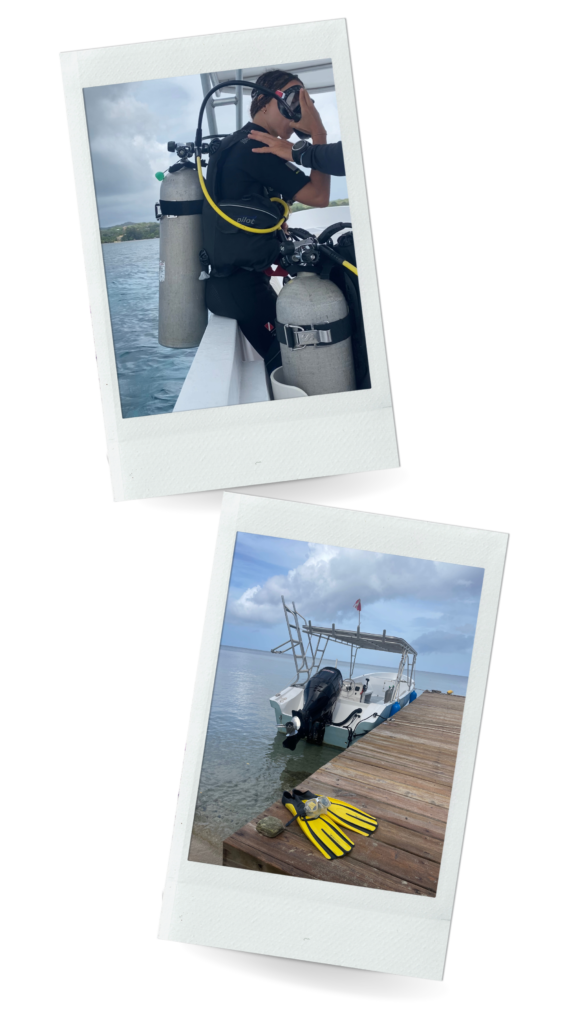 Diving In: The Blue Channel

My first dive took me to the renowned Blue Channel, located just off the island's western coast. With a sense of both excitement and nervousness, I descended into the crystal-clear waters on a rope which took me to the bottom.
The gentle currents guided me along, revealing an astonishing underwater landscape. I saw the vibrant coral formations, schools of fish, underwater plants. The Blue Channel was a fantastic introduction to scuba diving! So much so, that I decided to go out on a second dive a couple of days later.
Exploring Turtle Crossing
For my second dive, I went out on a private dive. One of the perks of going during the slow season!
For this trip, we explored the Turtle Crossing, a vibrant under water dive site.
While I didn't see turtle on this dive, my instructor took me through a beautiful underwater landscape. I loved seeing schools of fish swimming alongside me. And again, the plant lover in me loved seeing all of the interesting underwater plant life.
Time Flies Underwater
It's said that time flies when you're having fun, and that sentiment holds true even beneath the waves. Each dive, lasting around 40 minutes, passed in what felt like the blink of an eye. The sensation of being immersed in this awe-inspiring world, disconnected from the usual constraints of time, added an almost meditative quality to the experience.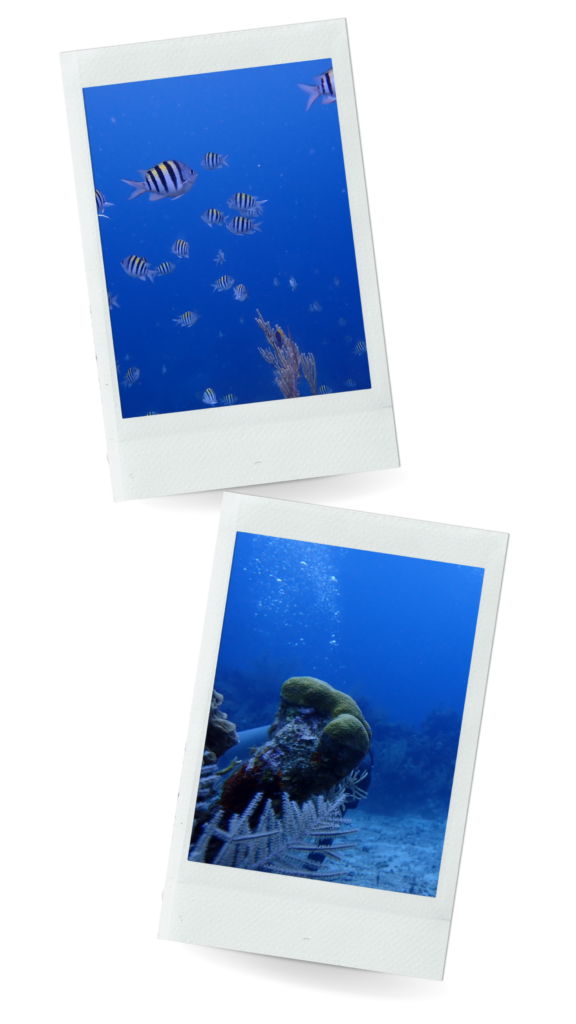 Newbie Tips for Fellow Adventurers
As a fellow novice, I'd like to share a few tips for those considering taking the plunge into scuba diving:
Choose an Affordable Starting Point: Roatán and even more budget-friendly Utila are excellent options for testing the waters of scuba diving.
Deep Breaths: The key to comfortable diving is slow, deep breaths. Focus on maintaining a steady breathing rhythm to ensure a relaxed and enjoyable experience.
Embrace the Surroundings: Amidst the underwater beauty, remember to take a moment to savor the magnificent scenery and the unique interactions you'll have with marine life.
My time in Roatán transformed from a sun-and-sand vacation into an extraordinary scuba diving adventure. Roatán's inviting warm waters were an unbeatable destination first first time scuba. So, if you're seeking a journey that blends exploration, wonder, and a touch of adventure, consider adding scuba diving in Roatán to your bucket list—you won't be disappointed.