TRAVEL GUIDE
Virgin Voyages Caribbean Cruise
Turks & Caicos and Bimini Bahamas

As a sun seeker and beach lover, I was incredibly excited to embark on a Caribbean cruise with Virgin Voyages aboard the Scarlet Lady. This marked my inaugural cruise experience, and to jump right into it, I was utterly amazed by both the onboard experience and the destinations we had the pleasure to visit.

Now, let's dive into the details, as there's so much I'm eager to share about this incredible cruise!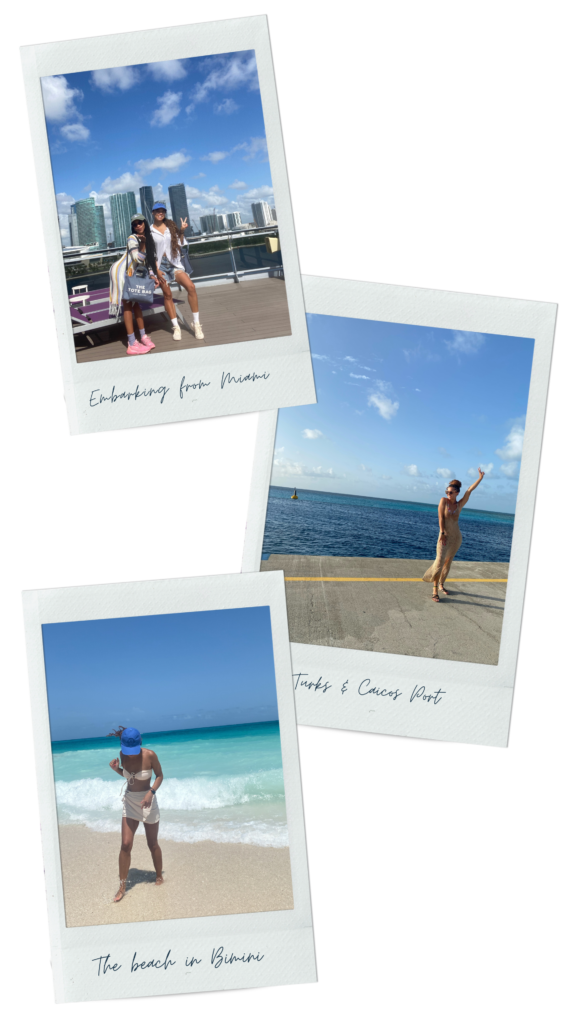 5 Star All-Inclusive Dining
Coming onboard, I was excited at the opportunity to eat to my stomachs content. The variety and quality of the onboard food truly left me speechless! From delectable ramen and fresh sushi in the Galley to exquisite fine dining options like Pink Agave, Gun Bae, and The Wake – I simply ran out of time to try it all!
Everything I did manage to taste was nothing short of amazing, turning each meal into a remarkable dining experience. Every restaurant we dined at was a delight, both in terms of atmosphere and the food.
A seafood enthusiast, I take every chance I have to enjoy fresh fish, and while onboard I indulged during nearly every meal. And on occasions when that wasn't possible, I ensured I grabbed a freshly prepared box of sushi to snack on later.
And let's not forget, as someone who enjoys a good beverage, I was ecstatic about the array of tasty beverages available onboard. Waking up to a refreshing smoothie nearly every morning was a highlight, followed by a flat white from one of the onboard coffee shops.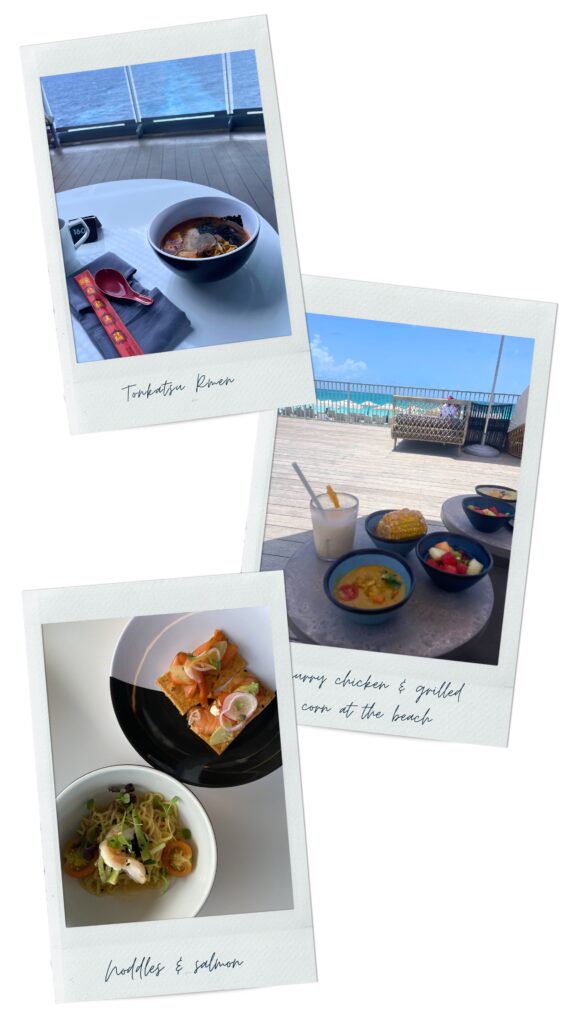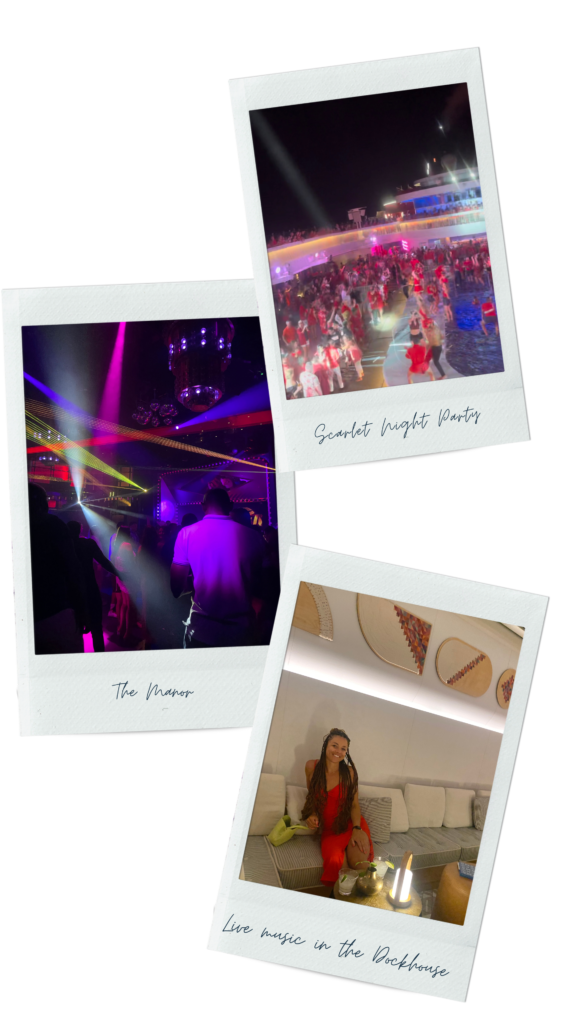 Endless Fun Onboard

To be honest, I wasn't quite prepared for the sheer amount of fun and entertainment onboard. From engaging classes to captivating live music, vibrant parties, and dazzling shows – the fun never seemed to cease. The pinnacle was undoubtedly Scarlet Night, a ship-wide production that turned out to be an absolute blast. The energy onboard was electrifying, so much so that I found myself kicking off my shoes and dancing along the pool deck. Truly, the energy onboard was unparalleled!
I also enjoyed the Latin trio, whose music perfectly complemented the Caribbean ambiance. While my days of nightclubbing are mostly behind me, I even made a spontaneous appearance at The Manor, the two-story, multi-room nightclub!
Beautiful Beach Escapes
If you know me, you know why I was inspired to cruise – the beautiful beach destinations called my name! I love exploring and finding top beaches, so I was thrilled to visit Bimini and Grand Turk during this cruise.

Bimini
Virgin Voyages' Beach Club at Bimini was a total highlight! Right along the white sand beaches, the Beach Club was the perfect place to spend the day. I spent my time on the beach, in the pool, and relaxing in the expansive area that offered loungers, day beds, chairs- and more. It was literally an beach playground! Lunch was included, of course, and I had the most delicious curry chicken.
If you're looking for total relaxation under the sun, you've found it here.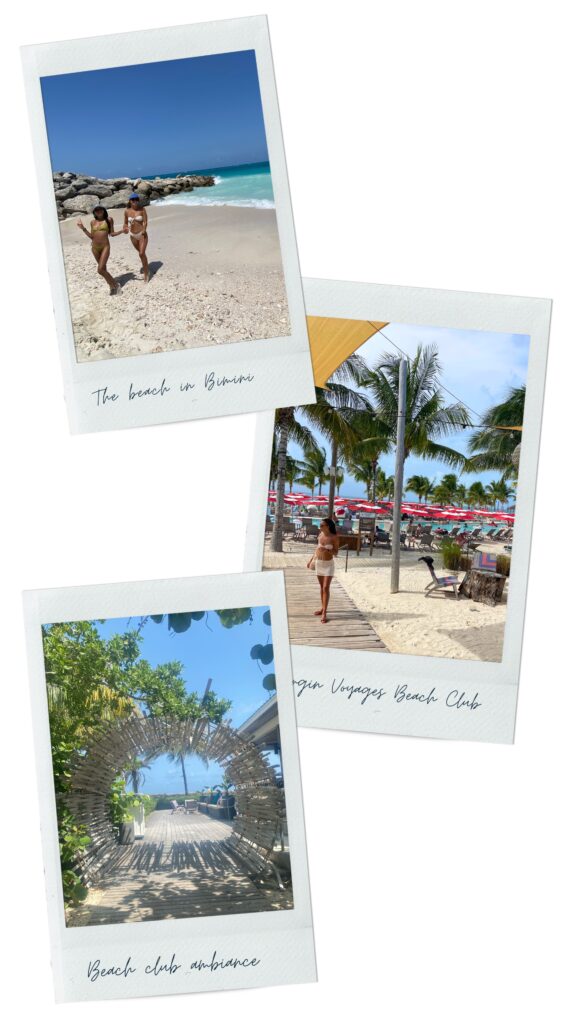 Grand Turk
Grand Turk offered a unique opportunity to walk off the ship and right onto a beautiful, white sand beach! I loved spending the day at SunRay Beach, a public beach, enjoying the warm, clear waters. We grabbed a couple of chairs to lay out on for a bit, before making our way to Jack's Shack for lunch. Of course, we had to get Jerk Chicken and conch! Delicious.

We also explored and found beaches on the other end of the port – the island is definitely ideal for a relaxing day at the beach. And when we had enough sun, we checked out some of the shops at port!
Moments of Relaxation

Following our time in Bimini, I treated myself to a tranquil evening at the spa. The spa, impressively spacious and beautifully appointed, featured amenities like a salt room, steam room, mud room, cold and hot plunges, and more. After a couple of days basking in the sun on the beach, the spa provided the perfect opportunity to unwind and rejuvenate.
Given that my partying days have somewhat waned, I greatly appreciated the various relaxing spaces onboard. My balcony was perfect for quiet mornings.
The Dockhouse Deck emerged as a personal favorite – a serene spot to savor a light meal while taking in the breathtaking view.
Richard's Rooftop held another special place in my heart as a favored relaxation spot. This private deck reserved for Rockstars boasted a couple of inviting hot tubs, perfect for relishing the sunset.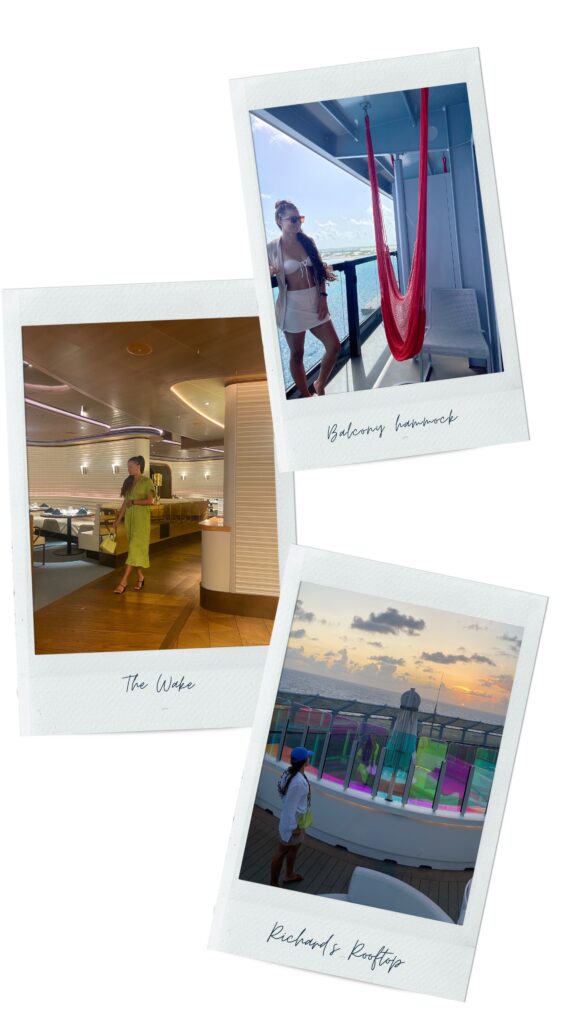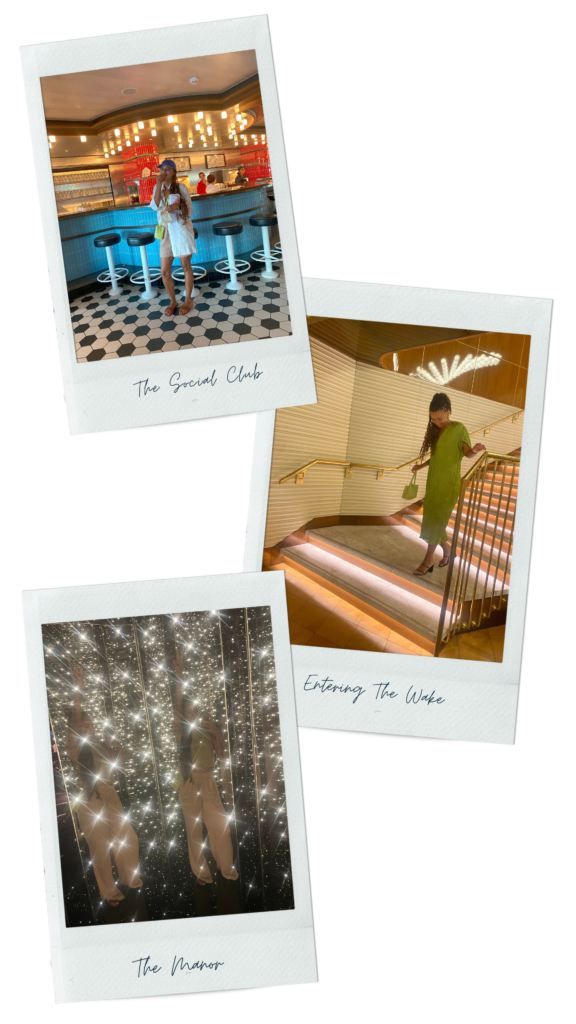 Thoughtful Design and Atmosphere
From the restaurants, to the lounges and even the gym spaces were beautifully designed. I love the small touches and the thought that went into every space on board. It is clear that each space was so thought out, and it truly created an immersive escape!
As my time onboard came to an end, I was not looking forward to leaving all of the comforts behind!
If you'd like to experience a Virgin Voyage, I have some great deals to pass along! Book soon for great deals available in 2023, check out Virgins upcoming cruise here.
This post is sponsored by Virgin Voyages.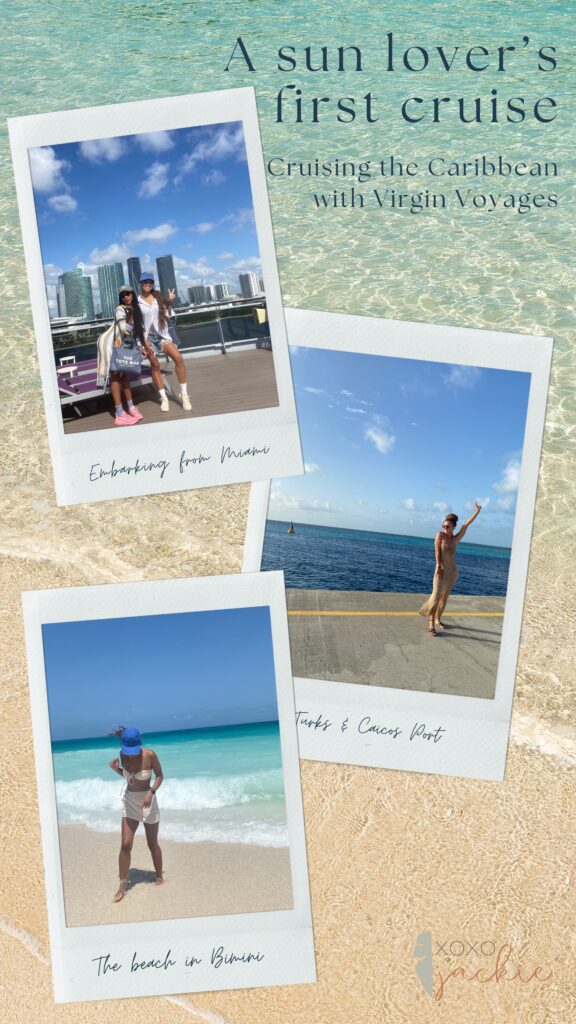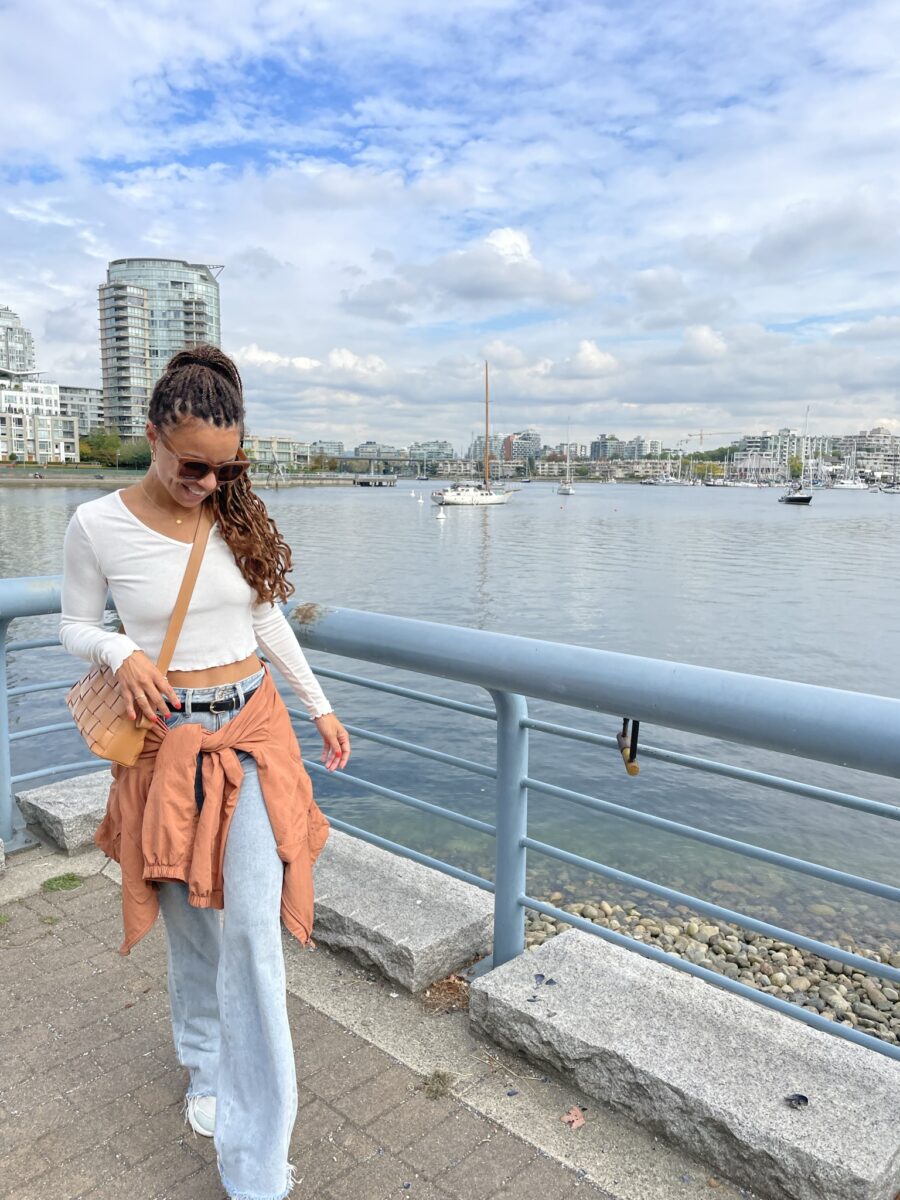 Exploring Vancouver with my three close friends was an unforgettable…
Read More
On my recent voyage through the Caribbean with Virgin Voyages,…
Read More