After eating extremely clean for 25+ years, I recently fell off and indulged in just about anything I wanted – including lots of desserts! Making a shift back into a regimented eating plan, dessert has been one of the hardest things to give up. Lucky for us, it isn't necessary to completely give up desserts, instead, using a bit of creativity I've turned to homemade low sugar treats like these amazingly yummy Keto Chocolate Coconut Bars to satisfy my sweets cravings.
So if you're watching your sugar intake but got a craving for chocolate, there are great options out that make it easy to indulge in a sweet chocolate treat while not sacrificing your low carb lifestyle.
I've been pretty obsessed with Lily's sugar-free chocolates since finding out about the brand. I add them to Greek yogurt for a mid-day protein-packed snack. And I started making chocolate bars with them for dessert.
Chocolate and coconut are a couple of my favorite things, and paired together – well they can't be beaten. If coconut isn't your thing, this can be done with countless other mixtures, here some of the add-ins we've tried and liked.
We've tried a number of combinations for the ingredients, however, I've fine-tuned the chocolate mixture.
Shredded coconut
– Brazil nuts
– Psyllium husk
– Pepitas
– Almond butter
– Cream cheese
– Bacon
– Sunflower Seeds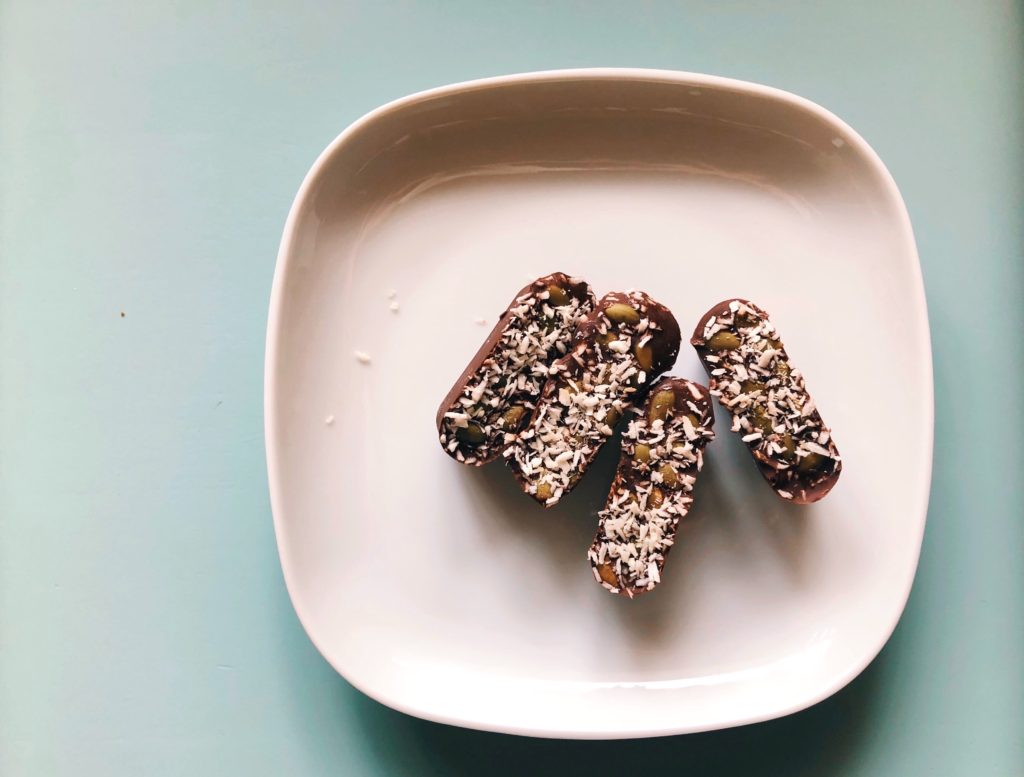 Keto Chocolate Coconut Bars
Satisfy your sweet tooth, mix up a batch of these yummy homemade chocolate bars. 
1 Heaping Cup Dark Chocolate Chips (over 60% Cacao)
2 Tablespoons Coconut Oil
1 Tablespoon Almond Butter
2 Tablespoons Cream Cheese
1 Tablespoons Cacao Nibs
1/2 Cup Shredded Coconut (Finely Shredded)
1/4 Cup Brazil Nuts (Chopped Finely)
1 Teaspoon Cinnamon
Combine chocolate chips, coconut oil, cacao nib, cream cheese, almond butter – then melt these ingredients. I microwaved for 1 minute then pulled the bowl out, gave it a stir, and then microwaved 30 more seconds. 

Blend brazil nuts with your psyllium husk, until it is a flour-like consistency.

Stir in the remaining dry ingredients. Adding the coconut, nuts, psyllium husk, hand cinnamon will create a chunky consistency. 

Scoop out heaping spoonfuls of the mixture into an ice tray. I filled each space about how halfway, then tapped it a few times to settle the mixture. You can also scoop onto a cookie sheet if you don't have an extra ice cube tray handy. 

Freeze the chocolate. I've had a bar as soon as 2 hours after going in the freezer, and it was solid all the way through. 
save this recipe for later