My kitchen renovation has been a slow, year-long process. I've loved working through these projects, and wouldn't change anything! I'm happy to share my progress with you as I create the tiny kitchen of my dreams. I hope you take my projects as inspiration!
When I first moved into my apartment, I was so excited to get into the space, I decided to hold off on any changes to the kitchen. It was functional – but definitely pretty utilitarian. Since then, I've made a number of updates myself and worked with Home Depot to update my kitchen countertops and sink.
Much of the work in this apartment has been pieced and worked together by past residents and handymen. As such – there are some funny quirks in this apartment.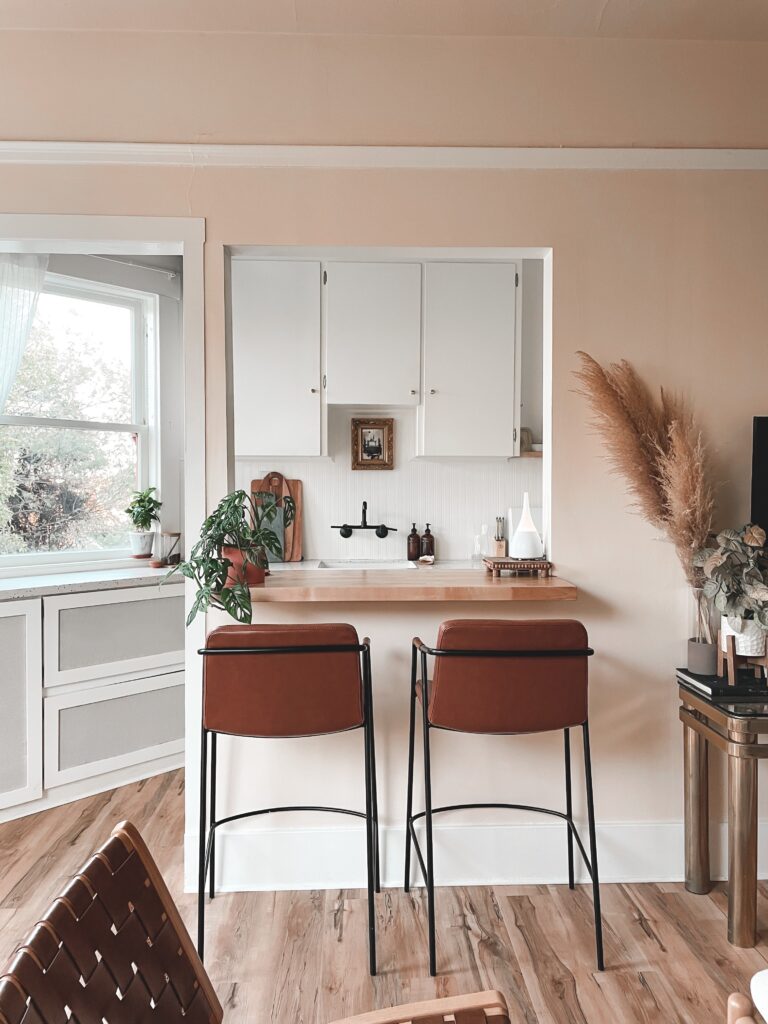 Kitchen Cut Out and Counter Project
The one project that I knew I wanted to be completed before moving in, was adding a cutout between the living room and kitchen. In my 450 square foot apartment, I thought it was important to open up the space. Omg, what a difference it made.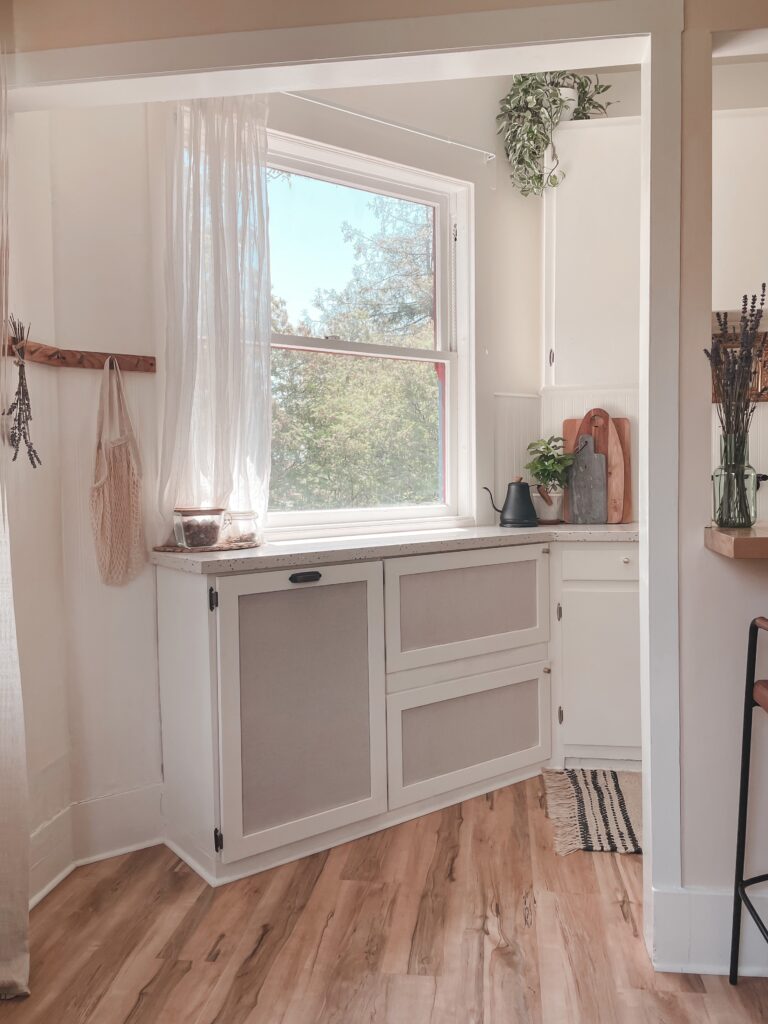 DIY Custom Linen Cabinets
Half of my kitchen cabinets were add-ons that had been left as open shelving. I store quite a bit in these cabinets including my toaster oven, and other small appliances, and wanted to hide all of these unsightly items. I opted to order unfinished cabinet frames (made for glass panels), painted them to match my cabinetry, and used linen fabric to fill the inside.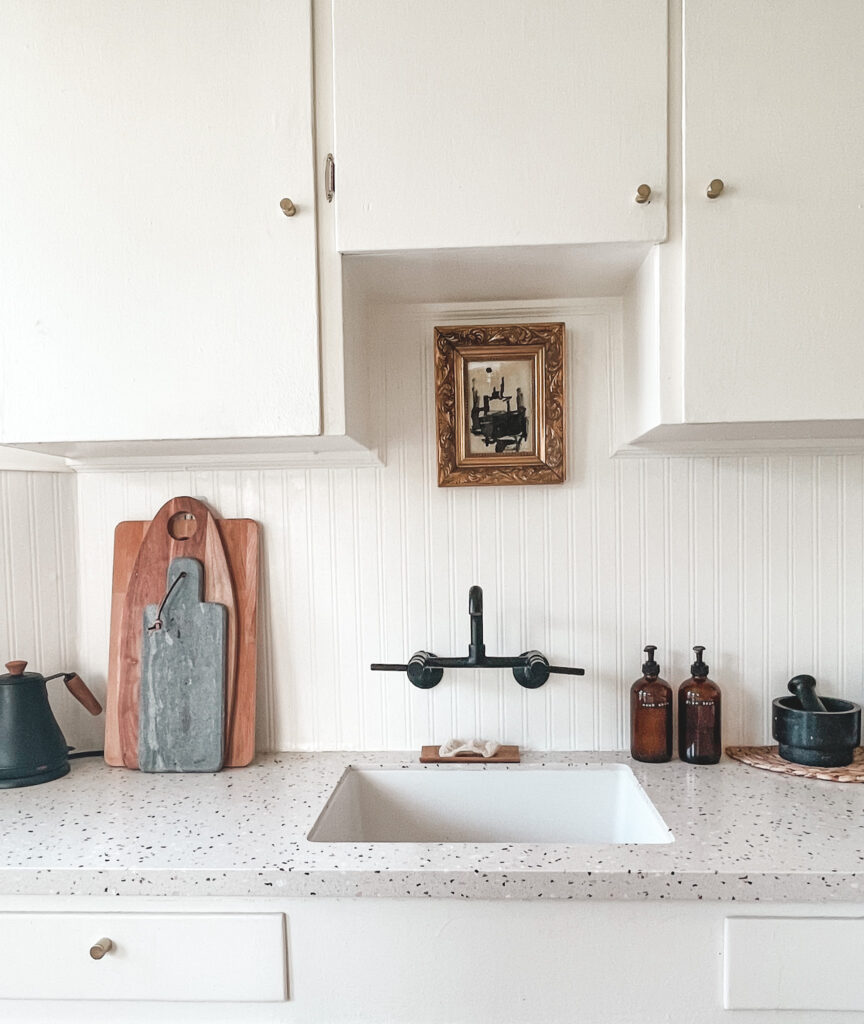 Beadboard Wallpaper Backsplash
I love the – no backsplash look. In creating this look, I wanted to add some character and keep my walls protected. I decided to apply a beadboard wallpaper and then painted it to match my existing wall and cabinetry.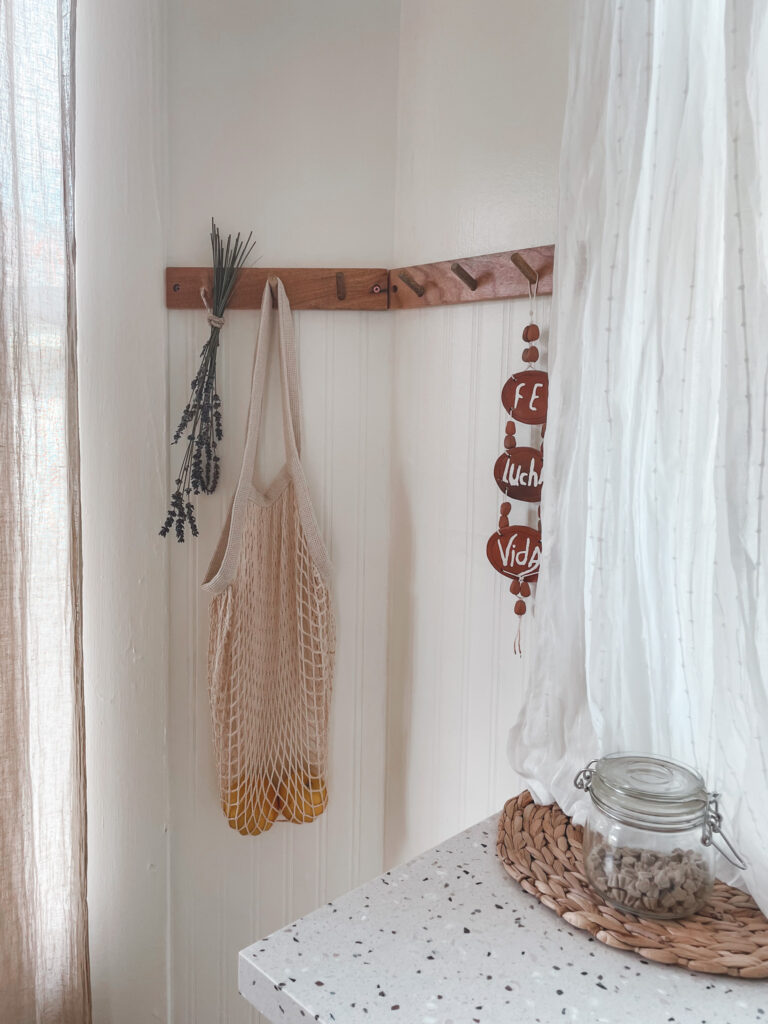 DIY Corner Peg Rail
Because my spaces flow together, there are a couple of dead spaces. I decided to turn a strange, wide-angled corner into a useful peg rail. It now holds propagating plants on top of the shelf and fresh fruit hanging from the pegs – so useful! This little corner also does double duty as Goldie's feeding area.
Kitchen Favorites –
I've also done a bit of shopping. Who hasn't during quarantine?! Specifically, I've been hunting for pieces that work for my space. My requirements – attractive, functional, small-space-friendly. From a new tea kettle to cutting boards, and cookware, Check out some of my favorites.