Hey there, cactus enthusiasts and gardeners! Today, I'm excited to share my experience of repurposing discarded pieces of the San Pedro Cactus for landscaping purposes. These cacti are known for their remarkable resilience and growth potential. In fact, one of these plants had taken over a small garden, prompting me to salvage the excess pieces. Now, I'm here to guide you through the simple steps of propagating a San Pedro Cactus. Trust me, it's a breeze!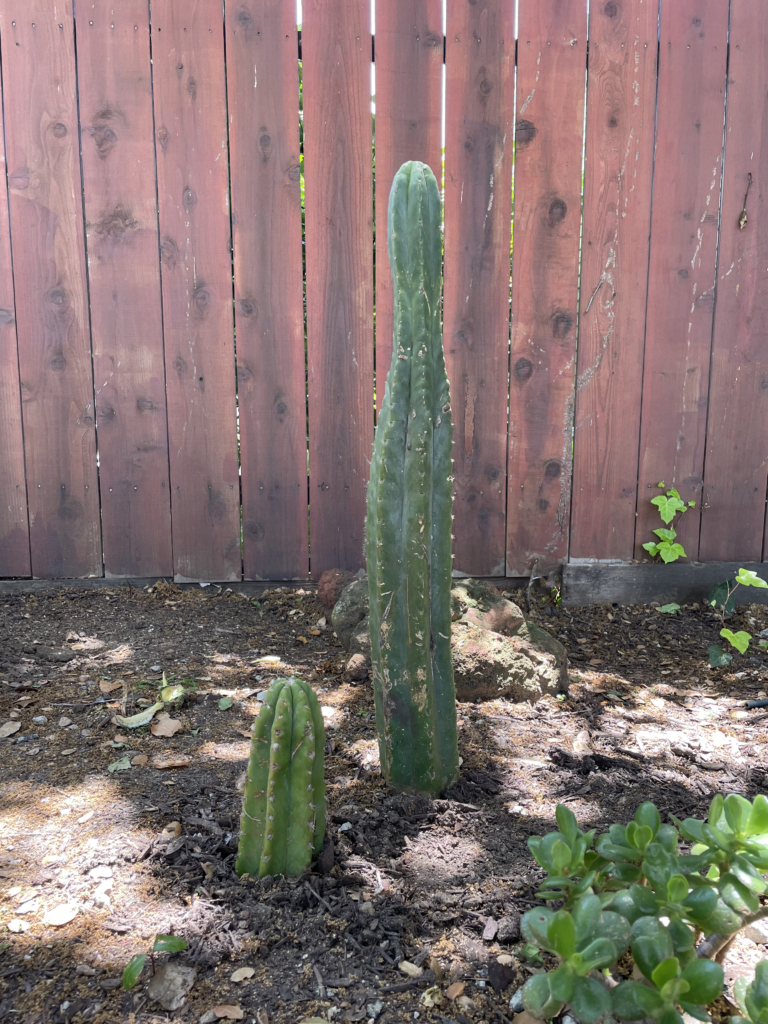 About the San Pedro Cactus
Before we dive into the practical world of propagating San Pedro cactus and creating a captivating cactus oasis, let me share a couple of interesting facts about this plant.
Scientific name: The San Pedro cactus goes by the scientific name Echinopsis pachanoi, and it belongs to the Cactaceae family.
Origin: This cactus species is native to the Andes Mountains in South America, specifically found in countries such as Peru, Ecuador, and Bolivia.
Popularity: San Pedro cacti have gained popularity among cactus enthusiasts and gardeners worldwide due to their striking appearance, resilience, and low-maintenance nature. They have become sought-after plants for both indoor and outdoor cultivation.
Now that we have a deeper understanding of the San Pedro cactus let's explore the step-by-step process of propagating and creating a breathtaking cactus landscape right in our own backyard.
Step 1: Gather Your Materials
To get started, gather the following materials:
San Pedro cactus: Choose mature and healthy cacti for propagation.
Pruning shears: Use sharp and sterilized shears for clean cuts.
Rooting hormone (optional): It can aid in root development.
And now, let's dive into the wonderful world of propagating the San Pedro cactus and transforming those unwanted pieces into a stunning cactus landscape.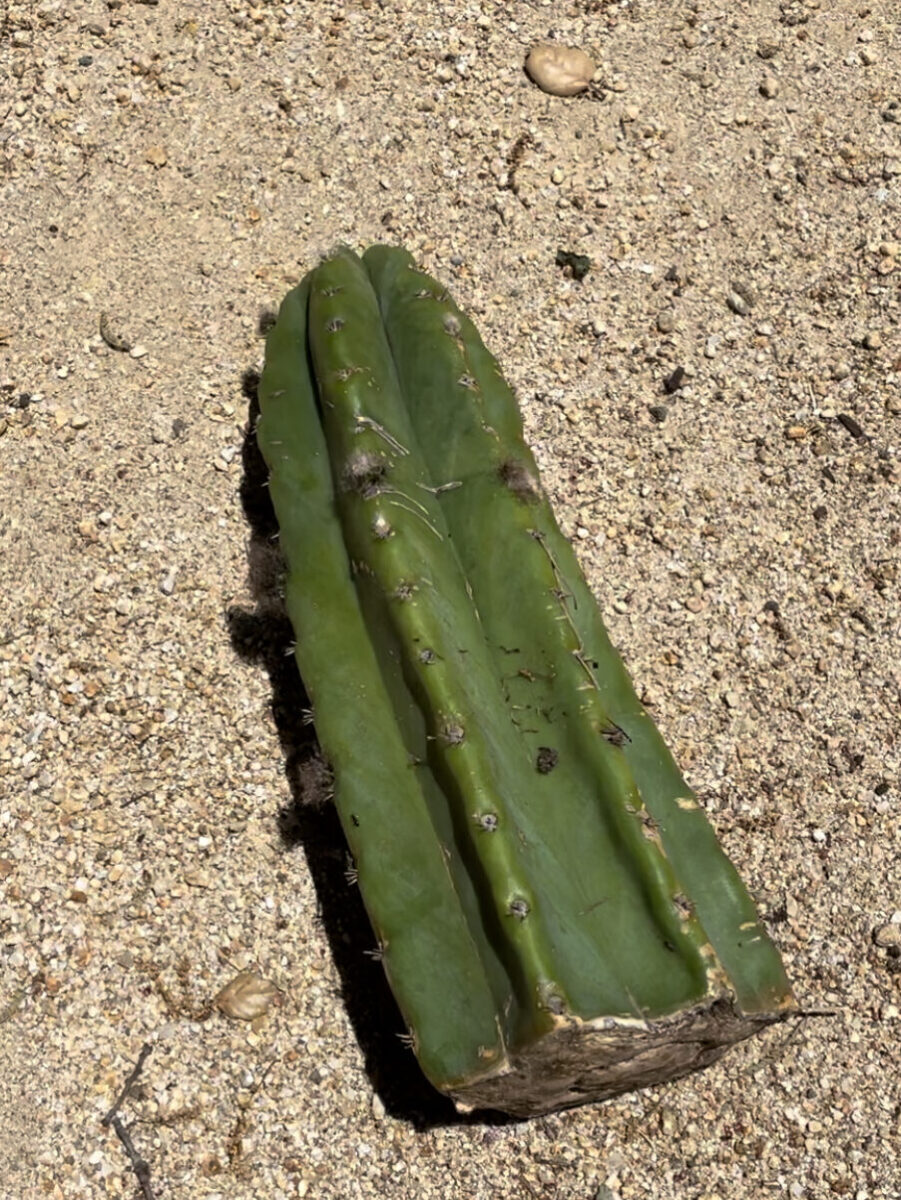 Step 2: Prepare the Cactus
Pieces Now that we have everything we need, it's time to prepare the cactus pieces for propagation:
Select a mature San Pedro cactus as the parent plant. Look for a healthy specimen with strong growth.
Using sterilized pruning shears, make clean cuts near the base of the cactus, ensuring each piece is around 6-8 inches long. The cuts should be made at an angle to increase the surface area for rooting.
Once the pieces are cut, set them aside in a warm and dry location. This allows the cuts to callus over and form a protective layer. It typically takes about a week for the callus to form.
Step 3: Planting the Cactus
Pieces With the cactus pieces callused and ready, it's time to plant them and watch them take root:
Prepare shallow holes in well-draining soil. This could be a cactus potting mix or a blend of sand, perlite, and regular potting soil.
If desired, you can dip the callused ends of the cactus pieces into rooting hormone powder. While this step is optional, it can help stimulate root development.
Gently place the callused ends of the cactus pieces into the prepared holes, ensuring they are firmly in place.
Lightly backfill the holes with soil, making sure the cactus pieces are securely supported. Avoid compacting the soil too much, as it can impede drainage.
Give the newly planted cactus pieces a light watering, ensuring the soil is evenly moist. Be careful not to overwater, as excessive moisture can lead to rotting.
Step 4: Caring for the Propagated Cacti
To ensure the success of your propagated cacti, provide them with proper care and attention:
Find a bright location for your cactus pieces, preferably with indirect sunlight. Avoid placing them in intense, direct sunlight, as it can cause sunburn.
Water the cacti sparingly, allowing the soil to dry out between waterings. San Pedro cacti are drought-tolerant plants, so it's crucial not to overwater them. Always err on the side of underwatering.
Maintain a temperature range of 65-85°F (18-29°C) for optimal growth. Protect the cacti from frost or extreme cold, as they are susceptible to damage in low temperatures.
Monitor the cacti for any signs of pests or diseases. Common pests include mealybugs and scale insects. If necessary, treat infestations promptly using appropriate organic or chemical methods.
Over time, you'll start to see new growth emerging from the cactus pieces. This indicates successful propagation, and your cacti are on their way to becoming established plants.
So, don't let those unwanted cactus pieces go to waste! Embrace the opportunity to propagate and create a stunning cactus landscape. Through your dedication and the natural beauty of the San Pedro cactus, you'll have a backyard that will be the envy of cactus enthusiasts and a testament to the wonders of nature's resilience. Get ready to enjoy the rewards of your efforts and immerse yourself in the captivating world of cactus gardening. Happy propagating!
xoxojackie