I love a good spray paint makeover! So when Rodney brought a floor lamp from work – random, I know – I knew I wanted to give it a new look with the help of a can of spray paint.
This project helped us achieve a dramatic look in the living room, and what's better, we did it for under $10! Let me show you how we did it.
The lamp find
The lamp is a modern style with 3 legs. It's nice and tall, almost 5 feet! We'd been looking to replace our shorter lamp so I was thrilled when Rodney sent over a photo of this lamp! I'll take it. Though I loved the height, I'm not a fan of silver decor, so I knew that would have to change.
The changes
I went to my local hardware store and found a really interesting *new* brand that had a series of chalky spray paints that are ultra matte. I loved the charcoal color, an ashy, slightly off black color.
Additionally, the lamp had a large shade on it because it was used in a large office space. I found a great, simple shade on sale for $5 at target – such a steal! Downsizing the shade was important since the massive 25-inch shade was much too big for our space.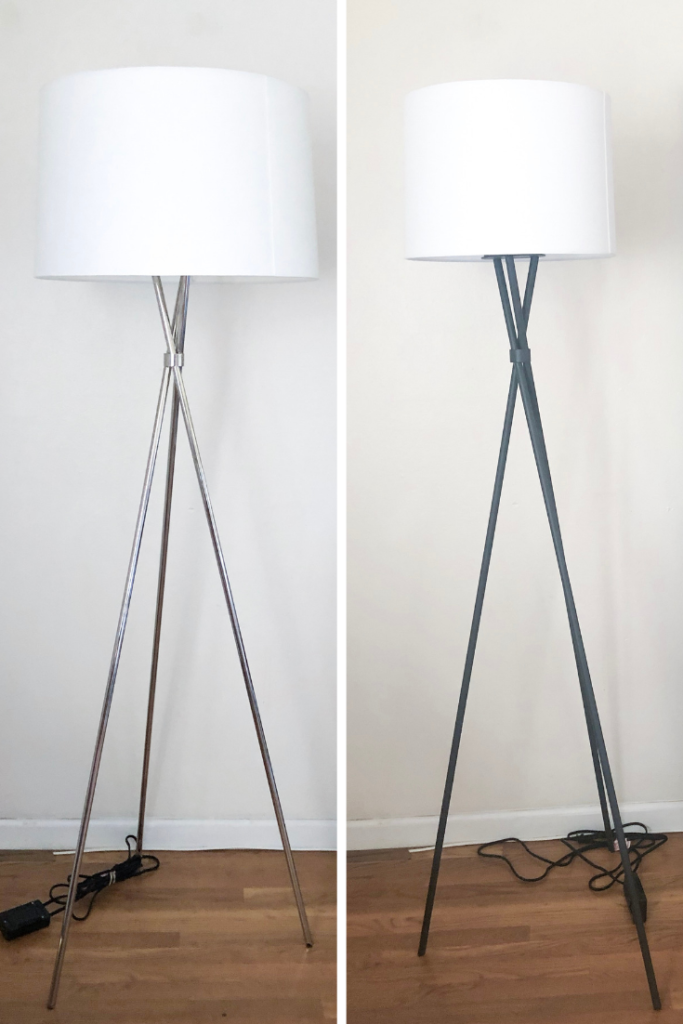 Materials
Note: I keep extra drop cloth and primer from past projects handy, so for this project, my only expenses were in replacing the shade and buying the spray paint.
Steps
First, I took the shade a bulb off of the lamp and set it on a drop cloth outside.
I sprayed a coat of gray primer then let that dry for about 30 minutes. It was pretty warm out while I was working, so I was able to cut down my dry times.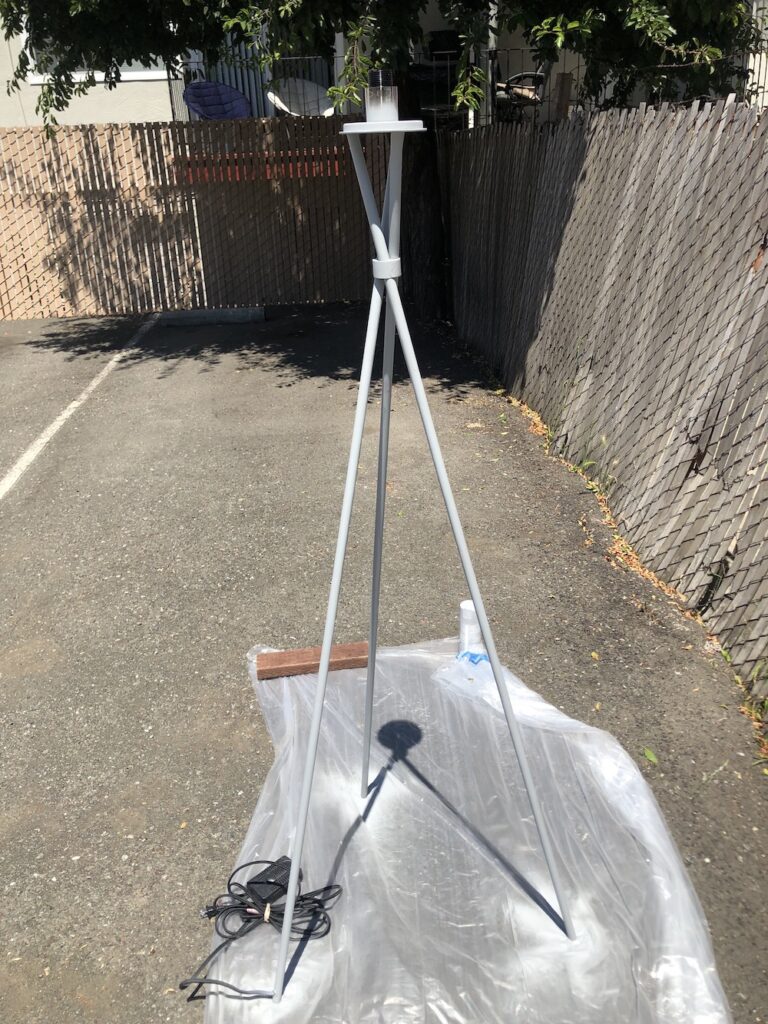 Next, I applied a liberal coat of charcoal spray paint, going over everything 2 times, from 3 feet away. I let that coat dry.
I applied a second healthy coat of my paint, and then let it dry outside for a few hours. Even if completely dry, it'll take a good 4 – 5 hours for the paint smell to wear off and be tolerable to bring inside.
Last, once completely dry, I swapped the large 24-inch lampshade for a smaller 15-inch shade and screwed on my lightbulb.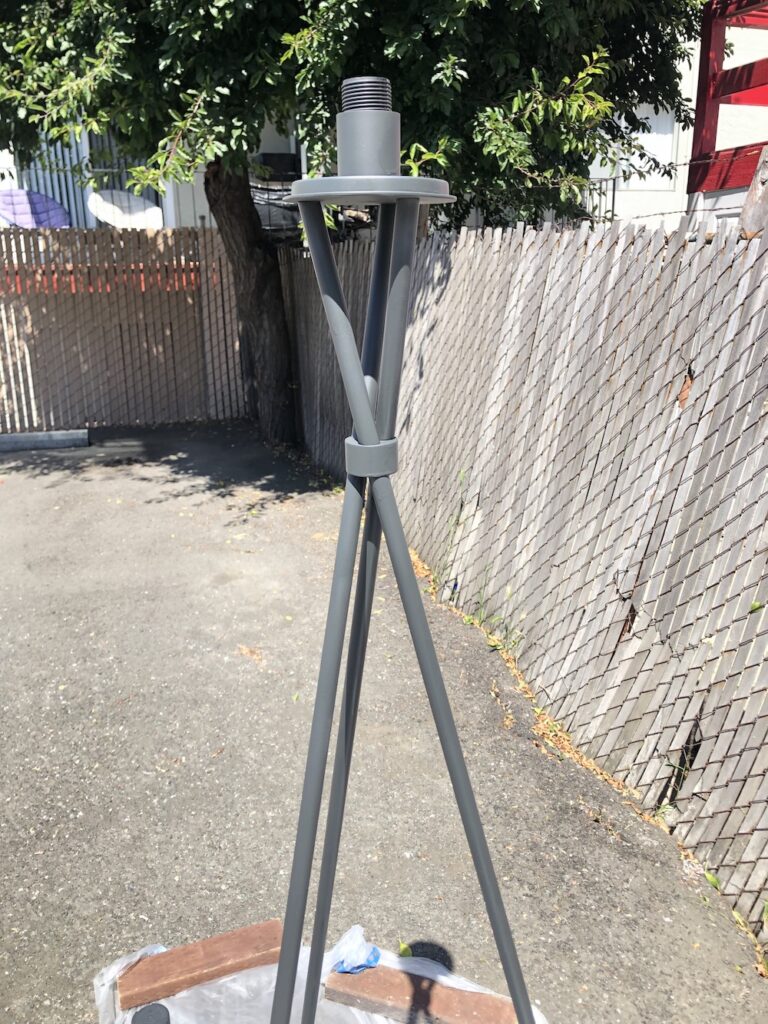 I absolutely love how this lamp turned out! The gray color is such a nice flat color that it doesn't at all look too harsh. And for $10, I'm thrilled that updating my space didn't cost an arm and a leg!
I mentioned before that I'm a big fan of spray paint, if you want more ideas, check out my Ikea rolling cart makeover.
xoxo, jackie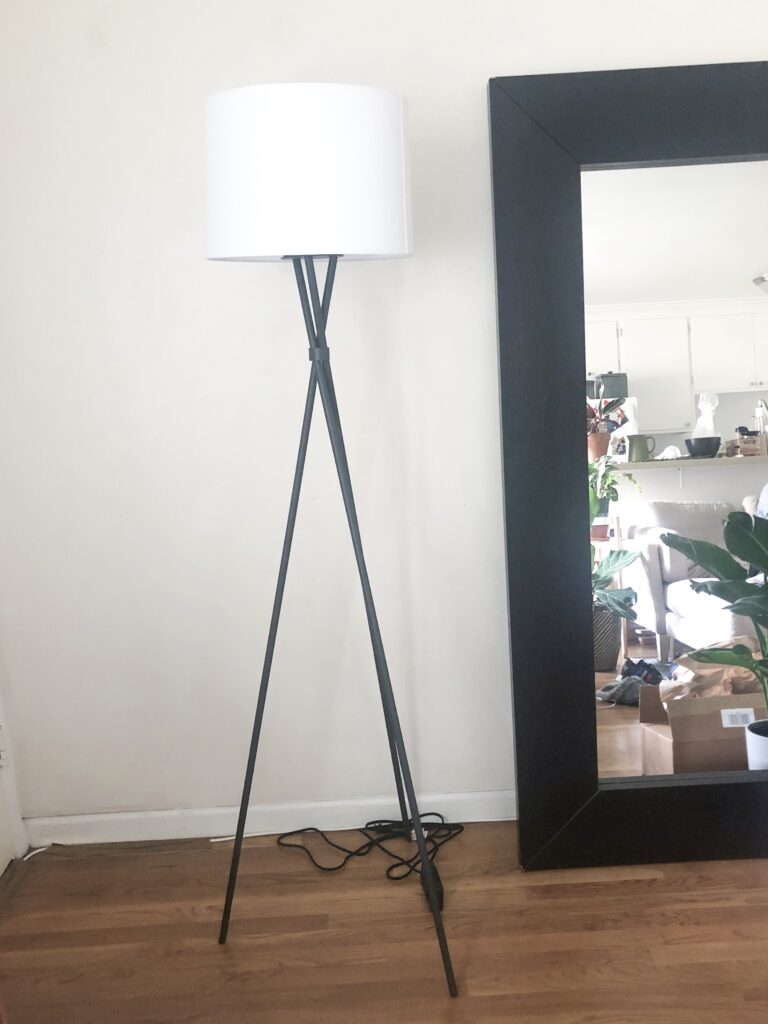 save this project for later