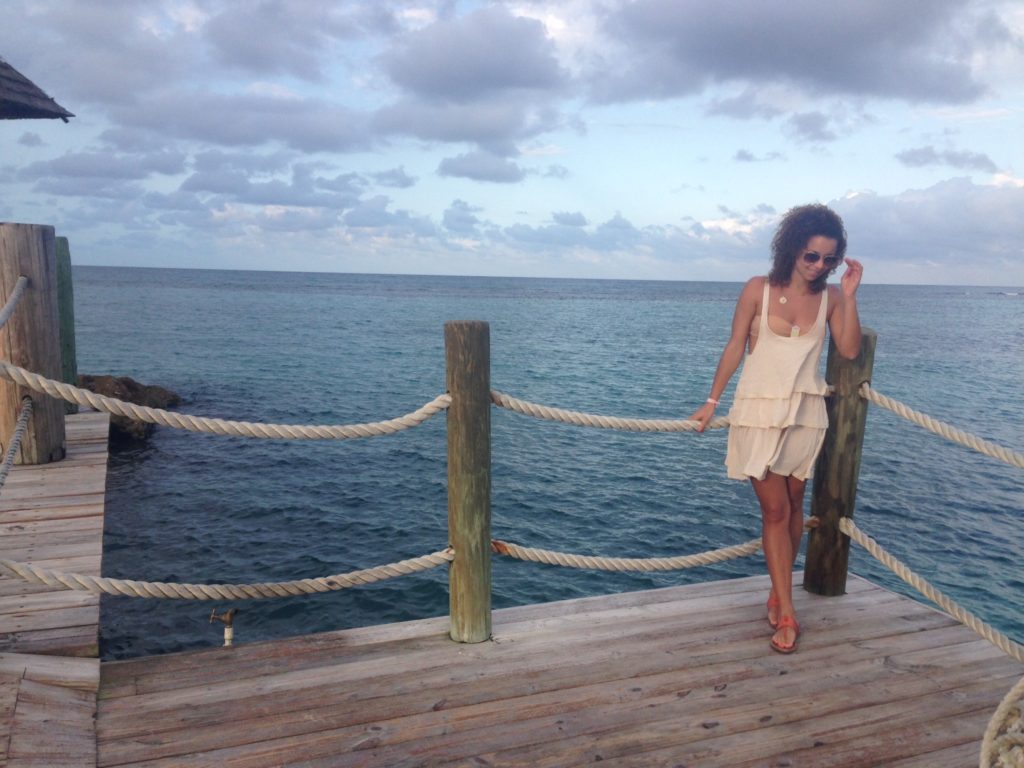 Packing my bags to go to Jamaica, I threw a handful of swimsuits, cover-ups, and summer dresses into my suitcase- everything I would need for my 3 night stay at Sandals Ocho Rios. I then packed jeans, sweaters, and tee shirts because after consulting my friend, I realized I was going to need different clothes for the real Jamaica. I was to spend 10 days in Jamaica, split between my friend's family's home in Kingston and a few days in a resort.
Admittedly, I was a tiny bit nervous arriving into Kingston airport. The news does not have great things to say about Kingston, most of what comes out of the city is crime. For that very reason, many tourists avoid the city and head right to resorts. Even so, I was excited about exploring the city – being a girl from Oakland, I know how a city can get an undeservedly bad wrap.
First Stop: Pan Chicken
I did have a necessary first stop, Pan Chicken. Now Jamaica is known for jerk chicken, but throughout the country there is another variation of chicken, that I found equally, if not more delicious. Pan chicken is seasoned to perfection, and cooked in large metal drums along the street. The chicken is topped off with a squirt of ketchup, scotch bonnet sauce, and a piece of white bread. If you don't make a mess eating this chicken, then, well you just aren't doing it right. I couldn't get enough while on the island.
After stuffing my face with an excessive amount of pan chicken, I was ready to explore! We made a few toursity stops, but also explored a few lesser known sights. Take a look at a few of my highlights.
Portland, Jamaica
On the north-east corner of the island is the Portland Parish. This lesser known and traveled area is truly a gem of the island. We spent the day enjoying the lush landscape and beautiful beaches, and jerk.
Blue Lagoon:
The Blue Lagoon is truly a special place where you can hop into a boat or a bamboo raft and make your way around the lagoon (don't forget to negotiate the price of the ride). The center of the lagoon is super deep, but around the edges it is shallower, surrounded with beautiful vegetation and a few rope swings if you're adventurous.
I suggest you take a boat to Monkey Island. Along the coast you'll see some of the amazing waterfront properties. I did a little research, and a few of these properties are for rent on Airbnb for around $1,000 USD a night.
Frenchmen Cove:
This private property features a beach, restaurant, and hotel. Visitors can use the beach for a $100 Jamaican dollars per day. This is a complete steal as you will have the beach to yourself and a few regulars.
Boston Bay Jerk:
Drive a few miles into Boston for one of the most famous Jerk Centre's on the island. At the bustling intersection in Fairy Hill you have your choice from a number of Jerk Centres, with jerk chicken, pork, fish. They will overcharge tourists, so don't forget to negotiate the price.
 Sandals Ochi:
A complete change of pace from the rest of the trip, we spent 3 nights at Sandals Ocho Rios. Staying on the beach side (there are two properties connected by a continuously running bus), we spent our days lounging on the beaches and by a few of the 100+ pools. We also participated in the many offered activities and entertainment. Snorkeling off the coast, paddle boarding on the beach. The resort offers entertainment every evening to bring in a bit of Jamaican culture. The first night a steel drum band killed it! Our last night there was a "carnival" out on the beach, complete with fresh cut coconuts, jerk chicken, fire breathers and carnival dancers.
Kingston
We spent the next few days in Kingston with my friend's family. Kingston is truly a city with extreme highs and lows. Driving through the windy city streets, I saw goats tied to street signs, modern buildings, and street vendors with local fruit. Navigating these streets can be tricky, one turn can bring you from bustling street to rough neighborhood. Honestly, it would have been difficult to learn of all of the hidden gems that lay within the city had I not been so lucky to be traveling with my personal tour guide.
My Top sights around Kingston
Devon House: This is the home of the first black Millionaire in Jamaica, George Stiebel. The grounds offer shopping, gardens, and yummy ice-cream (try local flavor, sorrel!). It was such a peaceful oasis which made me forget I was in the middle of a big city.
Hellshire Beach: 20 minutes outside of Jamaica, this beach may have been my favorite stop while on the island. Entering through a street lined with shops and restaurants, Miss Merl's is the restaurant to go to. We picked a variety of fish and lobster to have steamed and fried while we sat along the beach.
Views from Strawberry Hill: at the top of a windy road is Strawberry Hill, a resort and restaurant. We spent the day at this fabulous place with stunning views of Kingston and Blue Mountains. The place was truly amazing…a must visit. The place was so quiet and peaceful, with wonderful gardens and an amazing pool.
Yummy Food Around the Island
Another highlight of mine is all of the food available on the streets on Kingston and across the island. My must tries:
-Pan chicken: as previously mentioned, this was my favorite chicken while in Jamaica
-Pepper shrimp: a cheap snack sold along the streets. The shrimp is sold in baggies seasoned in a hot sauce
-Sugar cane: chopped up into manageable pieces. Grab a bag and chew on the sugar cane
-Roasted peanuts: Another popular street snack, pouches of peanuts are sold around the city.
Don't be afraid to venture out of the resort and see the real Jamaica, there is amazing food, great people, and sights waiting for you.
xoxo jackie