As I am getting ready to take offfor Puerto Vallarta for a long weekend of fun in the sun, I am reminded of the joys of traveling curly. I'm serious! Since transitioning to natural hair a few years ago, quickly grew to love my hair and can't imagine going back. For all my girls who also have a cabinet full of products, combs, and all sorts of other curly hair doodads, it may seem daunting to bring your entire routine along.
No fear though, as a fully-committed naturalista who also loves to travel, I've been able to enjoy traveling while curly.
Over the last couple of years, I've done a fair amount of travel in the US and abroad, all of which has helped me get a good routine down. Bali, Jamaica, Costa Rica, and Mexico are a few of the travels that have helped me build out my top 5 tips while traveling curly:
1. Stick to your tried and true
Now is not the time to switch up your routine. My everyday routine, for example, is a fairly quick ten-step process 😉 that includes a few rounds of conditioner, finger detangling, and then an air dry. (Curious about it? Check it out)
It works for me. So I do it while traveling too.
This means I make sure to pack all of my everyday products. I purchased a bunch of empty mini travel bottles and fill them up before each trip. I do this rather than buying mini sizes of my products because those little minis are overpriced! I've found that many of the minis are almost as much as full-size products.
Also, often specialty products aren't available in smaller sizes. So to ensure your hair turns out as it should, skip picking out random travel size products and stick to your favorites.
With all of that in mind, I encourage you to plan ahead and fill up mini bottles with your favorite products.
2. Prepare your hair for the flight
While you may be thinking ahead to your destination, don't forget to prepare your hair for the flight. Sitting for hours on end with your hair smushed against a headrest is a surefire way to mess up your curls, and if you travel often, can lead to damage.
Rather than leaving your hair out, it's important to protect your hair. To do this, I like to moisturize my hair with a bit of leave-in conditioner and coconut oil then braid my hair into two cornrows. Bantu knots and twists are a couple other good protective styles to wear while traveling.
I also make sure to bring a silk scarf along so I can wrap up my hair once I'm settled in my seat. Doubles in use, as you should wrap your hair at night, even while on vacation. While it may not be glamorous, I know my hair will be healthy and happy.
Once I land at my final destination, I'll take my braids down and have vacation-ready hair.
3. Pack your essentials in a carry-on
I typically only travel with carry-on luggage, so I do this by default. But for gals who check luggage, I recommend that you always keep your hair products with you in your carry-on. Why? I've heard countless horror stories about lost luggage and natural hair products are specialty items that, depending on where you're traveling, may be impossible to find at your final destination.
While annoying, it's relatively easy to buy replacement clothing or shoes while traveling. Finding your Shea Moisture in Asian countries? Hard. Picking up Kinky Curly in Europe? Nearly impossible. And let's not even get started on finding a brush that will work for you, while abroad.
As important as your hair is, I always say – don't chance it and pack your hair essentials in your carry on. I fit all of my travel-size products into a clear container – don't chance it and try to bring full sizes into your carry-on. I almost wept for a brotha I saw getting stopped by TSA then having to toss out a full tub of Cantu Leave In. Again, keep your travel size products close.
4. Bring a spare t-shirt (aka hair turban)
A key step in my hair routine, I make sure to only dry my hair with hair-friendly materials. That typically means an old t-shirt, occasionally a microfiber towel when one of my boyfriends' is available. I make sure to keep up this step while traveling.
Whether you're staying in a hotel, Airbnb, or couch surfing, you'll want to pack a drying cloth so you don't end up using a rough towel on your tresses.
5. Embrace the frizz
I know many of my traveling ladies head out to warm, tropical destinations. If that's you, I encourage you to go ahead and embrace the body and frizz that comes with visiting humid locations. Frizz and volume are inevitable, so embrace it girl.
I personally love my hair in humid climates. As somebody with fine hair, it gives me the volume I crave. If you aren't lacking on the volume, like me, I still say rock it! I'm a total believer in the bigger the better!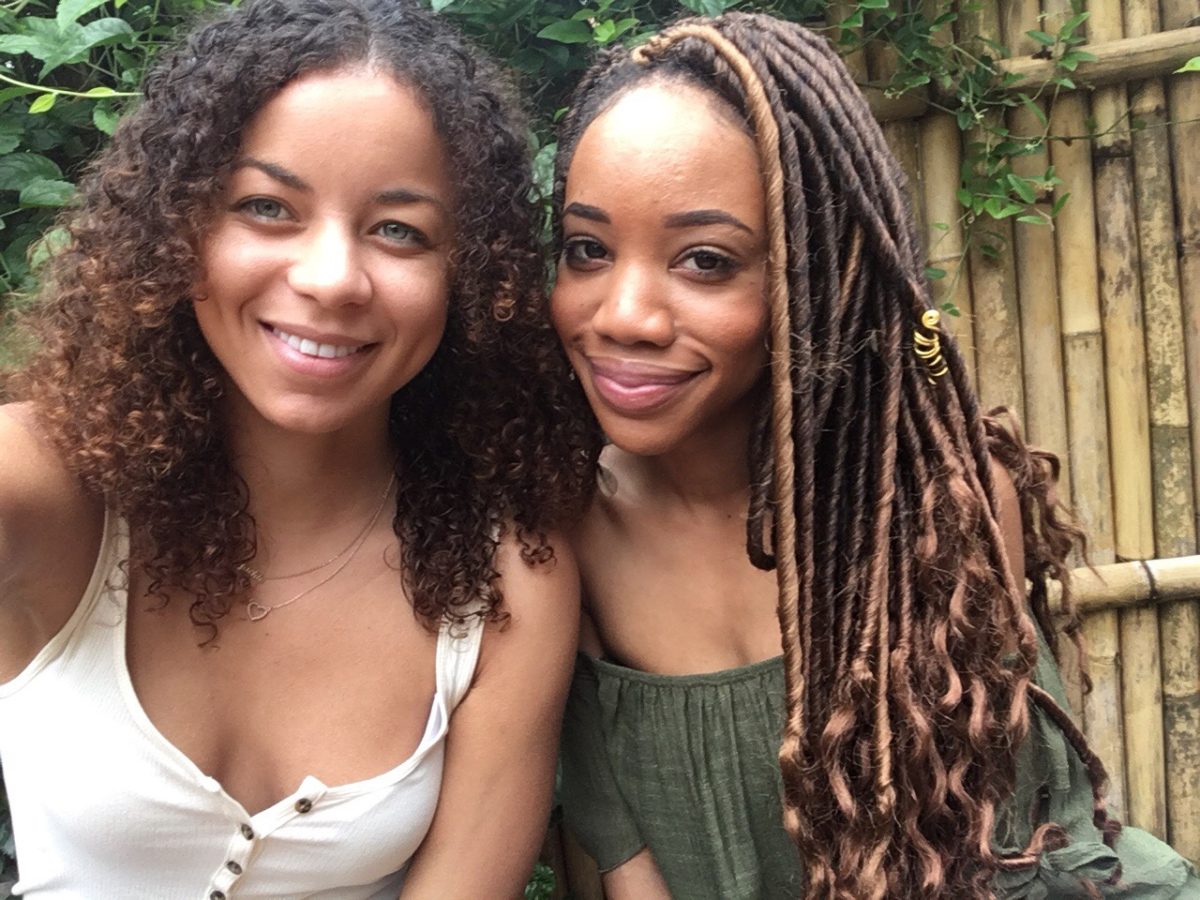 Bonus Tip! If this sounds like too much work, you're really craving care-free travel, plan ahead and get braids or another low maintenance style. I wore braids when exploring Mexico City, and they made for super easy travel. When I was traveling in Bali, my bestie Makensy had faux locs, which worked really well for traveling, too.
What other tips do you have for traveling while natural?
Happy travels,
xoxojackie
Save these tips for later!