Hi there! Thanks for stopping by xoxojackie, you've landed on one of my most popular crafts. I've got quite a few other crafts, recipes , & curly hair tips. Stay awhile, and check them out!
Walking through Michael's during a sale can be dangerous, especially going in with no game plan. As I browsed the pastel Easter decorations, I took inspiration and grabbed a few spools of embroidery thread to make some fun spring accessories.
Combining a few of my favorite things, I made this simple 10-minute DIY tassel necklace! Perfect to add a pop of color to my everyday uniform of a white tee shirt and jeans. All you need is embroidery thread, jewelry jump rings, and an old necklace to make a tassel!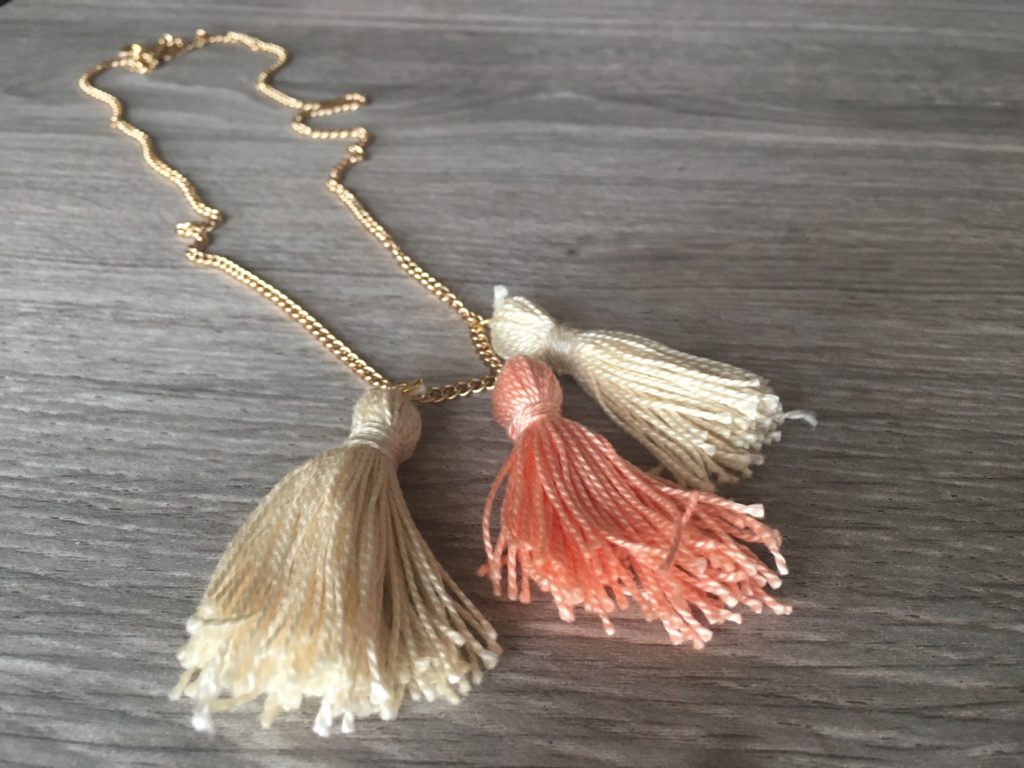 Read more for the full tutorial…
SUPPLIES
– Embroidery floss
– jewelry jump rings 
– 4-inch piece of cardboard
– tape
– scissors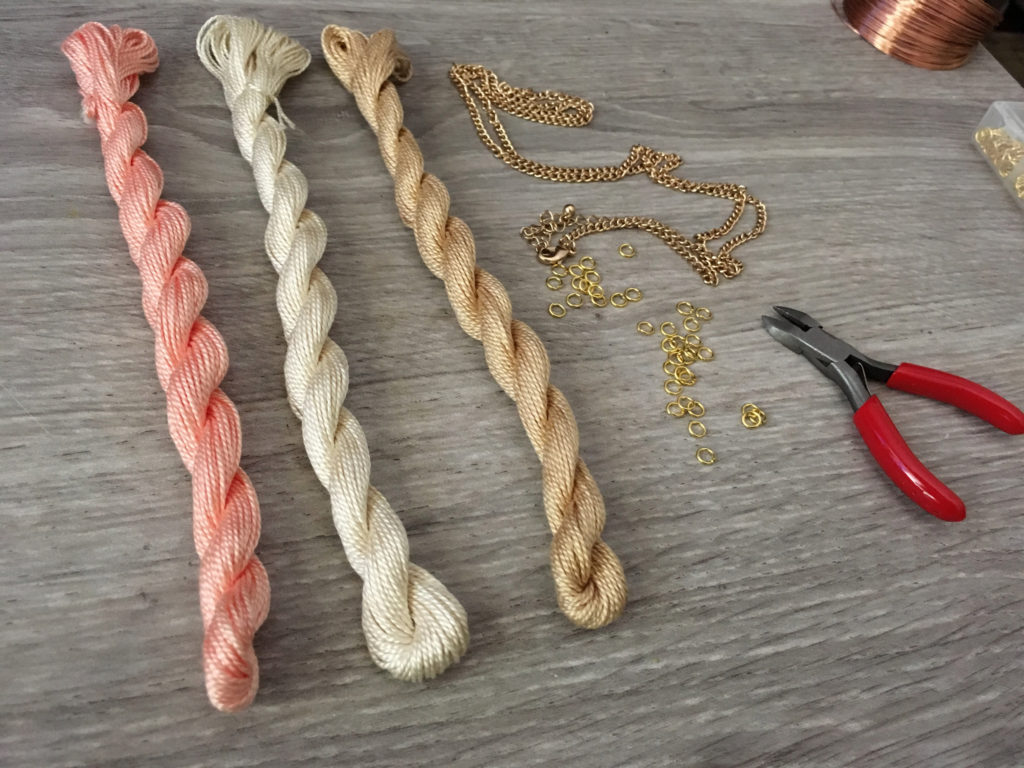 INSTRUCTIONS
1: Hold a piece of embroidery thread at the top of the cardboard. Next, wrap the thread around the cardboard. I did about 50 times around for these.
2: Tie a tight knot to top with the top piece.
3: Cut the bottom of the floss to create the tassel.
4: Take a 10-inch piece of thread and tie a knot a half inch from the top of tassel. Wrap the floss around 6-8 times. Tie a tight knot. Trim the ends. You can use another color floss for this step (gold would be pretty).Trim the tassel ends.
5: Open a jump ring (I used pliers) and loop to the top of tassel. Hook the jump ring to the necklace.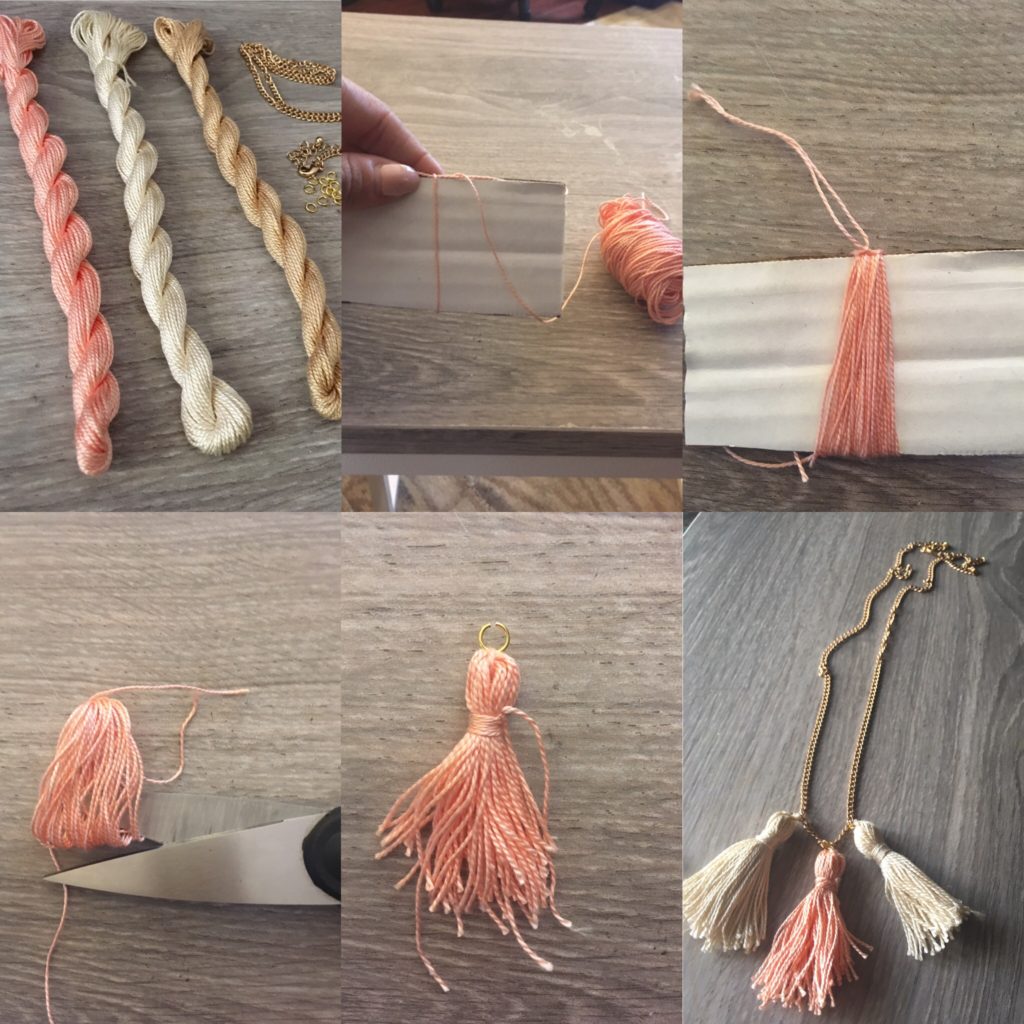 I made three tassels in a light coral and off white. What I love about this necklace is how versatile it can be. It would be easy to interchange these tassels to match with outfits. Each tassel took me under 10 minutes to make – so easy! I cannot wait to make more.
xoxo, jackie
save this diy for later