Looking for a plant care routine? You've come to the right place! I've been caring for my tiny urban jungle for a few years, now. Keep reading for my daily, weekly, monthly, and seasonal plant care routines!
It takes a lot of attention to keep my babies happy, healthy, and thriving! And while watering is important, there are a number of other tasks I regularly carry out to keep my plants in tip-top shape. In fact, it takes dedicated care to keep your houseplants flourishing.
A little about me. I'm Jackie, and for years, I've cared for lots of plants in my tiny apartment! And over these years I've learned quite a bit! I love to share plant care tips like this, my plant care routine, tips for apartment gardeners, and winter plant care tips, as well as lots of diy and home decor inspo!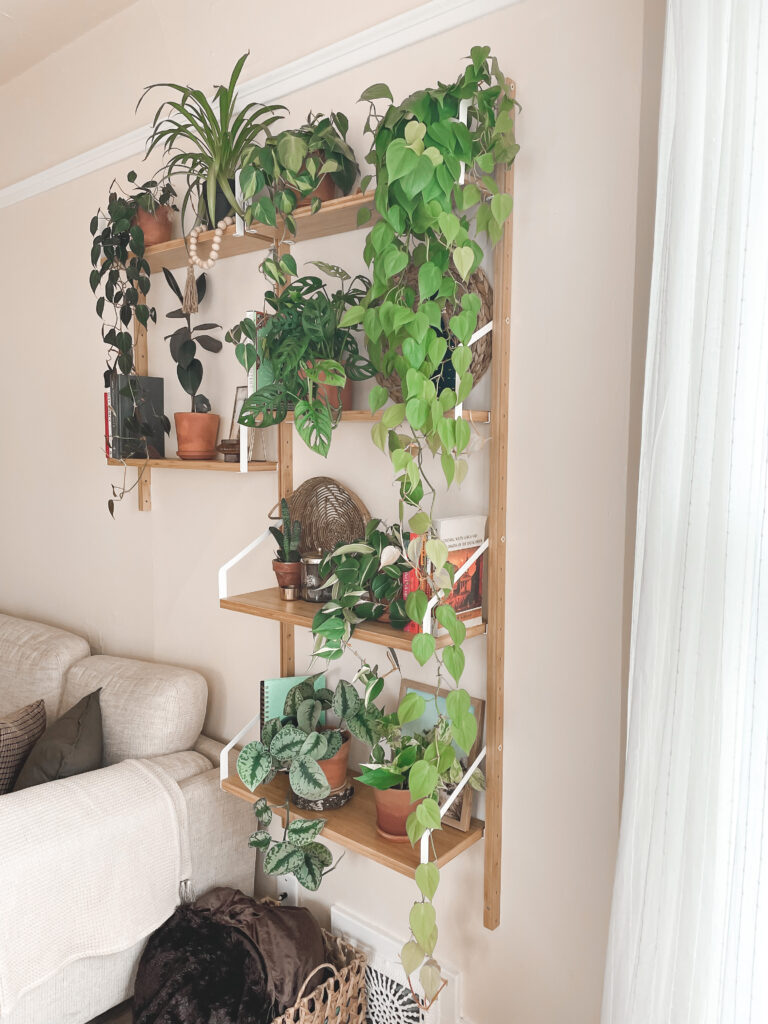 Finding your plant care routine.
Over the years, I've gone through a fair amount of trial and error in learning to care for plants. Through my experience caring for a variety of plants, I've learned what to do to keep plants alive – and what I definitely should not do. And as I've read more on plant care and picked up pointers from my mom, I've found a routine that works for me and my plants. One of the most important things I picked up is just how important it is to find a routine. Plants require consistency and sticking to a routine is the best way to give it to them. Finding a routine is one part training your plants but also requires discipline on your end. When you're just getting started, you may want to set a recurring schedule reminder for watering.
Small apartment care.
I have a ton of friends who think because they live in a small apartment they can't have plants – not true! All of my advice is coming from somebody in a small, urban apartment! In small apartments, you may not have as much space for storage and materials, but all you need is a small amount of space to store your plant supplies. I keep mine hidden away in a small bin, stashed on a bookshelf. As long as you're able to give plants adequate light and care, plants make great additions to any apartment.
Want more tips on this? Check out my Small Space Gardening Tips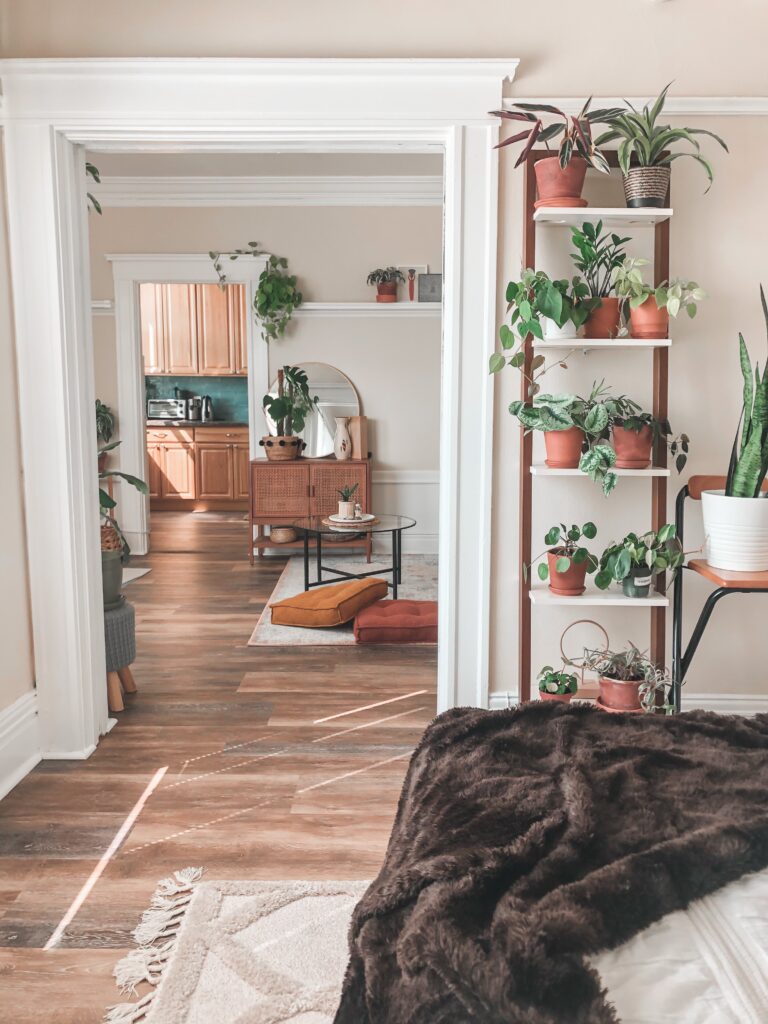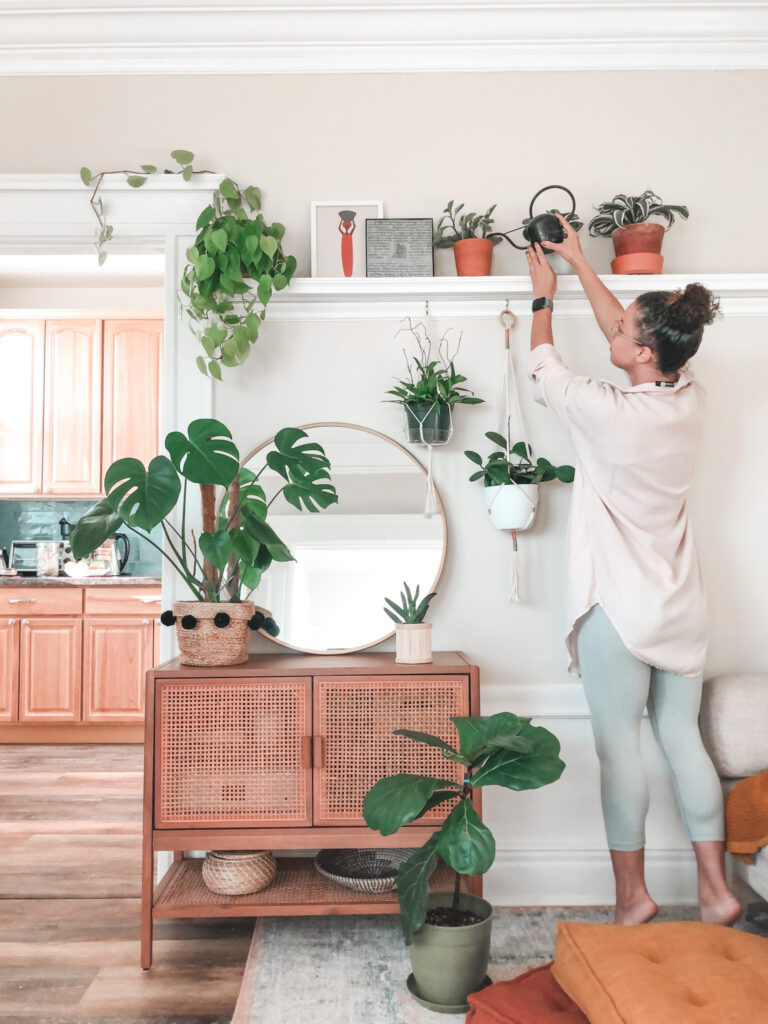 Prepping for plants.
In addition to dedicating time to your plants – caring for plants requires a bit of a financial investment, too. If you want your plants to thrive, it's important to invest in soil, fertilizer, and the right tools to care for your plants. I promise you, the more involved you get, the more it pays off.

Here's a look at my plant care routine
Sunlight.
Every day I open my blinds before leaving for work to ensure my plants get enough sun throughout the day. I have windows facing east and west, and my eastern facing windows get a ton of bright light throughout the day. We've made sure to place the plants that require more light by that window, and those who are ok with less light in the other.
If you have a sad plant, one of the first and easiest things you can start to experiment with is your light!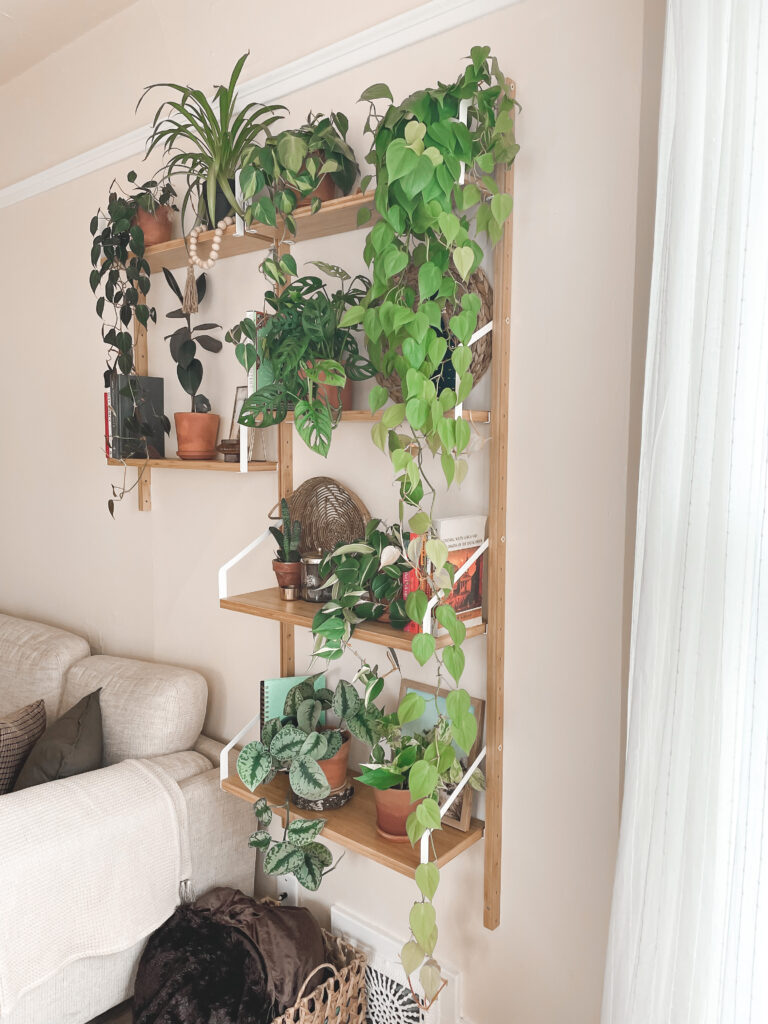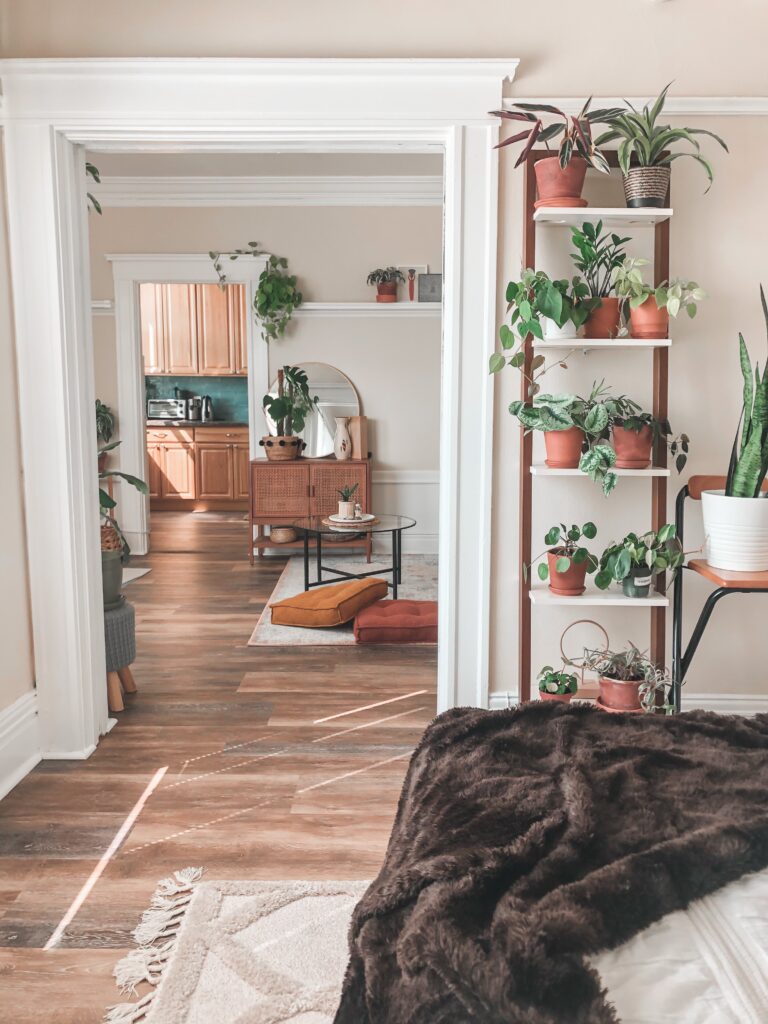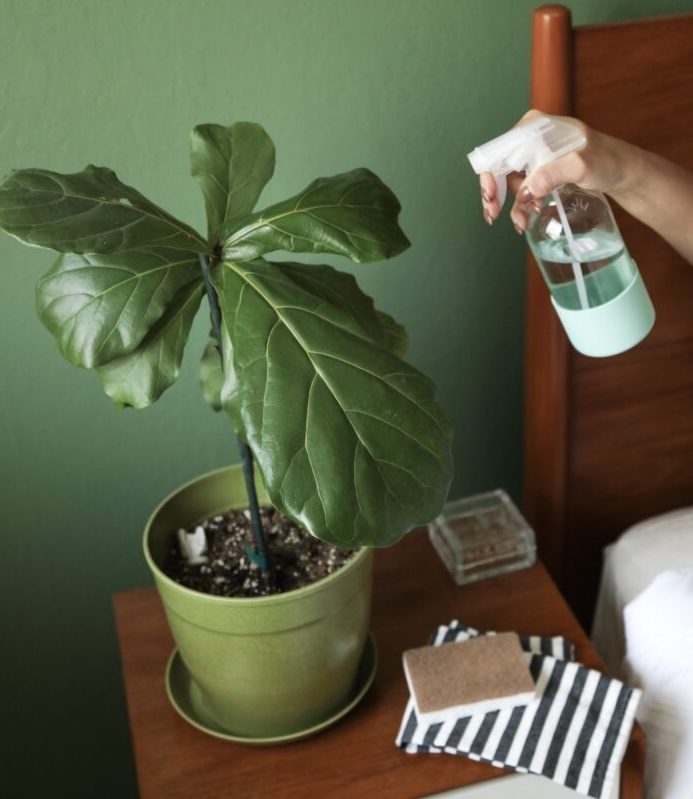 Add moisture with humidity.
When it starts to get warm, I'll add a spritz into my daily routine. In between scheduled waterings, I'll walk around and give my plants and soil a quick spritz of water to make sure my plants aren't drying out.
Plants that love high humidity will love a spray, while plants like snake plants don't need a spray. Before you start spraying, make sure you do a bit of research to understand which of your plants love moisture!
Watering.
Sunday is watering day for the majority of my plants. On this day, I walk around my apartment and pour water into the soil most of my plants. A few of the bigger plants go into the bathtub for a full rain bath experience. When starting out with my plants, I used a monthly tracker to keep up with my plants' care. There are a few that we water more frequently, and a plant or two that only get water every other week, but the bulk of my plants are happy with a weekly water.I recommend keeping a schedule if you're just getting started or have a bunch of plants with varying needs.
I created this simple schedule to track my weekly watering and it was a great tool, in the beginning, to help me remember which plants require more frequent watering. Check out the tracking calendars I created!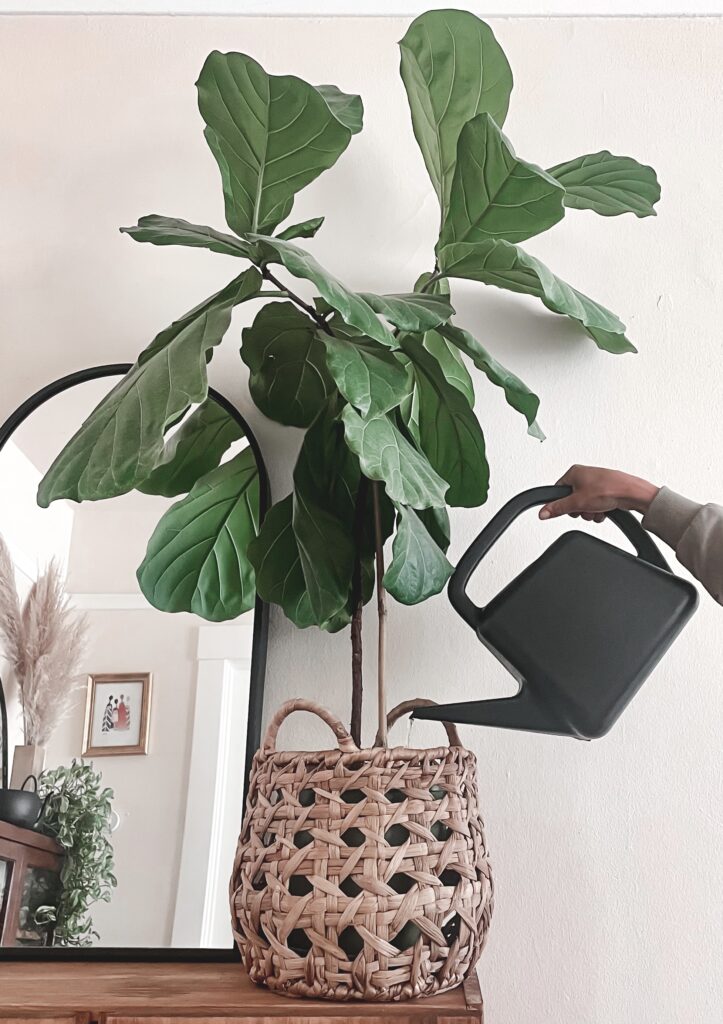 Many plants require a full soak on water day, those plants get bath time on Sunday. We'll put the plants in the bathtub, then give them a good soak and let all the water trickle through before moving them back to their home.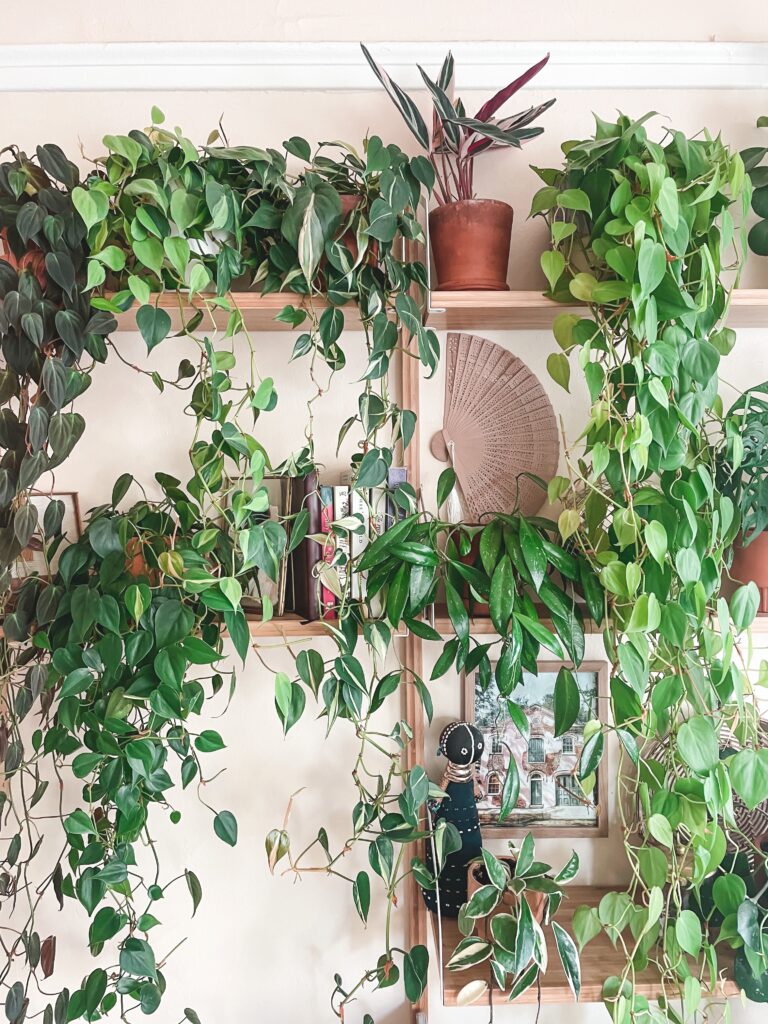 Pruning.
While watering, I keep a pair of gardening sheers with me to trim off any dead bits. When pruning, I clip off any dead and crispy bits. You can also gently pull off yellowing leaves. Pruning really depends on how your plants are doing and the appearance you want to maintain! If your vining plants are getting unruly, you can snip long vines and propagate them to start a new plant.
Shake & rotate.
If you have a fiddle leaf fig and want it to grow big and tall, you should give the stem a good wiggle every few days, or at least once a week. This mimics the wind and helps your plant develop a stronger root and stem system. I give my fiddle leaf a nice shake once or twice a week.
If your plants seem to be bending and reaching towards the sun, start rotating your plants once a week. Turning the pot around ensures that more of your plant is getting the same amount of sun, and should help to straighten it out.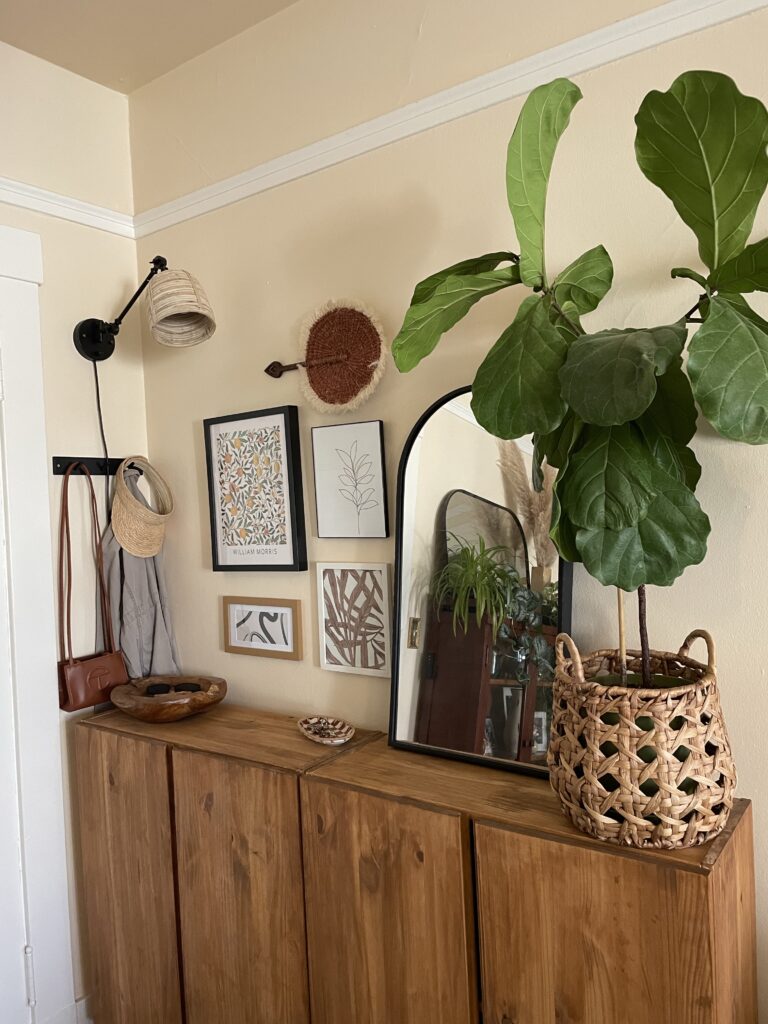 Monthly and seasonal routines.
Fertilize.
Since starting to collect plants, I have only used fertilizer on my plants during the spring. To fertilize, I drop a small amount of indoor plant fertilizer into my watering can, and water my plants as usual. I repeat this for a month or two during the spring. I have been lucky enough that my plants grow year-round, without needing fertilizer, but I've opted for a small amount in the spring just to see if it'll supercharge them.
If your plants are growing slower than you'd like, test your fertilizer during growing seasons – spring and summer.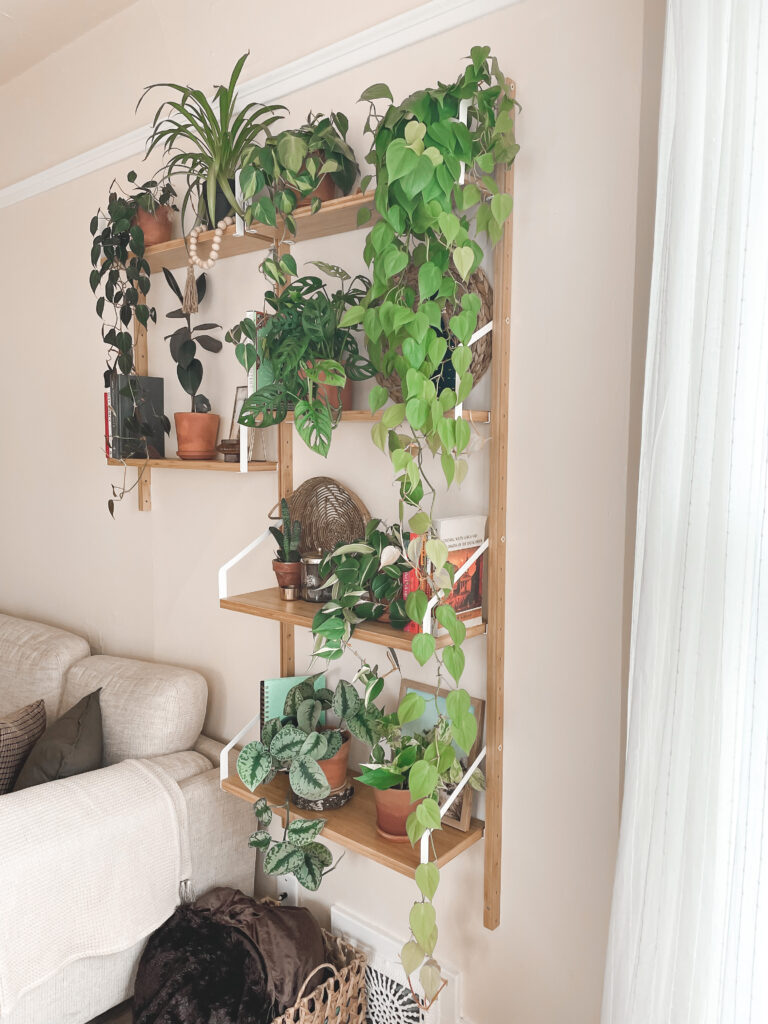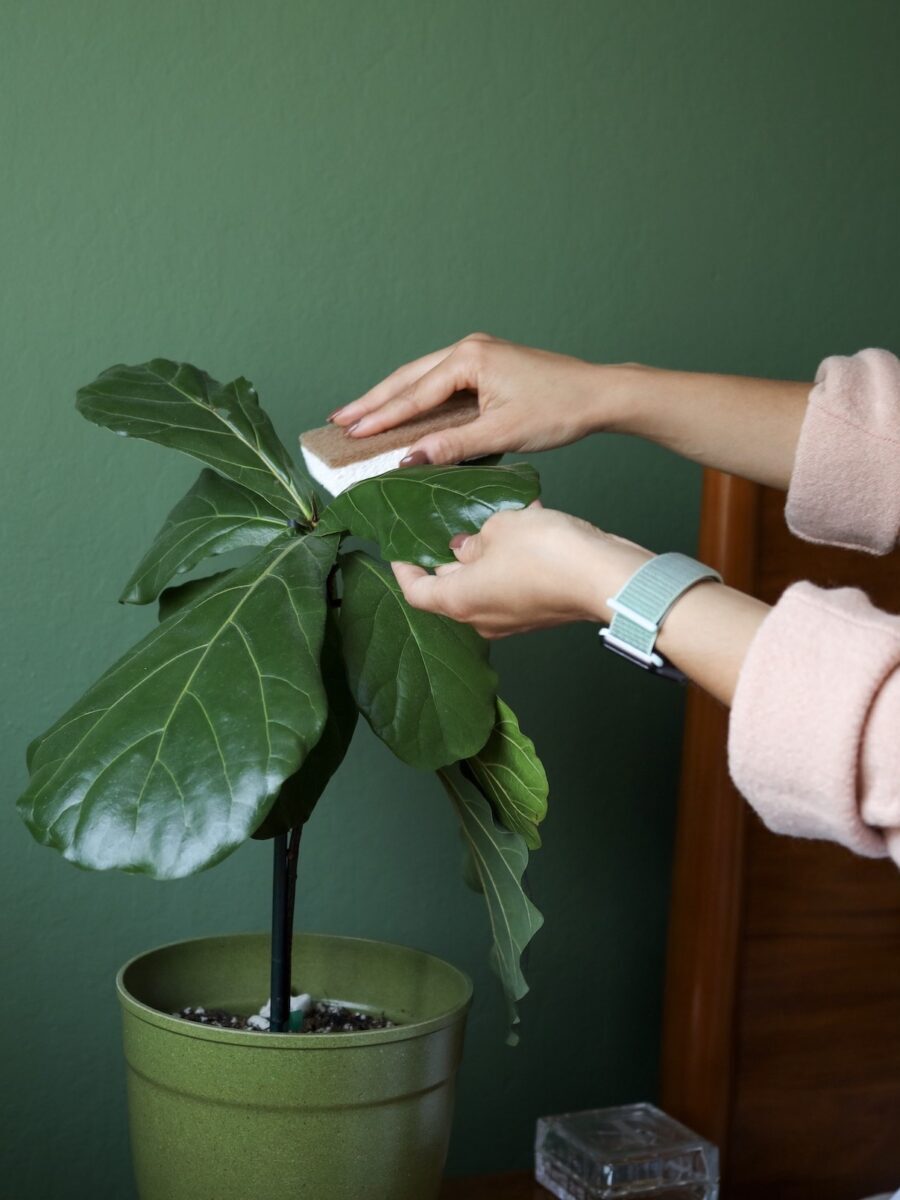 Dust.
Anybody else constantly battling against dust? Because I'm on a fairly busy street, the majority of the dust around my place is actually outside grime, gross! Once a month, I wipe leaves with a damp sponge to get it all off. I love these natural sponges.
Plants that love high humidity will love a spray, while plants like snake plants don't need a spray. Before you start spraying, make sure you do a bit of research to understand which of your plants love moisture!
Repot.
This one is an on-a-need basis. If your plants are starting to outgrow their planters, move them into one that gives them a little bit more space to grow. How do you know if your plants are outgrowing their pots? A few signs include:
Roots growing out of the planter drainage holes
Your soil no longer holds moisture
Foliage has stopped growing or has drastically slowed
When repotting, I typically go up one pot size at a time so roots have more space, but don't get lost in a planter.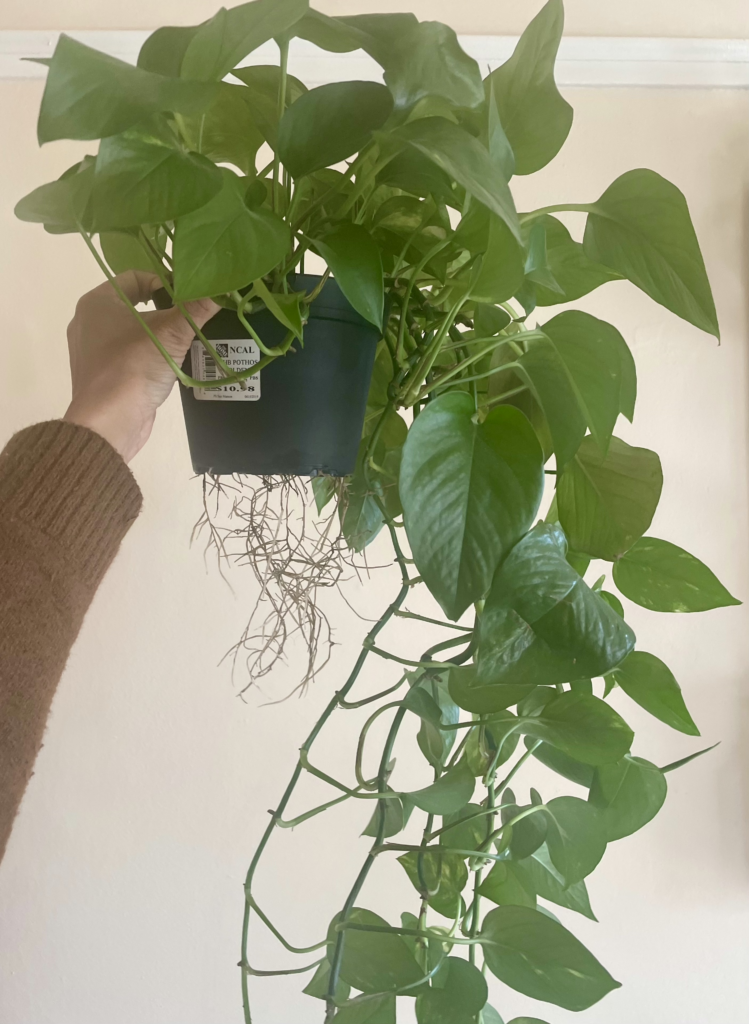 Thanks for stopping by to take a look at my daily, weekly, monthly, and seasonal plant care routine! I hope this helps you establish a routine that brings the best out of your plants!
xoxo, jackie
For more plant care tips, check out:

– Small Space Gardening Tips for Urban Apartment Dwellers

– Tips for Styling a Plant Shelf
shop my favorite plant accessories

save these tips for later