I love a good DIY Christmas gift. At this point, my family knows to expect something homemade from me. Along with gifts, I like to create my cards and notes as well. Christmas fonts add a special touch to cards, so I am always on the hunt for a festive font.
There are so many festive fonts available for you to use for cards, party invites, or any other holiday creation. These six I have in my library and are perfect to add a festive flare. Christmas fonts can go bad really fast, so I kept it classy and didn't include any of the ridiculous Christmas fonts in my library. Minus the last one, I listed this one, not so much as a font, but this is great if you need little holiday images.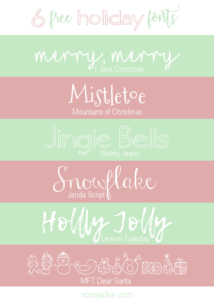 I love Christmas | Mountains of Christmas | Skinny Jeans | Janda Script | Lemon Tuesday | MFT Dear Santa
 I put together a fun invite for a small party my friends and I are hosting this weekend using Mountains of Christmas font, annnd, a creepy Elf font that I kind of regret using! But hey, it goes with the party theme.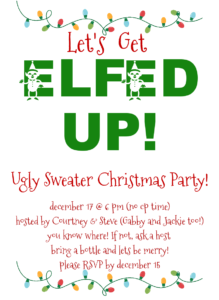 xoxo jackie