TRAVEL GUIDE
one week on beautiful
Roatán
Honduras Islas de la Bahia
Tucked away off the northeast coast of Honduras, Roatán is an extraordinary destination that caters to water sport enthusiasts and budget-conscious sun-seekers alike. During my recent trip in July of 2023 (the island's off season), I discovered the Caribbean island's unique charm, offering both relaxation and excitement.

Follow along as I share highlights from my week-long trip to Roatán, Honduras.


a little about roatán
Roatán, Honduras, is a beautiful island with a vibrant water culture that shapes both its identity and economy. At just 5 miles wide and 40 long, Roatán is one of the Caribbean's hidden gems with a population of around 100,000 people. The island is renowned for its stunning coral reef, one of the largest in the world.
This abundant marine ecosystem plays a central role in the island's economy, attracting water sports enthusiasts, divers, and snorkelers from all corners of the globe. The crystal-clear waters teem with marine biodiversity, making it an ideal destination for scuba diving, snorkeling, and fishing activities. With approximately 10,000 registered boats on the island, water-based tourism and fishing are key to Roatán's economy.

The island's rich water culture, thriving marine life, and breathtaking coastal landscapes make it a true paradise for those seeking unforgettable underwater adventures.
Staying on Roatán
Luna Beach was my home base during this trip. A delightful resort community nestled in the western part of the island, Luna Beach is conveniently between West End and West Bay.

The community offers a variety of accommodation options, ranging from hotel-type suites to spacious beachfront houses. I loved the community, with the unmatched comfort and space that came with a beachfront resort feel. My group stayed at a home within the community, Casa Miller. A new build, it was perfect for a large group.
This brand new, modern house offered a luxurious and comfortable stay. I had the chance to try out a couple of the rooms, and whether you land in one of the en-suite rooms or the inviting kid's bunk room, you'll be happy with your stay. Booking Casa Miller was a great decision that enhanced our overall experience.
Beyond Casa Miller, Luna Beach offers some of the most luxurious amenities, suites, and rental houses on the island. I frequented onsite restaurants, the Luna Bean cafe and pool bar almost daily! Truly a relaxing ambiance.

Sun, sand, & swimming
Snorkeling in Roatán
Our aquatic adventures in Roatán were absolutely magical! We started off snorkeling in West Bay, and it felt like we were swimming in an underwater paradise. The water was so clear, and we were surrounded by an incredible array of corals and colorful fish. Just a few feet from the beautiful sandy beach, we were in a whole new underwater world. It was truly a mind-blowing experience!
There's great snorkeling all around the island. The shallow reef provides amazing and accessible underwater experiences right off many beaches.
Scuba in the West End
After loving snorkeling, I decided to take it a step further and try scuba diving. I enrolled in a discovery class right at my hotel, Luna Beach in the West End, it was love at first dive! Exploring the ocean's depths and feeling weightless underwater was a unique sensation like no other. I became so enamored with scuba diving that I ended up going on another dive afterward. Roatán boasts some fantastic dive sites suitable for all levels, and the marine life there is simply awe-inspiring!
Little French Key
Oh, you can't miss out on "Little French Key" during your Roatán visit! A private island paradise, located on the east end, Little French Key has a fun ambiance and an array of activities to enjoy. From snorkeling or paddle boarding in the turquoise waters to relaxing in beach hammocks and exploring the island's natural beauty, there's something for everyone. A day spent at Little French Key is an unforgettable experience.
West Bay Beach
More of a sun-lover? There's a beach for you. The most vibrant beach on the island, West Bay beach is home to many of the island's resorts, restaurants, and tons of fun activities. You can grab fresh fruit from a floating bar, and even hop on a jet ski or banana boat. West Bay truly feels like a tropical get away. I loved spending g a couple of afternoons on this beach.


Getting around Roatán
Navigating between the two most popular tourist destinations, West End and West Bay, was a breeze thanks to the efficient water taxi service. You can easily grab a ride at a water taxi dock, and for $5 you can get to your next destination effortlessly.
To explore other parts of the island, we relied on taxis or arranged private rides. Finding a reliable driver and sticking with them throughout the trip was a smart move. Additionally, tour companies can get you to the popular destinations around the island.

Eating on the island

During my week in Roatán, the dining experiences left a lasting impression on my taste buds and heart. One of the highlights was savoring the traditional dishes prepared by Chef Denise at Casa Miller. Her culinary expertise added an authentic touch to our stay, and each meal felt like a delightful journey into Roatán's food culture.
Away from the house, I enjoyed fresh fish every chance I could get! We had ceviche while at West Bay beach, fried fish at Booty Bar in the West End. I loved indulging in fresh fish straight from the sea. The flavors, combined with the island's warm ambiance, created a dining experience like no other. Moreover, the fruit on Roatán was amazing. From mangoes to pineapple, each bite was a burst of tropical goodness.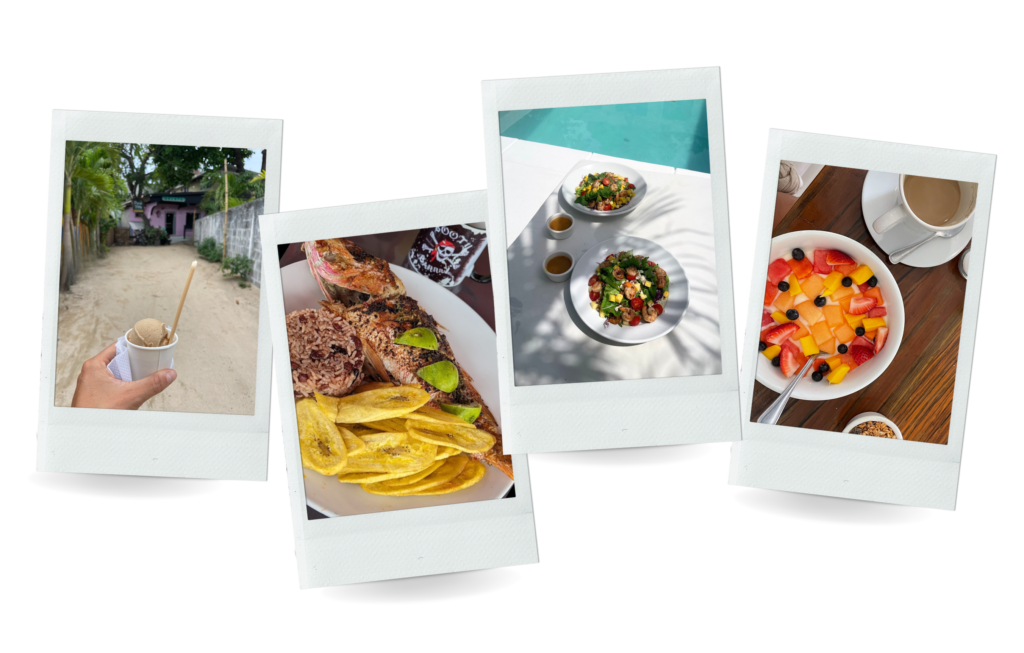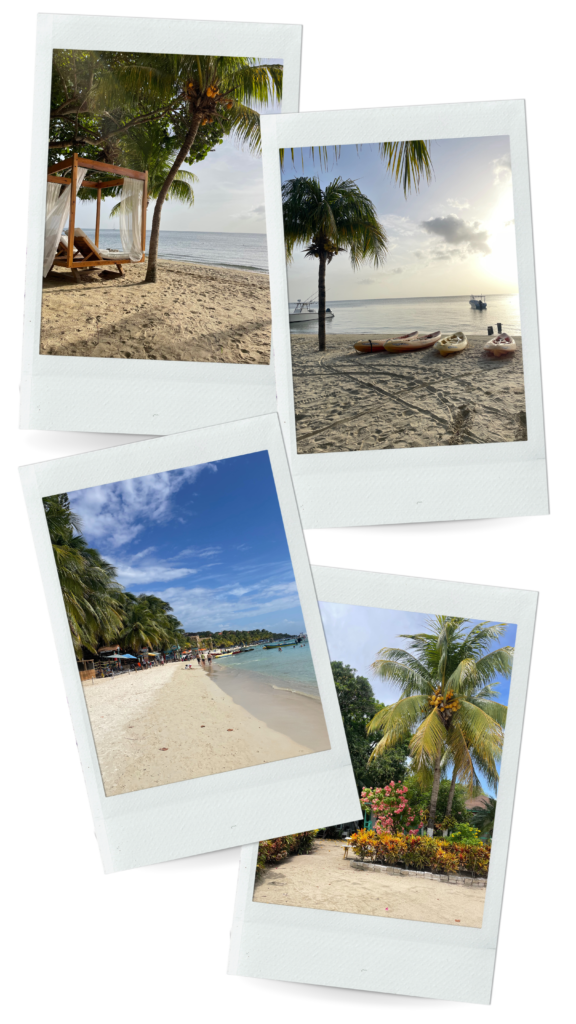 Until next time, Roatán
Roatán surpassed all expectations as a Caribbean paradise that offers the perfect blend of relaxation and adventure. Its vibrant coral reef, underwater wonders, and warm hospitality make it an ideal destination for anyone seeking an off-the-beaten-path getaway.
Whether you're a water sports enthusiast or simply looking to unwind amidst delicious seafood and stunning water views, Roatán has something extraordinary to offer. I recommend this hidden gem before the word spreads!